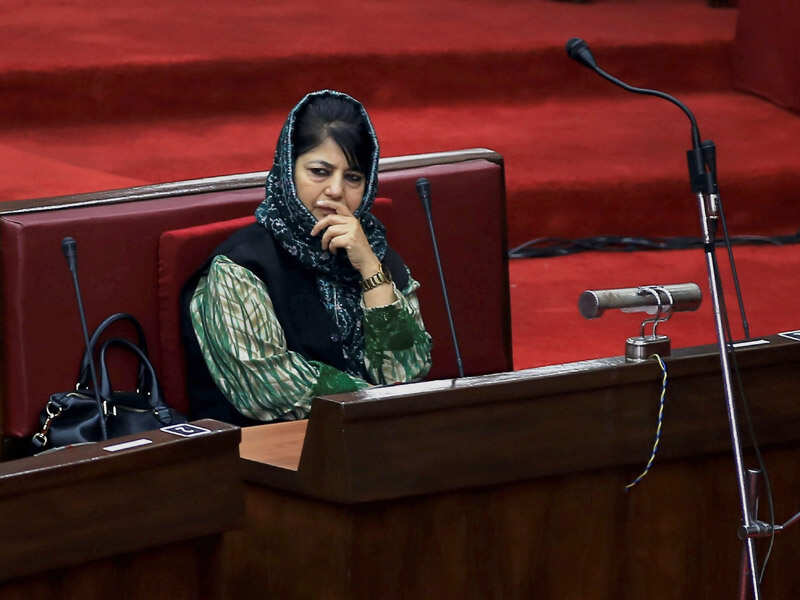 SRINAGAR: Political slugfest erupted between alliance partners — People's Democratic Party (PDP) and the BJP — in the Jammu and Kashmir assembly on Monday, prompting the Speaker to suspend the question hour scheduled to take up the killings of two stone-pelters during an Army firing in the Shopian district of South Kashmir.
On Saturday, a mob of 200 people, mainly youth, attacked an Army convoy at the Ganowpora village of Shopian. In retaliatory firing, two youths were killed and another was injured. On Sunday, the police had registered a case against Army Major Aditya and 10 Garhwal unit on charges of murder and attempt to murder under various RPC Sections for the killings.
The ruckus in the assembly began on Monday when BJP MLAs demanded dropping of the major's name from the FIR, saying that the move would demoralise armed forces, with chief minister Mehbooba Mufti rejecting it and saying the state government had already ordered a Magisterial Probe into the incident.
In the evening the state government appointed an inquiry officer, Shopian district magistrate Aijaz Ahmad to Probe the incident, and said recording statements of witnesses would begin from Tuesday.
"According to the district magistrate, Shopian, in order to ascertain the facts of the January 27 firing incident at Ganowpora, all interested persons can record their statements within a week's time from January 30, 2018," an official spokesperson said, adding that the statements can be recorded in the office of the DM.
"The state government should withdraw the FIR against the Army officer and lodge a fresh one without naming anybody," BJP's RS Pathania told the House as soon as the session began.
In response, Mehbooba said the probe into the "unfortunate incident" would be taken to its logical end. "The Army would not be demoralised by the registration of an FIR. There can be black sheep in the Army also," she told the House.
She also said that the Army had ignored the police advisory to avoid the Gawanpora route. "During the meeting of the Unified Headquarters recently, I asked forces to show restraint in controlling law and order. I directed them to fire in the air," she said.
Demanding action against the "erring soldiers", former CM and National Conference leader Omar Abdullah said, "Guilty must be punished. Security forces fired bullets on the chests and heads of the victims. The cycle of killing must end. We want to end this bloodshed."
"No opposition party is playing politics over the issue. Instead, it is being played by the ruling alliance partners — PDP and the BJP. BJP's demand of withdrawal of the FIR shows coalition partners are on a collision course," he said.
He accused the government of creating confusion by ordering the magisterial probe and also registering an FIR against the major. "A magisterial probe is ordered if culprits are unidentified, but the accused's name is mentioned in the FIR," he said.
J&K DGP SP Vaid said the Army's version would be taken into account during the probe. "The Army's version, witness accounts and the statement of those who lost their near and dear ones would be included. We will go through all facts and the evidence of the case and the Army will be questioned," Vaid said.
The Army said its personnel opened firing in self-defence after seven soldiers were injured in stone-pelting and there was an attempt to snatch the weapons of an officer by the mob.
Source : timesofindia
This post first appeared on Daily Kiran, please read the originial post: here