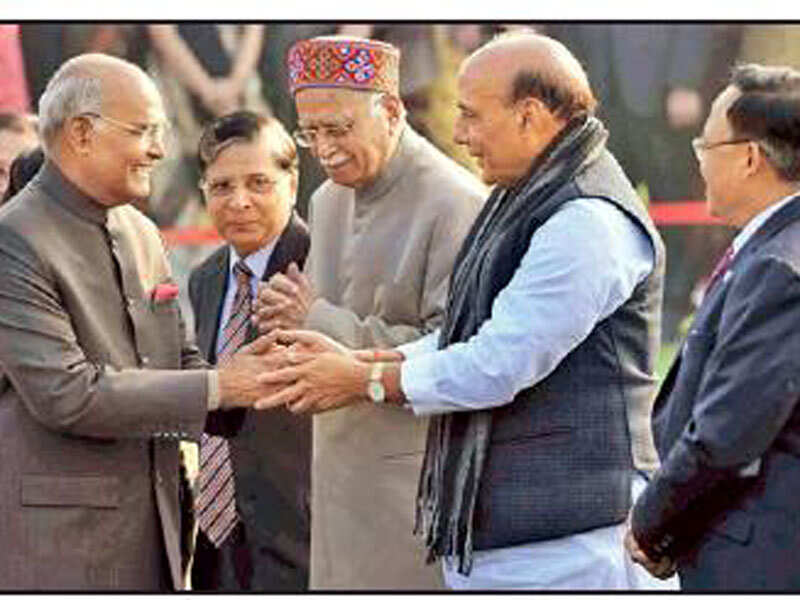 NEW DELHI: This Republic Day, it wasn't the usual 'At Home' in Rashtrapati Bhavan. Unlike Previous Years, the event saw a more intimate gathering, with President Ram Nath Kovind pruning the guest list from 2,000 to 724.
It wasn't just the guest list that was different. Sources said 'achievers' were invited. Like Milind Kamble, an entrepreneur who established the Dalit Chamber of Commerce and Industry (DICCI), as well as Under-17 football captain Amarjit Singh from Manipur. The family of IAF commando Corporal Jyoti Prakash Nirala, who was awarded the Ashok Chakra posthumously at the Republic Day function in the morning, was also received by the President at the 'At Home'.
Others making it to the guest list included 'young achievers' like toppers of CBSE, ISC and UPSC exams along with the Phogat sisters. "Inviting the four young girls from Haryana, who are medal winners, was a powerful message," said a source involved with the process.
The other message was also clear: broadbase the list, move away from Lutyens zone and south Delhi, a source said. "The President made it a point not to invite even his immediate family. Only the First Lady was present at the event," the source added.
The list, however, had the mandatory invitees, such as Members of Parliament, former chief justices, heads of the defence forces, high commissioners and ambassadors as well as constitutional figures.
Press secretary to the President Ashok Malik said, "This year, the guest list had 724 names. In previous years, the list was three times longer." According to sources, the reason for the cropped list was Kovind's desire for a more exclusive gathering, without the crush of a large number of guests.
In previous years, the long list — which had 2,347 names in 2016 and 2,015 in 2017 — had led to separate enclosures for the more "important" guests, as well as measures like keeping cell phones away from the event. This year, sources said, mobile phones were allowed, with guests not being subjected to the intense frisking that was the norm earlier. Source : timesofindia
This post first appeared on Daily Kiran, please read the originial post: here