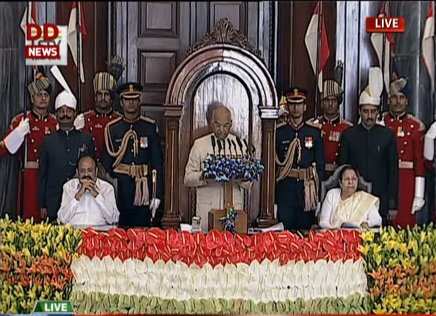 NEW DELHI: President Ram Nath Kovind said today that empowerment, not appeasement of minorities, is the Narendra Modi government's mantra and the welfare of farmers its highest priority.
In his address to both houses of Parliament on the opening day of the Budget Session, the President further said that 2018 is an important year for realising the dream of a new India.
Dwelling at some length on farmers' issues – in keeping with the fact that he said they are a priority for the Centre – the President said that the government is working actively to raise farmers' standard of living by helping reduce expenditures and enhance crop yields.
"As a result of the government's policies and the hard work of farmers, a record production of more than 275 million tonnes of food grain and about 300 million tonnes of horticultural produce has been achieved in the country," said Kovind.
He further said that special attention to farmers' needs is a part of the government's broader policy of socio-economic upliftment of all in the country.
"The architect of our Constitution, Dr. Ambedkar, used to say that political democracy cannot survive without social and economic democracy," said the President.
Ease of living and raising standards of living is therefore the cornerstone of the Narendra Modi government, said Kovind.
"Guided by this fundamental spirit of the Constitution and committed to the welfare of weaker sections, my government is working towards strengthening social justice and economic democracy and to usher ease of living for the common man," said Kovind.
A major part of socio-economic upliftment is the welfare of women, said the President. In this connection, he talked about instant triple talaq and doing away with the practice. The bill criminalising instant triple talaq was tabled in Parliament during the last session.
"I hope the Triple Talaq Bill will be passed soon so that the Muslim women can live a life of dignity and without fear," said Kovind, of the bill that is expected to figure high on Parliament's agenda, in addition, of course, to the budget presentation.
Source : timesofindia
This post first appeared on Daily Kiran, please read the originial post: here