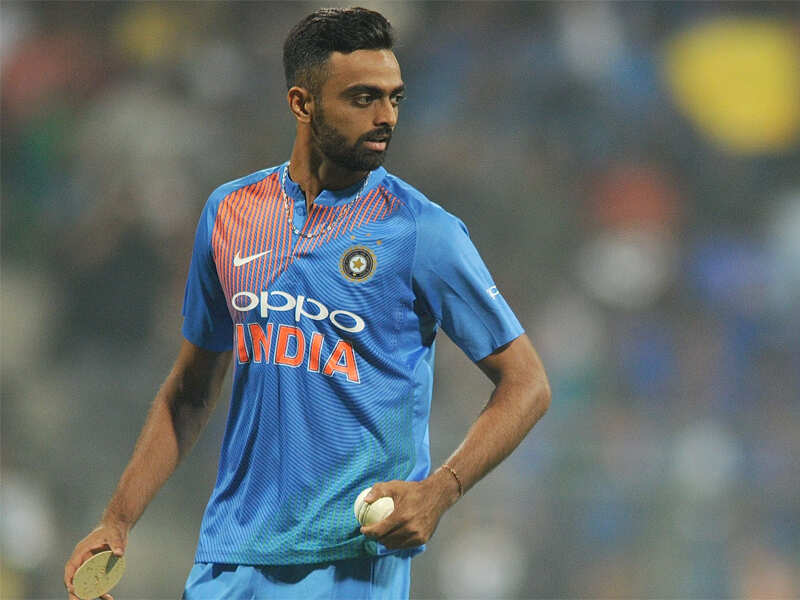 NEW DELHI: Overwhelmed by "surreal" bidding for him during the IPL auction, it took Jaydev Unadkat some time to believe that franchises were so willing to break their banks to grab a fast bowler.
Unadkat was training with his Saurashtra teammates in Rajkot for the upcoming Vijay Hazare Trophy and asked team physio to inform him when his name comes up for bidding during the IPL auctions.
"After the physio told me that my bidding is on, I was hooked onto the live streaming for the next 15 minutes and found it surreal. The entire team stopped it's training to watch my bidding," Unadkat said after he became the costliest Indian player at the auction with Rs 11.5 crore deal from Rajasthan Royals.
The 26-year-old Saurashtra left-arm seamer has played a Test, seven ODIs and four T20 Internationals for India but in the last one year he has emerged as a parsimonious bowler in the shortest format.
He did not expect franchises to splurge on a fast bowler since Rs 10 crore plus deals have always been batsmen's bastion.
"Honestly, I did not have any amount in mind. The past two years have been pretty good for me and after last year's IPL (24 wickets), I expected a good bid. But yes, I was really amazed at the kind of bidding that happened. It is indeed surprising for me that franchises were ready to pay so much for a fast bowler," said Unadkat, who also played the U-19 World Cup for India in 2010.
But he is aware of the kind of expectations that will be there from him but the 'Unadkat 2.0' does not want to put too much pressure on himself thinking about it.
"I am overwhelmed but taking it in a happy way. I am expected to give my best for my franchise and will strive to do that," said Unadkat, who also has 205 wickets from 65 first-class games.
He had played his only Test match at the Centurion way back in 2010. Back then, he was raw and inexperienced but over the years, he has learnt what works for him.
Especially his variation of slower deliveries – including the tradition rolling of fingers or the more difficult back of the hand version.
"During the first time that I played for India till now, I have worked a lot on my game. One of the main architects of this change has been our India bowling coach Bharat Arun. Bharat Sir has been my coach since I was a U-19 India player. I have had numerous sessions with him at the NCA, which has proved to be immensely helpful," Unadkat said.
"Now that I am back in the T20 squad, I have been regularly in touch with Bharat sir and trying to execute his tips. I believe the biggest change has been my mindset about using the variation. Earlier, there wasn't that self confidence which I have now when I want to try something new," he said.
One of the lesser known facts about Unadkat is that he used to be a good student in school with 91 percent marks in his 10th standard board exam and 86 percent in the 12th standard studying commerce.
At times, it does help if one has an academic inclination but only to a certain extent, feels Unadkat.
"I would never say that being a good student ensures that you will be a good sportsman. There are a lot who are not academically inclined. But yes, I wouldn't say it doesn't help when it comes to taking spot decisions – a necessity in T20 cricket. May be at one level, if you have been good in studies, it can help you in becoming a good student of the game," Unadkat concluded.
Source : timesofindia
This post first appeared on Daily Kiran, please read the originial post: here