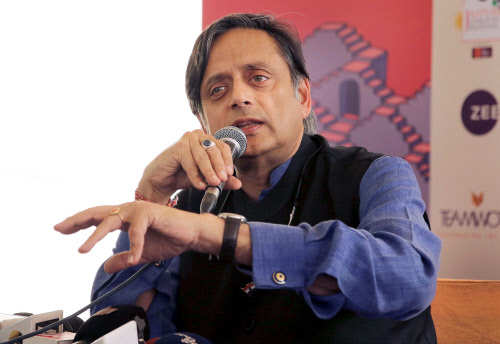 JAIPUR: Senior Congress leader Shashi Tharoor today said the BJP government would try to send out a Political Message by giving Tax Rebates or investment initiatives in the upcoming Union Budget as it will be their last one.
He was speaking on the sidelines of the Jaipur Literature Festival.
"This is anyway their last budget, and they will try to send out a political message.
"If you look at our economy which is in a bad condition, they would want to give some incentives for investments, maybe there will be some tax Rebates, they will have to do something for farmers as stagnant agriculture sector has put farmers in a very bad state," he said.
The Union minister said if they wanted people to vote for them, they would do something about employment opportunities for the youth as well.
Tharoor also criticised the government for not taking "preventive action" in the light of violent protests against the release of "Padmaavat" film.
"The truth is that sometime these (violence) will erupt, but where there are foreseeable problems, where problems have been advertised in advance, where groups have taken a particular stand, some preventive action can deter such behaviour. It should be the standard playbook of the government," he said.
The minister urged the people to "demand their government of more effective law and order".
"It's human right for all of us to live with peace in our neighbourhood," he said.
Source : timesofindia
This post first appeared on Daily Kiran, please read the originial post: here