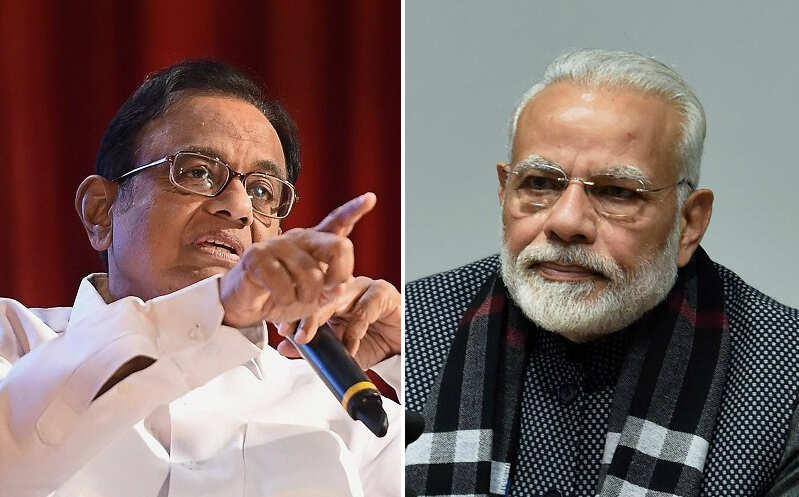 NEW DELHI: The BJP on Sunday accused Congress of insulting "poor and aspirational Indians" after its leader P Chidambaram took Prime Minister Narendra Modi to task for equating selling 'pakodas' to being employed.
Earlier in the day, the former finance minister took a swipe at the Modi goverment's track record in employment generation when he tweeted, "Even selling pakodas is a 'job', said PM. By that logic, even begging is a job. Let's count poor or disabled persons who are forced to beg for a living as 'employed' people."
Reacting strongly to Chidambaram's jibe, the BJP slammed Congress for being elitist and looking down on those belonging to humble backgrounds.
"The Congress Party Insults poor and aspirational Indians again. Comparing livelihood means of millions of hardworking Indians from humble background to begging betrays Congress party's perpetual disdain for the poor," the ruling party said on Twitter.
The saffron party's rejoinder was reminiscent of how it had claimed the moral high ground when suspended Congress leader Mani Shankar Aiyar called PM Modi a "neech aadmi".
Once again falling back on Modi's modest beginnings as a tea-seller, the BJP said that Congress had still not come to terms with the "historic" mandate for an honest and hardworking 'chaiwallah' (tea-seller) over the corrupt and dynasts.
Congress party insults poor and aspirational Indians again. https://t.co/5V0gRYh0Jl

— BJP (@BJP4India) 1517135857000
Modi, in a recent interview to a television channel, reportedly said, "If a person selling pakodas (snacks) earns Rs 200 at the end of the day, will it be considered employment or not?"
In a firm rebuttal to the PM's contention, Chidambaram said there is a marked difference between jobs and self-employment – mainly that the former is a steady and secure form of employment, whereas the latter may not necessarily be so.
"In the debate on jobs, it is important to keep the distinction between 'job' and 'self employment'. A 'job' is certain, regular and reasonably secure. We want to know how many such jobs have been created," he tweeted.
The former finance minister said the claim of 70 lakh new jobs in 2017-18 had been punctured by two scholars and there were reports that the number of contributing members in Provident Fund declined from 462 lakh in July 2017 to 438 lakh in September 2017.
The Congress leader also argued the effectiveness of the government's decision to identify MGNREGA workers as "job holders".
"Another minister wanted MGNREGA workers to be counted as holding jobs. So they are 'job' holders for 100 days and jobless for 265 days," he argued.
The Mahatma Gandhi National Rural Employment Guarantee Act 2005 (MGNREGA) was formulated with an aim "to enhance the livelihood security of people in rural areas by guaranteeing hundred days of wage employment in a financial year to a rural household whose adult members volunteer to do unskilled manual work".
Chidambaram further spelt out ways to open up the "stagnant" job market and said that an increase in private investment, private consumption, exports and credit demand will be a step in the right direction.
"Real job creation will be reflected by robust increase in private investment, private consumption, exports and credit demand. Not happening yet," he wrote.
(With PTI inputs)
Source : timesofindia
This post first appeared on Daily Kiran, please read the originial post: here