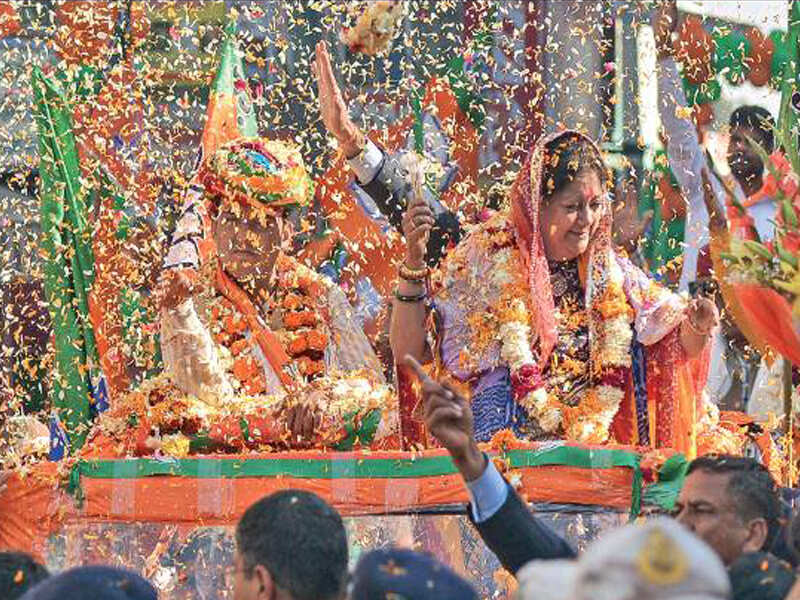 AJMER: Presence of chief minister on the last day of campaigning for Ajmer bypolls boosted the confidence of workers and voters. Waving and greeting the throng, Raje was accompanied by Bharatiya Janata Party (BJP) candidate from Ajmer, Ramswaroop Lamba.
Raje said that the stream of development has started in Rajasthan with the help of Union government and it is the duty of people to help spread awareness about the development.
Interestingly, Raje's roadshow started from Ajmer South state assembly constituency and ended in Ajmer north constituency whereas Congress roadshow started from Ajmer north and ended in Ajmer south.
On Saturday morning, thousands of BJP supporters on motorcycles, scooters, cycles and four-wheelers were seen waiting for Raje.
They were decked in saffron paraphernalia, caps and mufflers. The road leading to the rally was also decorated with BJP flags and saffron balloons. On Raje's arrival, they shouted slogans for her.
Raje was welcomed at many places. She was offered red chunari, showered with flowers and garlands.
Dressed simply, Lamba reminded people of his father Sanwar Lal Jat.
Station road market associations welcome Raje and assured her victory in the bypolls. The rally passed through P R Marg, Agra Gate, Nasiya and culminated at Bajrang Garh. At Vijay Smarak, Raje appealed for votes. MP from Jhalawar and Raje's son Dushyant Singh also accompanied her and asked for votes.
Talking to the media, Dushyant Singh said that Modi government has done a lot for the common man and tried to remove corruption, therefore, people wanted Modi to remain in government. Source : timesofindia
This post first appeared on Daily Kiran, please read the originial post: here