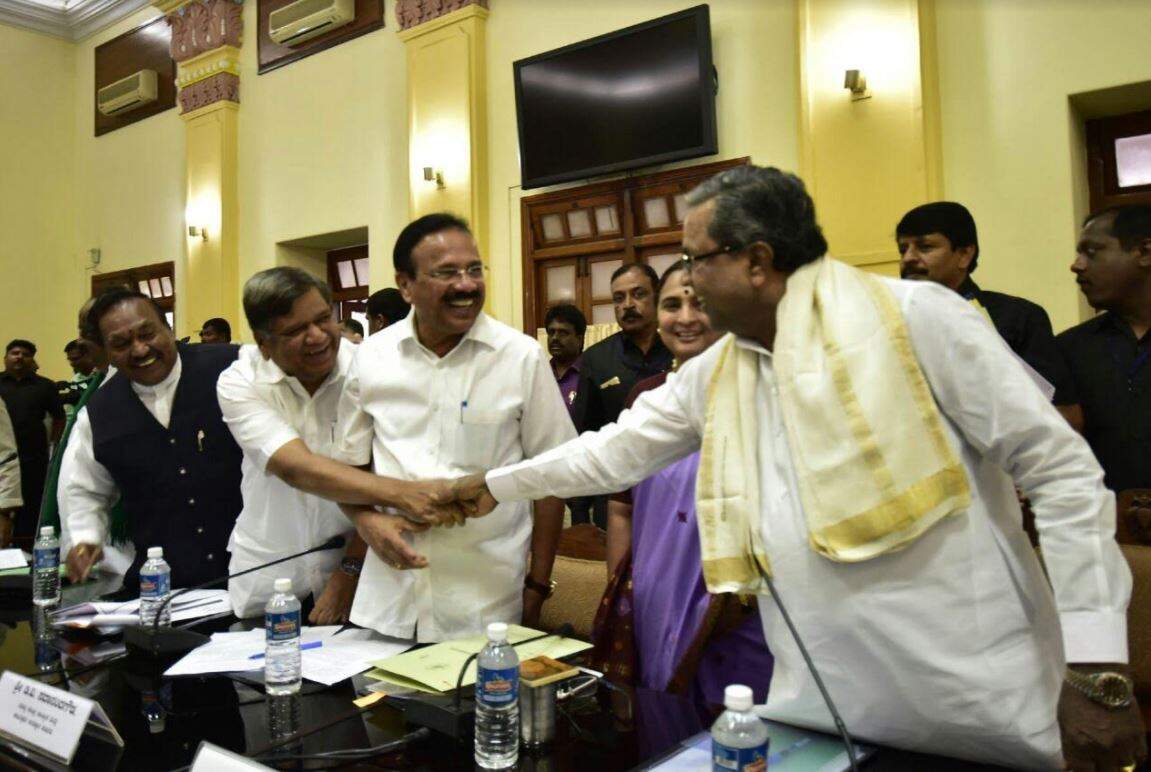 BENGALURU: The all-party meeting on Saturday failed to reach consensus on the Mahadayi River Dispute with the two national parties the BJP and the Congress trading barbs at each other.
Walking out from the meeting, after a three-hour deliberations, BJP legislators including opposition leaders Jagadish Shettar and KS Eshwarappa said the deadlock over seeking a political resolution continued.
"There is no political intent from chief minister Siddaramaiah and the Congress to resolve the Mahadayi river dispute with him not reaching out to Goa Congress to resolve the crisis. We demand that the CM and the AICC president Rahul Gandhi mediate with the Goa Congress to allow smooth passage of the assurances provided by Goa CM Manohar Parrikar to look for a political resolution to the entire debacle," said Shettar.
At the other end, Siddaramaiah said he was ready for talks with Goa Congress provided state CM Parrikar responded to his letter and invited him for talks on the dispute.
"Prestige aside, despite Parrikar writing directly to state BJP president BS Yeddyurappa and violating the federal structure protocol, I am ready to speak to the Goa CM any day. If and when he invites me, I shall also speak to the Goa Congress leaders as demanded by the BJP to reach a political resolution on the Mahadayi dispute," said Siddaramaiah after the all-party meeting.
Siddaramaiah dismissed BJP's demand of Rahul Gandhi intervening in the entire dispute.
"Is Rahul Gandhi the PM? What role does the BJP expect him to play in this entire episode? They (BJP) are trying to politicise the matter," he retorted.
Meanwhile, the JD(S) and the farmers demanded that Karnataka take an all-party delegation to Prime Minister Narendra Modi for facilitating a tripartie meeting between the chief ministers of all the three states of Goa, Karnataka and Maharashtra.
Siddaramaiah also suggested an alternative to Parrikar not responding to his request, based on the farmers demands, by asking the state BJP to facilitate an all-party delegation meeting with PM Modi.
"If Parrikar does not respond, then I suggested at the meet for an all-party delegation to meet PM Modi as demanded by most political parties and the farmers. I will write to the PM in this regard, and request him for a audience. Now, the BJP is completely opposed to the idea and is not interested in this redressal idea to the Mahadayi dispute," said Siddaramaiah.
Source : timesofindia
This post first appeared on Daily Kiran, please read the originial post: here