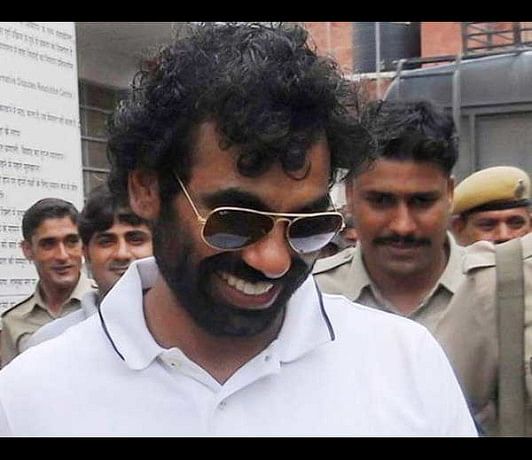 Jaipur : Notorious Criminal Anandpal singh, carrying a reward of Rs 5 lakh on his head, was tonight killed in an exchange of fire with Police in Rajasthan's Churu district.
Two policemen were also injured in the encounter.
Anandpal, who had managed to escape from custody of police while being taken back to high security prison in Ajmer from a court in Nagaur in September 2015, had taken a shelter in a House.
"He was alone in the house in Churu district and opened fire at police from rooftop when the police surrounded the house and challenged him.
"In the exchange of fire, he was killed," DGP Manoj Bhatt told PTI.
"On a pin pointed information, teams of the special operation group (SOG), the emergency response team and local police surrounded the house near Sardarshahar and asked him to surrender but he opened fire at the police," ADG ATS and SOG Umesh Mishra said.
Before the encounter, the state police made a major breakthrough earlier in the day by catching Anandpal's brother Rupendra Pal singh and his aide Devendra alias Gattu from Sirsa in Haryana.
Each of them carried a reward of Rs one lakh on their head.
They shared the details of Anandpal's whereabouts following which the house was surrounded in Churu.
A dreaded criminal, Anandpal, was involved in over two dozen cases in Didwana, Jaipur, Sikar, Sujangarh, Churu, Sanganer among others and was also main accused in high profile murder cases like Jivan Ram Godara murder case of Didwana (Nagaur) and Gopal Fogawat murder case of Sikar district.
Close to 100 aides of Anandpal were arrested from different places after his escape in 2015 but the gangster remained the major challenge for the state police.
http://www.india.com/news/agencies/criminal-carrying-rs-5-lakh-reward-on-head-killed-in-encounter-2267920/
This post first appeared on Daily Kiran, please read the originial post: here