New Delhi: The Prime Minister Narendra Modi-led National Democratic Alliance (NDA) has completed three years in office on Sunday.
Formed in May 1998, the NDA with BJP as its largest party has come a long way. Till now NDA has fought five elections as a coalition.
Lok Sabha Election 1998
With AB Vajpayee as PM and with outside support provided by the Telugu Desam Party (TDP), the NDA was able to muster a slim majority in the elections of 1998. However, the government collapsed within a year because AIADMK withdrew its support.
Lok Sabha Election 1999
With AB Vajpayee as PM again and after the entry of a few more regional parties, the NDA won the 1999 elections with a larger majority and completed full five-year term.
For Lok Sabha Election 2004
In early 2004, NDA called elections, six months ahead of schedule. Its campaign was based around the slogan of "India Shining". NDA attempted to depict itself as a government responsible for a rapid economic transformation of the country.
The coalition, however, suffered a defeat. It won only 186 seats in the Lok Sabha, compared to the 222 of the United Progressive Alliance (UPA).
Lok Sabha Election 2009
With Manmohan Singh as PM for the second time, UPA again came to power in 2009 with BJP as second party.
Lok Sabha Election 2014
The NDA won a sweeping victory, taking 336 seats. The BJP itself won 31.0% of all votes and 282 (51.9%) of all seats. NDA's combined vote share was 38.5%.
BJP and its allies won the right to form the largest majority government. Since the 1984 general election, it was the first time that a party has won enough seats to govern without the support of other parties.
SOME OF THE KEY INITIATIVES BY NDA GOVERNMENT UNDER PM MODI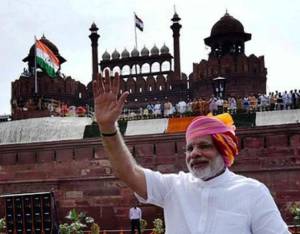 Pradhan Mantri Jeevan Jyoti Bima Yojana
Pradhan Mantri Jeevan Jyoti Bima Yojana was launched in May 2015 to create a social security system for the poor and underprivileged in the age group of 18-50 years by providing a renewable life insurance cover of Rs.2 lakhs with just a premium of Rs.330
Pradhan Mantri Jan Dhan Yojana
Launch in July 2014, it is a national mission to bring comprehensive financial inclusion of all the households to ensure access of all households to financial services.
Pradhan Mantri Ujjwala Yojana
Launch in May 2016, it aims to provide deposit free 5 crore cooking gas (LPG) connections to women from below-poverty-line (BPL) households over 3 years from 2016-17 to 2018-2019.
Pradhan Mantri Awas Yojana, Urban
Launch in June 2015, its objective is to address the gap in housing and meet the target of "Housing for All" by 2022, with an aim to provide a home to every urban poor.
Accessible India Campaign
Launch in December 2015, its objective is to create universal accessibility for Persons with Disabilities in Built Environment, Transport, and Information & Communication Technology (ICT) ecosystem. The Campaign has the vision to build an all-inclusive society, in which equal opportunities are provided for the growth and development of Persons with Disabilities, so that they can lead productive, safe and dignified lives.
Pradhan Mantri Suraksha Bima Yojana
Launch in May 2015, its objective is to provide a very affordable insurance scheme for the poor and underprivileged people in the age group of 18 to 70 years with a bank account at a premium of Rs.12 per annum; with risk coverage of Rs.2 lakhs for accidental death and full disability and Rs.1 lakh for partial disability.
This post first appeared on Daily Kiran, please read the originial post: here