Website Performance matters – even just a 3-second delay in page response can cause 40% of website users to abandon your website. And one of the biggest factors that impacts site performance is the accumulation of digital marketing vendor tags and pixels on web pages. Over the years, Tealium has pioneered many of the best practices in tagging and has incorporated various techniques to minimize the effect of tags on website performance.
Jamie Wells and Josh Wolf, both Solutions Consulting Managers at Tealium, recently did a 30 minute webinar on "Optimizing Webinar Performance With Tag Management."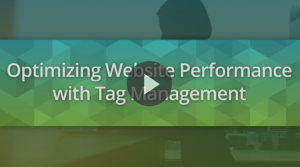 Watch the on-demand version now and learn:
Why website speed and performance matters

The 8 Key Ways to optimize webinar performance with tag marketing, including specific strategies and details on asynchronous tag loading, script compression, tag bundling, multi-CDN's and more

How to ensure your brand's website is performing at optimal levels
Check it out today!
The post 8 Key Ways to Optimize Website Speed With Tag Management appeared first on Tealium.