There's going to come a time where every shooter has to change out the Barrel of their AR-15 or AR-10. For some, it's because they've squeezed off a few too many 6.5 Creedmoor rounds at the range, while others are just looking for an upgrade to keep their accuracy razor-sharp.
Whatever your reason for changing the barrel to your AR, understand one thing: your barrel isn't something that you want to cut corners on.
If this is your first time replacing the barrel to your AR, or if you've finally decided to build an AR from the ground-up, make sure to check out the barrel section to our AR-15 guide before you get started. It has all the information you need to level you up from noob status. Take a look at it even if you're building an AR-10, as some of the general information regarding Barrels is the same between platforms.
Now that we've got that out of the way, let's take a look at some of the best manufacturers for AR barrels.
Faxon Firearms
Established in 2012, Faxon Firearms is a new up-and-comer in the industry. But don't mistake their newcomer status as inexperience. Faxon barrels have been a fan favorite over the past few years because of their accuracy, durability, and lightweight design.
You can find Faxon's barrels chambered for a number of different cartridges commonly used with the AR-15, but the most common ones you'll encounter are the:
.223 Wylde
5.56 NATO / .223 Remington
.308 Win (for the AR-10)
They also make 9mm barrels for your pistol-caliber carbines as well.
Faxon makes a number of different lengths, so finding the right barrel to fit your unique specifications shouldn't be a problem. Let's take a look at one of their more popular barrels.
The Pencil Barrel
Faxon's Pencil Barrels are a line of lightweight barrels that come in a number of different sizes. The most popular of the group tends to be the 16" mid-length barrel, which has a .625" low-profile gas block and weighs a total of 1.2lbs.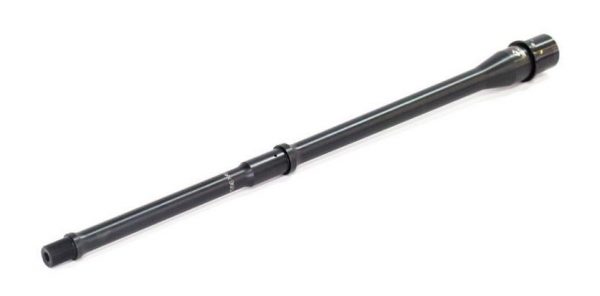 16" Pencil Barrel by Faxon (5.56 NATO)
See It
Compare prices (3 found)
Prices accurate at time of writing
One of the best things about Pencil Barrels is that they're affordable and average between $150 and $170 depending on the length. They're made with the standard 4150 steel used on all mil-spec barrels, but you have the option of choosing a match-grade 416R stainless steel barrel instead, as long as you're okay with the sticker price doubling.
Regardless of which barrel material you decide to go with, your Faxon Pencil Barrel will come with a QPQ nitride finishing that keeps it protected from corrosion and common wear-and-tear.
The great thing about Faxon barrels is that you get an affordable price tag and a high-quality barrel. For this reason, it's important to make the distinction between being a bargain and being cheap – because the Pencil Barrel is anything but cheap.
You'll find that this barrel can withstand heavy use without wearing own and sacrificing accuracy. If you're someone who likes to put their AR-15 to work consistently, you won't be disappointed. And if you're still not sold, take a look at our comprehensive review of the 14.5" Pencil Barrel and decide for yourself.
Ballistic Advantage
Ballistic Advantage is a well-known company that specializes in match-grade barrels and replacement barrels for your AR-15 build.
What's cool about BA barrels is that the company doesn't take a one-size-fits-all approach to barrel design. Most barrels belong to one of the following series: Modern, Performance, or Premium. Each series is designed to fulfill a specific need for the shooter, while also giving them the chance to stick to their price range or only pay for features that they actually need. They also come in a number of different lengths, starting at pistol and going all the way up to a 20" rifle length.
One of the chief gripes that people had about Ballistic Advantage was that they didn't make barrels for the increasingly popular 6.5 Grendel round. Fortunately, they've recently remedied that and now support Grendel and .22 Nosler rounds, along with all of the usual AR-15 suspects –including the 9x19mm pistol-caliber carbine.
With that out of the way, let's take a look at some of the best AR barrels Ballistic Advantage has to offer.
Modern Series
The Modern Series is Ballistic Advantage's baseline barrel series. They're going to run you anywhere between $140 and $185 depending on the barrel length. And for AR-15 pistols, a Modern Series barrel will set you back about $115.

Ballistic Advantage 16" Modern Series Unthreaded Barrel for the 5.56
165
at Ballistic Advantage
Prices accurate at time of writing
Despite being the company's cheapest option, the Modern Series is perfect for the basic shooter who's looking for longevity and decent accuracy, but doesn't need to worry about the demands of competitive shooting.
The barrels are made from 4150 Chrome Molybdenum Vanadium and are given a protective QPQ finish. They also give the barrel extension and barrel separately, in order to prevent the extensions from loosening over time due to heat.
Performance Series
The Performance Series are a little more expensive, ranging between $200 and $250 depending on the length of the barrel. With Performance Series barrels, you get the same quality that comes with the Modern series, along with a nickel boron-coated extension. The benefit of this is that you get further protection against corrosion, rust, and wear caused from abrasive agents.

Ballistic Advantage 16" AR-15 Performance Series barrel for the 5.45 Russian
See It
Compare prices (2 found)
Prices accurate at time of writing
Unlike the Modern Series, the end of every performance barrels has a recessed 11-degree target crown. Not only does this give the barrel an atheistic boost, it also helps to protect the crown from damage that could affect the bullet's spin.
Premium Series
Ballistic Advantage's premium series barrels aren't cheap by any stretch of the imagination, but they are constructed with a superior craftsmanship that sets then a notch above your average barrel manufacturer. You can expect a Premium Series barrel to run you anywhere between $300 to $400, depending on the length and its specifications.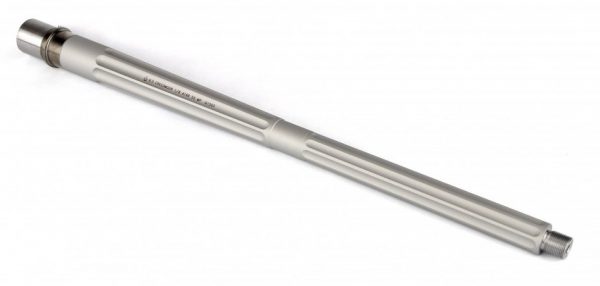 Ballistic Advantage 18" AR-10 Premium Series barrel for the 6.5 Creedmoor
295
at Ballistic Advantage
Prices accurate at time of writing
You can find the Premium Series barrels available for the .223 Wylde, .300 BLK, .308 Win, and 6.5 Creedmoor for your AR-15 and AR-10 builds. Like the Performance Series, every premium barrel has the same 11-degree target crown. But what sets this series apart is the barrel material, 416R Stainless Steel, which was chosen specifically to maximize precision and accuracy.
With the Premium Series, you have the option between choosing a fluted or non-fluted design. And most barrels come threaded, although there are a few unthreaded variants in each of the three series.
Christensen Arms
Christensen Arms was founded by aerospace engineer, Roland Christensen who envisioned a new way to build superior firearms. The company has a two-decade long reputation of developing some of the finest rifle parts and fully-assembled gun builds around.
Christensen is also the first company to develop the Carbon Fiber Barrel, which tend to trump other barrels in pretty much every way except price.
And boy do they cost more – approximately double the price tag of your finest steel barrel, to be exact. Still, your carbon fiber barrel delivers better accuracy, durability, and barrel life than other barrels on the market, all while being significantly lighter in weight.
Let's look at a couple carbon fiber barrels for your AR build.
AR-10 16" Carbon Fiber Barrel with 2" Gas Seat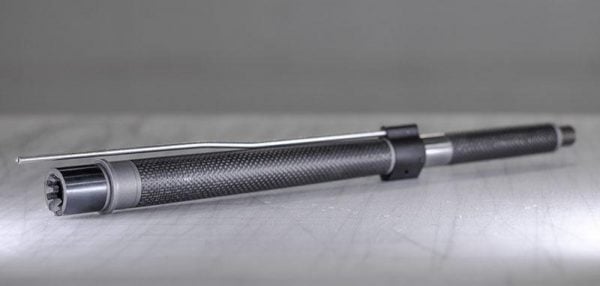 Christensen Arms' AR-10 Carbon Fiber Barrel
Prices accurate at time of writing
The benefits of this barrel are pretty straightforward. Its carbon fiber design means that you get better accuracy and durability than you would with a 4150 or 4140 steel barrel, and the match-grade 416R stainless steel barrel lining ensures that precision and accuracy is delivered with every shot.
The barrel comes with a threaded muzzle, gives a twist ratio of 1:10", and weighs under two pounds.
AR-15 Carbon Fiber Barrel with 2" Gas Seat
It's pretty much the same as the AR-10 variant. However, unlike the AR-10, you have more options to choose from when purchasing this carbon fiber barrel.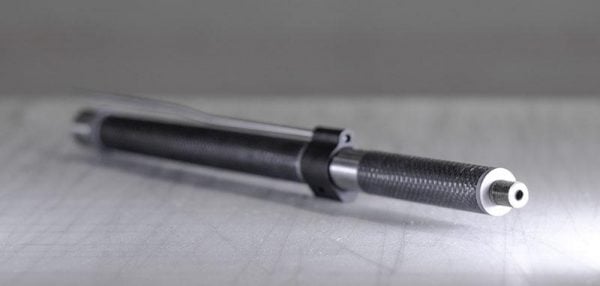 Christensen Arms AR-15 Carbon Fiber Barrel
See It
Compare prices (2 found)
Prices accurate at time of writing
It comes chambered for the following calibers:
.204 Ruger

– length of 16" or 20"; twist rate of 1:10" or 1:12"

.223 Wylde

– length of 11.5", 14.5", 16", or 18"; twist rate of 1:7", 1:8", or 1:9"

5.56 NATO

– length of 16"; twist rate of 1:8"

6.5 Grendel

– length of 24"; twist rate of 1:8"
If you're looking for a good, lightweight barrel that can carry you through competitive shooting and hunting, Christensen's carbon fiber AR-15 barrel is a pretty solid choice.
Odin Works
Odin Works is another good company that specializes in making parts for your AR-15 and AR-10 builds.
When it comes to barrels, Odin specializes in high-quality 416R Stainless Steel barrels which have been designed with the sole purpose of providing maximum accuracy. They offer a number of different barrels ranging between $300 and $450 in varying lengths.
In fact, Odin Works is so confident that their barrels are a peg above the rest that they guarantee sub-MOA shooting at 100 yards away.
Here are some of their more popular barrels:
6.5mm Creedmoor 22" Rifle Barrel
This stainless steel AR-10 barrel is pricier and therefore not ideal for the budget hobbits. But if you are looking to splurge on a match-grade barrel that promises superior accuracy, but you don't want to drop the extra 150 bucks on a carbon fiber barrel, then look no further.
The barrel comes with a gas tube which has been extended by 2" in order to deliver smoother shooting with high pressure cartridges.
Odin Works 6.5mm Creedmoor 22" Rifle Barrel
Prices accurate at time of writing
Because the 6.5 Creedmoor barrel is fairly long and has an XL gas tube, you can expect it to be a little heavier than others (about 3 ½ pounds), but it's definitely a must-have for anyone who values accuracy over anything else.
Other features of the barrel include: 1:8" twist rate and 5/8-24 threading.
6.5 Grendel 18" Barrel
The 6.5 Grendel is becoming one of the more popular cartridges for the AR-15, and for good reason. It's accurate, powerful, and not nearly as harsh on the barrel as some of the other heavy hitters out there. With that in mind, it's never a bad idea to maximize your accuracy with a high-quality 6.5 Grendel barrel like the one from Odin Works.

Odin Works 6.5 Grendel 18" Barrel
Prices accurate at time of writing
Like all of Odin Works' barrels, the 18" Grendel barrel is made from a superior 416R stainless steel in order to guarantee accuracy and precision with every shot. It weighs just under 2 ½ pounds and comes with an intermediate gas tube.
Have Fun Upgrading Your AR
That should do it for my list of favorite AR barrel manufacturers. If you're shooting with someone else that you swear by, feel free to let us know what you're working with.
And if you're new to the AR modding and would like to learn more about upgrading your rifle, take a look at our list of favorite AR-15 upgrades.
And as always, happy shooting.
The post Looking for the Best AR Barrels? Check Out These Manufacturers appeared first on Pew Pew Tactical.