The customizability of the AR-15 makes it the Lego of the gun world. With a wide selection of parts to choose from, you can build an AR-15 from the ground-up that is 100% you. And this, along with the fact that the gun is hands-down an American classic, is why the AR-15 is one of the most popular guns in the country.
For beginners, building a gun may sound like a complicated and downright impossible task to tackle. The truth is that customizing your AR isn't that difficult – all you need is to know how to follow directions, keep track of your parts, and have some very basic tinkering skills. And we do have comprehensive guides available to help you get started.
Some of you are probably perfectly happy with shooting the same AR-15 that came out of the box, and for good reason: it's hard to go wrong with a good AR-15. But if you're looking for a little bit different, whether you're up for the challenge of building an AR form the ground-up or you really want something that better reflects your personal style, then this guide will help you get started.
Today we're going to look at stripped parts for the AR-15 platform – minus the bells and whistles – that will make up the backbone of your gun.
Building Your AR-15
The AR-15 is a two-piece gun that requires an Upper and lower Receiver in order to function.
The lower receiver is the part of the gun where you'll have your serial number, magazine well, and firing mechanisms. Whereas the Upper Receiver is a bit more basic. Its main parts include the ejection port cover, charging handle, and a few other components like springs and pins.
Together, these two parts make a stripped AR-15. In other words, you won't have any of the furniture that gives your gun its menacing appearance and tactical advantage until you put them on later.
Now that we've got that out of the way, let's take a look at some lower receivers for your build.
AR-15 Omni Hybrid by American Tactical
The Omni Hybrid ($50) is a stripped receiver that been designed to be dragged through hell and back without breaking down or malfunctioning. Part of this is due to the fact that the Omni Hybrid is made from a combination of two materials: polymer and aluminum. This design helps to make sure that the part is durable and has a sturdy yet lightweight design that doesn't add unnecessary weight to your gun.
As you can see in the video, the Omni Hybrid is so strong that it can withstand being run over by an 8,000-pound forklift without sustaining any damage. Another cool feature of this receiver is its unique, patented design that restricts hammer and firing pin movement as the gun is being fired.
SP223 GEN2 Billet by Seekins Precision
This Seekins Precision Billet-Style Lower ($200) doesn't only give your AR-15 a stylish look and feel, it's also designed to help you get the most out of your performance.
Editor's Pick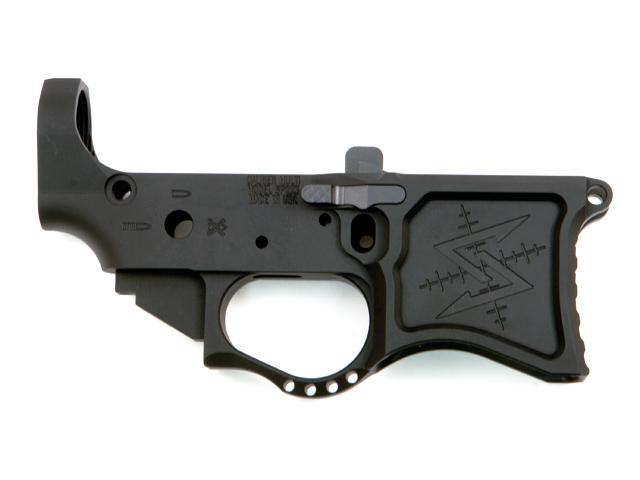 Seekins Precision Billet Lower
Prices accurate at time of writing
As you may notice, the trigger guard in this piece is a little larger than usual, and that's no coincidence. Seekins Precision opted to go with an enlarged trigger guard as an extra level of convenience during those cold months when you might be shooting with gloves.
Another nifty feature about the SP223is its Enhanced Bolt Catch system, which has been slightly enlarged and designed with an aggressive texture that makes it easier to operate the bolt – especially when wearing gloves or in situations of high stress. Additionally, the SP223's bolt system is also set up for ambidextrous use thanks to the ambi-bolt release feature, which lets the shooter drop the bolt on either side of the gun.
Overall, the SP223 is an exquisitely crafted lower receiver. It's made out of a sturdy 7075-T6 billet aluminum alloy that weighs a collective 10.9oz.
BAD-15 GEN2 Premium Forged Lower Receiver by Battle Arms Development
The BAD-15 ($199) is a beautiful lower receiver grafted to the superior standard of quality that Battle Arms has historically been known for.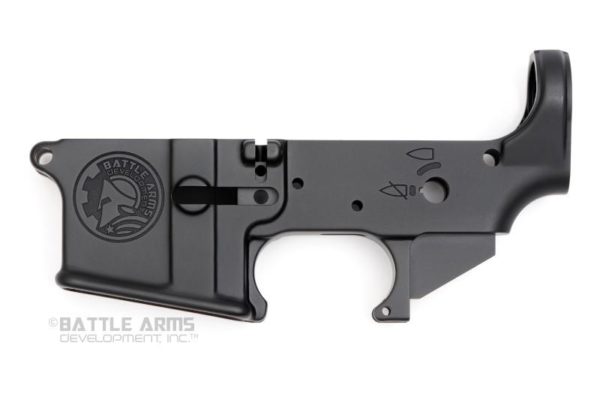 BAD Wire Forged EDM Lower
Prices accurate at time of writing
This forged receiver is stylish, lightweight, and designed to give the shooter a tactical advantage. It's made out of 7075-T6 aerospace-grade aluminum allow, which cuts back on ounces while giving the receiver a sturdy and durable feel to it. The collective weight of the BAD-15 is 8.22oz, making it one of the lighter parts out there.
Because of its expensive price tag, you might be wondering what it is about the BAD-15 that makes it such a good part for your AR-15. For starters, the piece has been designed with the utmost attention to detail. Everything from the safety to the laser-engraved emblem on the rear end of the receiver have been carefully designed to give the BAD-15 a cool look.
Another excellent addition to the BAD-15 lower receiver is the enlarged magazine well, which has been given a slightly beveled opening to make inserting and removing magazines as easy as possible – which could come in handy during high stress situations. Also, every single hole in the receiver was made from being precision reamed as opposed to being drilled, helping to add to the BAD-15's overall smoothness.
Now let's take a look at a few stripped upper receivers for your AR-15.
G4 Upper Receiver by Gibbz Arms
The G4 ($240) is a pretty basic upper receiver for .223 Rem cartridges, but it does have one nice feature that helps make your AR-15 easier to use: a left-side charging handle. This simple adjustment on the G4 can greatly increase the ergonomics of your AR-15.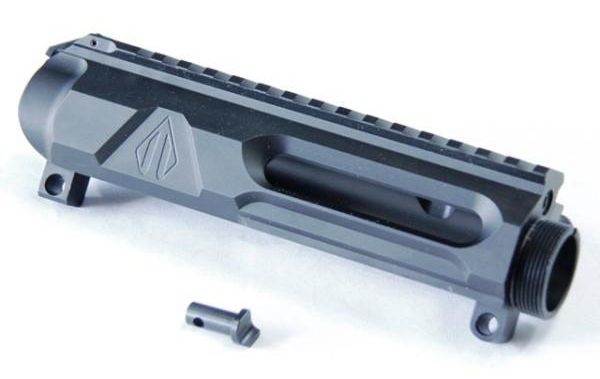 Gibbz Arms Side-Charging Upper
Prices accurate at time of writing
For starters, putting the charging handle on the left side of the receiver means that most people don't have to unshoulder or readjust themselves when they charge their weapon. It also helps to make it easier to access your handle when you have a scope mounted as well. For this reason, the G4 upper receiver makes it significantly easier for right-handed shooters to charge their weapon, which can be a blessing if you're ever caught in a moment where seconds count.
Ultramatch .308 Billet by Rainier Arms
As the name suggests, the Ultramatch ($270) works with .308 cartridges. Like with all products manufactured by Rainier, the Ultramatch is a high-quality part that's designed to give maximum performance while getting the usual wear and tear from use.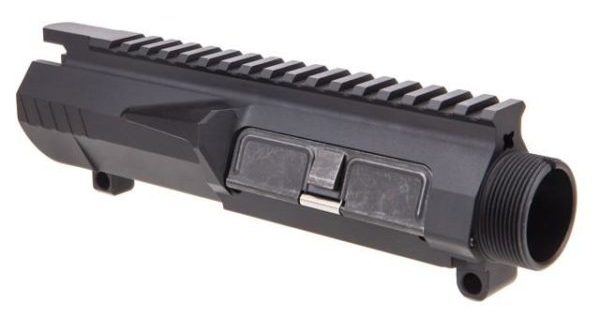 Rainier Arms Ultramatch .308 Billet Upper Receiver MOD 3
Prices accurate at time of writing
One of the things that sets the Ultramatch apart from other upper receivers out there is its durability. Crafted from 7075-T6 aluminum alloy, the Ultramatch is nearly three-quarters stronger than similar parts built from 6061 aluminum.
Are you wondering what benefits you get from going with an Ultramatch upper receiver? Longevity and top-of-the-line craftsmanship, for starters. And it doesn't hurt that the receiver has a really sleek look to it thanks to the company's attention to detail.
If you're looking to really give your AR-15 a performance boost, you might want to think about going with the Ultramatch upper/lower package ($575).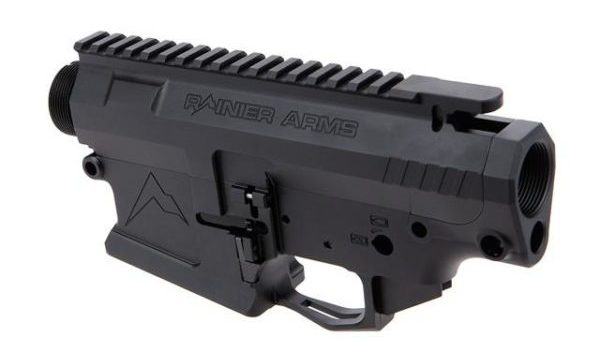 Rainier Ultramatch Ambi Billet Upper/Lower Combo Set
Prices accurate at time of writing
This will give you an ambidextrous bolt release that's been designed for maximum usability, a flared and enlarged magazine well, and an overall menacing design for your AR-15.
X-15 Billet Side Charging Upper Receiver by X-Products
X-Products' upper receiver ($310) adds an extra level of versatility to your AR-15 build. It supports your run-of-the-mill .223 Rem cartridge, as well as .300 BLK, 6.5 Grendel (currently one of the hottest rounds), and the 9mm.
A cool feature of the X-15 is that you're able to use a mil-standard bolt without having to do any serious tinkering on the upper. Instead, all you need to do is install the cam pin that comes with your upper on your bolt and you're good to go.
The other thing that I like about the X-15 is its left-side configuration, which allows shooters to utilize the charging handle without having to disrupt their shooting position. This, combined with the X-15's versatility and stylish design, makes it a great upper to own you're still trying to decide what caliber to use on your AR-15 platform.
And Last But Not Least
Finally, there's the important issue of barrels.
The type of barrel you use depends on the cartridge size that you plan on shooting with your AR-15. But there are some general things that you should know about barrels before you go out and make a purchase.
Barrel Length
Every barrel is made differently, which is evident by the different sizes they come in. The shorter the barrel is, the better it is for close-range shooting, whereas long barrels are optimal for using your scope to shoot targets at further distances.
Twist Rate
Your barrel's twist rate is demonstrated by a ratio of 1 over a specific number. (ex 1:7). The ratio represents the number of times the bullet makes a complete spin per the amount of inches it has traveled in the barrel. In the case of 1:7, the projectile spins one complete turn per seven inches.
As a general rule, the slower the twist weight, the better suited the barrel is for light ammo. Here's some general information regarding twist rates and .223 Rem cartridges:
1:12 is great for 55-grain bullets.

1:9 (probably most common) works well with bullets weighing between 45 and 77 grains.

1:8 is common with carbines and is a great multipurpose med to long-range barrel when used with 80-grain bullets.

1:7 (mil-spec) works well with bullets ranging from 70 to 90 grain
And We're Off
Whelp, that's the basics of stripped AR-15 parts. Be sure to check out our comprehensive guide to AR-15 upgrades to get some ideas of what works great on your build.
And, if you've built your own rifle on an AR platform, be sure to tell us about it! Share your favorite parts and build tips in the comments below!
The post Stripped AR15 Build Kits for a Custom Look appeared first on Pew Pew Tactical.