In general, I am not a walker of Golf courses. There are several reasons for this. One of which isn't because I am lazy.
Living in Chicago, I tend to do quite a bit of walking. In fact, my Fitbit would tell you that I average about six miles a day.
No, the main reason I don't walk the golf course is this:
And this:
And this:
These are typically a golfer's option at a golf course if you want to walk the course.
And before you say, "Kris, you can always carry your clubs," I don't want to.
Fine, maybe I'm a little lazy.
At any rate, look at those things! They are ancient and rickety and so poorly designed I wonder if they were actually intended to be used on actual golf courses. They don't even have a spot for a scorecard and pencil!
If you could talk to the inventor of the original pull Cart (you can't, he's dead now, I looked it up) and told him that courses were using these carts he'd reply, "STILL?!?!"
And now you're saying, "You know, Kris, you could always buy your own."
You're right. And I found "the one."
It's the Big Max Autofold FF Push Cart and it's an absolute thing of beauty.
Awarded "Best Club Transport" by Golf Digest in 2016, the Autofold has everything I've been looking for in a Push cart and a few things I didn't know I was looking for in a push cart.
First, the cart has a sturdy construction with a wide wheel base that provides stability. It isn't like other carts that will fall over if your bag is a bit top heavy or unbalanced. The wheels themselves also have the perfect circumference and tread width to provide for a nice smooth roll. This cart basically moves when you put your hand on the grip and start walking. It doesn't take much more effort than that. It also has a nice spot near the handle for a scorecard and a dedicated slot for a pencil. Finally, the cart comes equipped with top and bottom bag straps that automatically adjust to the size of your bag and hold it perfectly in place.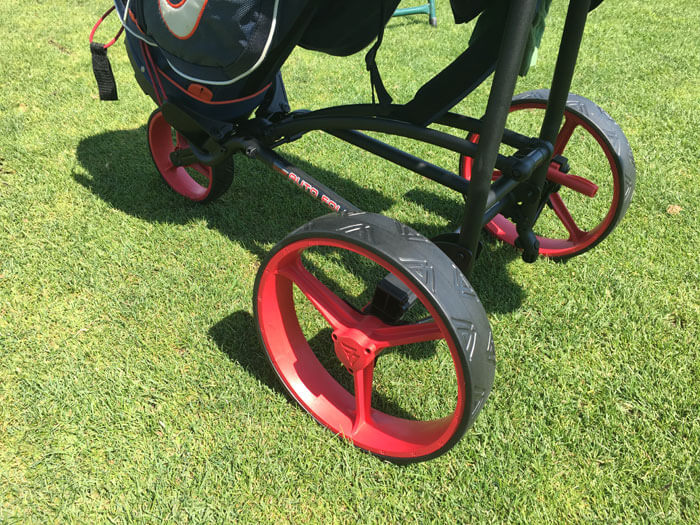 The other aspect I needed from a push cart was ease of storage since it had to live in the trunk of my car along with my golf bag. The "FF" in the "Autofold FF" stands for "folds flat." And does it ever. In two moves the cart breaks down from upright and bag-ready to roughly ten inches flat. Not only that, it also only weighs about 17 pounds.
That's the same weight as this guy:
Between functionality and portability, the cart certainly fits the bill. But then you get to all the bells and whistles!
As standard features, the push cart comes with a water bottle holder attachment, an umbrella holder attachment, and a perfectly sized pouch. The pouch sits under the flap that doubles as the scorecard holder. In fact, in the event of a wet or windy round, you can also store the scorecard on the underside of the flap. Simple, yet brilliant. The pouch also has a spot to strap in the umbrella holder when not being used.
Finally, the Autofold FF Push Cart can be accessorized with a glove strap, towel holder, extra storage, range finder bag, cooler bag, and more.
If you really want to, you can straight pimp this thing out!
After a quick, nine-hole round I was thoroughly convinced that this is the only way to walk a course. Everything I needed was within immediate reach. I had tees loaded in the built-in tee holders, my snacks, golf balls, and golf glove were all stored in the pouch, and an ice cold bottle of water just to the left of the push-handle.
Now if anyone needs me I'll be on a "good walk spoiled".
---