In this episode of The Golf Podcast we talk about some of the exciting things coming to Golficity in 2018 and identify some of the future trends and developments on the horizon for professional and amateur golf in general.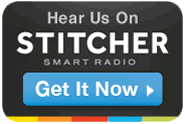 In This Show You Will Learn:
What new and existing things are coming to Golficity in 2018
Why the future of golf includes everything from drone caddies to "smart" golf balls.
How to set your own personal goals for 2018.
Plus much more.
Listen to This Week's Show
Download on iTunes here
Download on Stitcher here
Download on Spreaker here
Download on SoundCloud here.
Links from This Week's Show:
Article: The Future of Golf and Looking Ahead to 2018
Link: Golficity Gives Back Charity: Water Campaign
Golficity Gives Back
It's the season of giving and that's why we're kicking off a new program we're calling Golficity Gives Back. This is our chance to bring awareness to some of our favorite charities. This year, we're working with charity: water to help bring clean water to those in need. Donate to our campaign here and Golficity will kick in a dollar-for-dollar match up to the first $500 donated before December 31st, 2017.
Thanks for tuning to The Golf Podcast!
---
---
Cover Photo via Flickr