Good Craftsmanship is the term which comes to mind when thinking of Coleman Quikpak K1 kayak. It is a great starter kayak to introduce kayaking to your kids or family. Gone are the days when you had to strap on a canoe at the roof of their car when heading to the bceach or lake.
The Coleman Quickpak K1 sit-on-top Inflatable Kayak is purposely designed to make spending time on the water fun, easy and secure. For starters, it is inflatable (hence making it easy to set up & pack), portable and convenient. You can simply store it in the boot of their car for whenever you find time on your hands to go kayaking. It is a great equipment for the sometimes much needed personal time.
It has an attachable cargo net on the front for storing personal belongings like gear,snacks etc. It also has cup holders should you decide to take a drink with you. While paddling, this Kayak has adequate leg space whereby you can stretch out your legs, arms and back for comfort. This feature also makes the kayak able to accommodate tall users. If anyone is worried about their weight they will be pleased to know that Coleman Quikpak Kayak can comfortably accommodate up to 400 lbs.
Features that Matter
Easy Set Up
The QuikPak 1 person Kayak is designed to set up within 5 minutes. It is inflatable and comes with its own high pressure hand pump. This means that you only need to pump it & hit the waters without needing extra help. Once you are done, you only have to deflate and pack it. It is also important to note that it has less parts to assemble unlike solid kayaks. The easy set up also comes in handy as you can compactly store it anywhere; the car, house, bike without much trouble. This Kayak also comes with a highly functional collapsible paddle that also makes storage and portability easy.
Unique Design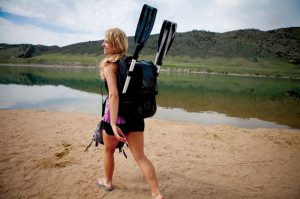 This Kayak is smartly designed to be carried as a back pack. When fully deflated, the seat converts to a padded back pack complete with shoulder straps which makes it highly portable. The best thing about it is that it still looks great when folded as a backpack. Due to its light weight material, you can easily carry it from one place to another on shallow water with the use of the in built lift handles. you do not require extra help to do this.
Durable and Safe
Do not be fooled by the fact that the Quikpak K1 Kayak is made of flimsy material due to its light weight nature. It is smartly designed with a Tarpauline bottom which provides ultimate protection from punctures and tears. It can stand up to logs, rocks and sea weed without getting damaged. It also has a 21 gauge PVC design meant for lake use and all the harsh conditions that come with such water bodies. The PVC material is thick and reinforced to guard against leakage too. It is also designed with double lock fast valves that make the inflation and deflation process quick and easy.
>> Click here to see the price, specs and reviews on Amazon
Full Features & Specifications
5-minute setup lets you spend more time on the water
Easy-to-carry backpack system turns into the seat
21-gauge PVC construction is rugged for lake use
Tarpaulin bottom provides durable protection from punctures
Multiple air chambers allow another chamber to stay inflated if one is punctured
Airtight® System is guaranteed not to leak
Double Lock(TM) valves use two locking points for easy inflation/deflation
Backrest lets you lean back and enjoy the ride
Multi-position foot rest lets you find your most comfortable position
Secure storage area lets you safely store items with bungees
Cup holder keeps your drink close at hand
Carry handles make it easy to carry in and out of the water
NMMA® certified to hold up to 400 lbs.
Inflated dimensions: 8 ft. 7 in. x 3 ft.
90 day limited warranty
Includes hand pump and paddle
Cons
While a great kayak, it is not without issues. Water drips off the paddle and into the Kayak hence get ready to be wet. Being lightweight, this kayak might be unstable where there are heavy waves and strong winds. Extra weight might be needed to keep it stable. But once again if you are beginning your kayaking journey play safe.
Our Thoughts
It's a great kayak for beginners and easy on pocket. People who have used the Kayak confirm that it is indeed very stable on still water. The fact that it takes very little time to set up seems to be one of the most favorite things about it. This means that it is safe for use as the chances of forgetting to screw or hammer something in are completely ruled out. The fact that you can casually carry it on your back to and from the lake is very convenient. This way, spending time on the lake or beach on this Kayak doesn't have to be a prior planned event. The several inflating valves make deflating it easy. It is however advisable to opt for stronger kayaks for when in deeper waters with stronger waves.
It has a rating of 4.4 out of 5 on Amazon
>> Click here to see the price, specs and reviews on Amazon
The post Coleman Quikpak K1 1-Person Kayak Review appeared first on Cool Fishing Kayaks.