When Willis and I wasn't a couple, so not coincidently we did not signed up for the same runs. I had registered for Music Run whereas Willis registered for the Star Wars Run. After we get together, Willis knows that I had registered for Music Run, he didn't say anything more and registered for Music Run straight away to go with me when both runs falls on the same day just a few hours apart. That's so sweet right?

I decided to join him at Star Wars Run too. The flag off for Music Run is at 5pm and it's a 5km fun run and Star Wars Run flag off is at 7pm and there is still ample time for us to travel from Sentosa to Bayfront event space after the 5km run. At first I thought I can just accompany Willis to go to the Star Wars run as his number one supporter to cheer for him, get a Starbucks drink or what and chill at the finishing line to wait for him to complete his run but since I will be there too, I might as well run right?
Its a real tiring weekend for the both of us as we have 3 races within 24 hours! Crazy us and these fun runs are not cheap! We have the Music Run and Star Wars run on the same day and the next morning we have Run free run! At first, I had no plans at all to run Star Wars Run as I had already registered for Music Run which happens to fall on the same day as Star Wars run and the flag offs are just a few hours apart. What's more is that the registration fee for both runs is quite expensive and I am not really a fan of Star Wars nor I can remember any of it's movies and I had actually know more of Star Wars from Big Bang Theory as those guys in the show are huge fans of Star Wars. Even though all my closest running friends are not going but since Willis is going, I just go with him and at the same time clock some mileage for my upcoming Standard Chartered Kuala Lumpur Marathon which I will be running 42.195km. Running and dating is just great things that running couples can do together ya?
[Music Run]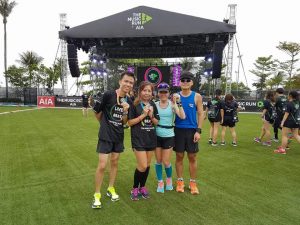 And I will always be reminded that my 2016 Music Run medal material is not good, the medal is already rusty
Since 2014 I've collected more than 50 medals and it's the only medal that rust

But thankfully they did some consideration for the medal design this year just hope that the material is good and lasting this time. It's a 5km fun run with super nice music along the way and end of the run at the event site there will be a music party which means music and dance! Too bad I have Star Wars Run to run after that so I didn't stay and enjoy. I registered for the super early bird think the price is $60 or something. These fun runs are really expensive, it's equivalent to paying about $10 for every km!

It's Facebook page is very updated and inform of all the relevant information such as REPC location, keep the runners interacting such as we are able to vote for the songs that we want to listen in the running route.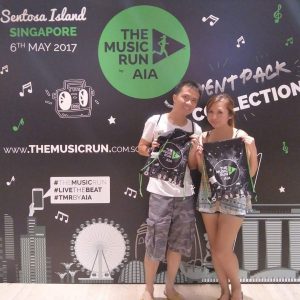 REPC is at Capitol Piazza and there is no queue at all. It's at location very difficult to find as it's in one small corner of the basement and we took quite a while to find it. There is this free redeemable pair of chio socks worth $10 and if you have Apple phone and download the Music Run App as the first 500 person who redeem on that day. Awwwww! Didn't bring my Apple phone on that day. The app allows the runners who download it to take photos and videos with 3D pop-ups and special effects on event day by scanning away at the designated AIA AR signs. Seems interesting don't know IT noob like me will try or not. Bought a "couple sunglass" at one small table selling the Music Run merchandise at the REPC with Willis. Sun should be out to burn at flag off plus I also want to look a bit swag that day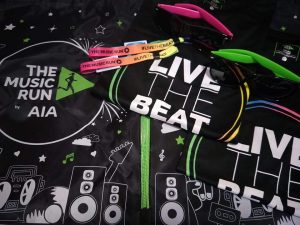 On the event day, we get free entry into Sentosa Island with the wristband. That wristband is quite special, we can load money into it and buy things on the event day using it. But I find it troublesome, I rather use cash lah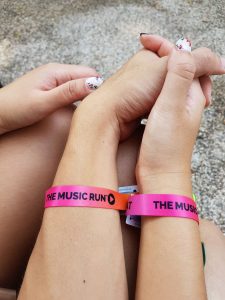 Willis and I reached quite early as I went directly to Sentosa after half day work. We took the free the tram ride in and went to the Malaysian Food Street for lunch first before strolling slowly to to the start point. Race village was suppose to be open for entry at 3.30pm but it only opened at 3.35pm. More than 5 minutes is a lot especially under the hot sun! Take the attempt to break the record of Sub 2 marathon as an example, even 25 seconds is a lot, 5 minutes is really a long time.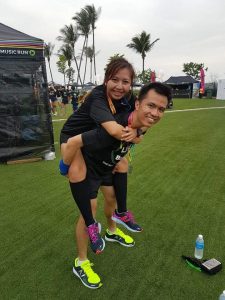 We chilled around first while we waited for flag off. Getting thirsty and no free drinks and the race village so we top up $5 into the wristband, the minimum amount to top up to buy a $2 GongCha and after the run we get another GongCha at $3. They have a few selections of drinks for the $2 and $3 menus and readily prepared still chilled so we do not need to wait long for the drinks.
Flag off isn't really on time like a 5 minutes delay. The display along the route and at the village are all very familiar as I recognise that it is the same as last year's run and think they reused and go Eco and Green this year. Save cost too
But I really enjoyed the songs along the way while running. There is different zones such as Rock, Hip Hop, Dance, Pop and Old School. And my favourite part of the run is Old School as the cosplayers there were so cute!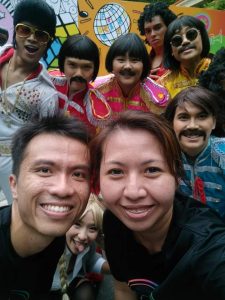 My Garmin shows that the run is only 4.44km. The route is the same as last year's Music Run route but just a reverse in the direction of the run. Along the route there is only 1 water point and they serve water and isotonic drink but all the drinks is not chilled at all
It will be awesome if they had serve chilled water especially the weather is so hot and flag off is at 5pm.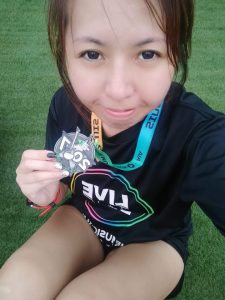 The medal this year is so so much more nicer than last year. The lanyard for the medal is also much more pretty than a very simple and plain green design last year. After the run we took Grab to Bayfront Event Space for Star Wars Run.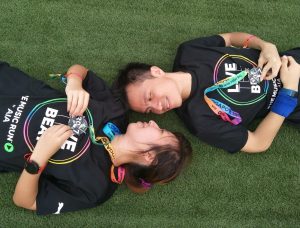 [Star Wars Run]
I missed out the REPC but from all my Facebook and Instagram newsfeed I can see that its really fun at the REPC. There's many cosplayers around for nice photos and the REPC seems smooth. Theres the dark side and the light side to register and each side have different race pack and the medals design given for both the 4.5km and 10km category finishers is different too! Though I'm not a Star Wars fan but I've even thought of signing up both 10km and the 4.5km so that after the 10k flag off at 7pm, we can still run the 4.5km which flags off at 8pm. But the registration fee is too expensive already, if cheap cheap I really don't mind.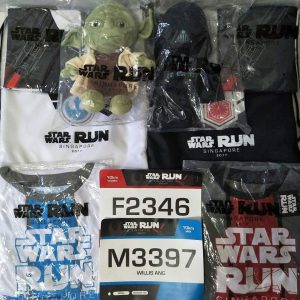 We alighted at Bayfront Event Space but to my horror, baggage deposit is in Gardens by the bay and we walk there immediately which is 10 minutes walk away
But luckily baggage deposit is fast and have no queues at all. We were already quite late and didn't manage to get into the first wave. We were entering the start pen but didn't know the rationale to the dark side and the light side since the route for running is the same for the 10km and saw many love birds being separated and holding hands while being barricade at the different sides

Though for the dark side and light side is running different route for the 4.5km. I'm sure many people also go as a group of friends or as couples and registered for different sides but of course we would want to run together right?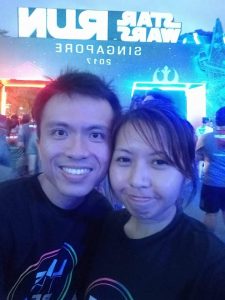 Everyone around is in a fun and happy mood but there is too many people! And I'm sure many runners enjoy the beautiful fireworks before flag off!

It's really beautiful! Theres the first fireworks which last about 1 minute and the second fireworks is interesting, it just "pop" on the dot of ten counts to flag the runners off.
Theres a total of 15000 runners running either 10km or the 4.5km category. But my 10km in the second wave is really squeezy. Too many runners already and I can't really run as I'm always blocked by walkers. The path is huge at some parts but maybe it should be like the logic of driving? Keep left for the slowest and be at the most right if you are going fast. That will really be great

The path is wide but I'm really running in zig zag that I wonder is the route really longer or is the running in zig zag that causes the extra mileage on my Garmin as my Garmin shows 10.5km

It's weekend so the general public were also out to enjoy their weekends too so it is really pretty congested.
Usually I don't like to drink coconut drink but I really like the coconut drink at the hydration points. Maybe because it's really very iced cold. Which makes it very nice to drink. I've drink before the same coconut drink given out before in one of the runs when it's not cold I find it hard to even take a few sips
The flag off is at Bayfront Event Space running towards Gardens by the Bay East and lastly ends in the Meadows at Gardens by the Bay. Which is something new, first time participated in a run ending inside Gardens by the Bay. Nothing much to say about the usual route anymore but there is many cosplayers along the routes to take photos with and it seems like many of them are runners themselves who cosplayed for the runs as they have running bibs!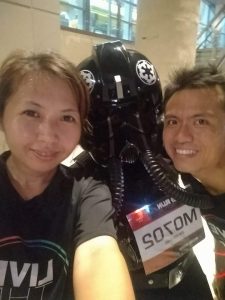 The medals is really cool and and nicely designed. The race village in the Meadows at Gardens by the Bay is really awesome. Nice atmospheres and many photo spots with instant prints for us to keep as mementos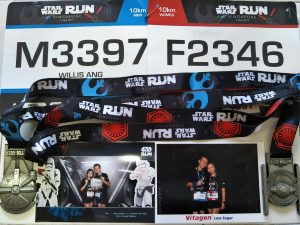 There's also a large screen and it's airing the Star Wars movie. I saw booths for face paintings, booths that gives out free Vitagens and yogurt. We didn't really walk around much at the race village as we have Run free run the next day so we head back shortly. Overall I enjoyed myself at the race village though not really the run because it is really congested and couldn't really run.