So, you want to take your Ninja Warrior training to a whole new level and conquer obstacles as easily as some of the competitors? You may have noticed, that during the past Ninja Warrior seasons certain types of athletes seemed to have some advantages over others. These were often climbers and parkour athletes.
But why is that so? What skills and which muscles did they properly train? And what makes a successful Ninja Warrior?
All of this I'm going to show you so that you will be able to compete with all the Ninja Warriors out there.
The Ninja Warrior training areas you should focus on
As Ninja Warrior is heavily dependent on upper body strength and an optimal weight-to-strength ratio, it doesn't make sense just heading to the gym, lifting some weights and becoming bulky.
Instead, you should concentrate on becoming like a monkey swinging from branch to branch. And this needs us to focus on
grip strength,
explosive upper body strength,
core strength,
balance and precision,
and obstacle training
for getting a functional and athletic body.
Advanced climbers and parkours athletes have naturally trained most of these disciplines and thus are performing so well in the Ninja Warriors seasons.
So, let's dive a bit deeper into the single training aspects.
Grip strength
You should be able to hold your overall weight with one hand, as "monkey swinging" and hanging will become an essential skill. Buy some grip strength trainers, a hangboard, and a pull-up bar with various holds, boulder multiple times a week, and use a towel for doing pull-ups.
If you want to dive deeper into how to boost your grip strength, then have a look at:
Top 9 Grip Strength Exercises for Ninja Warrior, Climbing, and Calisthenics

The Hangboard Workout for Getting Incredible Finger Strength
Explosive upper body strength
Explosive upper body strength is what most people in the gym are missing, as they typically perform weight lifting exercises in a slow and controlled way. Add explosive movements on the pull-up bar to your training schedule. You will need it for lots of obstacles, for example for the salmon ladder.
Read more about on how to improve upper body strength with pull-ups in the following article:
How to Train Pull-Ups like a Ninja Warrior
And if you want to give your strength a further boost with blood flow restriction training (BFR), also called occlusion training or KAATSU training, check out:
Blood Flow Restriction Training: The Secret Weapon for Stronger Arms
Core strength
Well trained core muscles will give you balance and stability, reduce the risk of injury, and ease a lot of Ninja Warrior obstacles.
Balance and precision
This includes footwork as well as hand-eye coordination, as there are several obstacles, which require a great balance and precise foot or hand placements. Balance boards, bosu balls, slackline training, and precision jumps would be the way to go.
Obstacle training
Well, practice makes perfect. Either you have access to Ninja Warrior obstacles in your bouldering or Ninja Warrior gym or you can build some of these on your own. Finding blueprints online is nowadays really easy. Pinterest is a good place to look them up.
Have a look at the Ninja Warrior Gyms directory to see if a suitable training facility is nearby. I have currently listed gyms in Australia, Canada, Germany, and the United Kingdom and will add gyms in the United States soon.
How to start with your Ninja Warrior training
If you aren't already a member of a bouldering or parkours gym, become one! You will see great gains when training there. Bouldering will certainly improve your upper body and core strength, and the various holds will enhance your grip.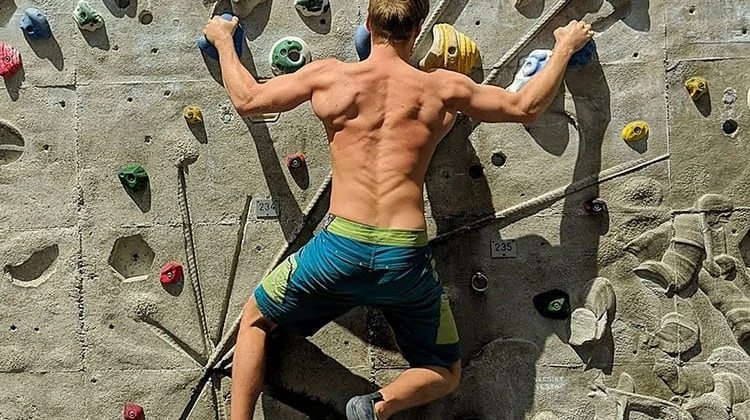 General training tips
Be prepared to train 5-6 times a week, but do not overtrain. Keep at least 1 day per week for rest. Don't risk injuries like muscle tears and tendon inflammations due to overtraining. You surely don't want to have setbacks in your training like this.
Set yourself small and incremental goals. This way you will stay motivated and have lots of successes to celebrate.
Before each workout, warm up and stretch your whole body, but especially the upper part to minimize the risk for injury. Do this for at least 10 minutes.
Use foam rolling and deep tissue massage for further enhancing your flexibility.
Eat the right stuff
Eating right is as important as doing the right exercises. You want to build up muscles, but don't build up fat. Getting lean and improving your strength-to-weight ratio must be your goal.
If you want to optimize your nutrition further, check out:
The Top 6 Supplements for Muscle Gain and Fat Loss
Outlook
This post was for giving you an overview of what it needs to focus on in your Ninja Warrior Training. Follow these tips, and you will have a lot of fun mastering all the Ninja Warrior obstacles.
I'm going to cover each of the training aspects separately in multiple posts. So, stay tuned, subscribe to my newsletter, and look forward to great details, insights, and training tips.
Happy training!
I hope you enjoyed this article. Let me know by sharing it or commenting below. That would be great!
Did you already share this? No? Share it now:
The post Ninja Warrior Training Guide for Becoming the Next Finalist appeared first on NinjaWarriorX.