PHYSICAL TRAINING
Physical training develops the motor abilities, such as endurance, strength, speed, and coordination
that are crucial for boxers. Physical training must be conducted adjacent to technique training.
Physical training is very important training for athletes.
Endurance Training
Endurance is the ability to carry on physical work for longer periods of time with certain intensity
without diminishing the work's effectiveness. It is also referred as fitness or energy.
General Endurance Training Exercises – examples
Long distance running with low and medium speed.
Long distance swimming.
Skipping (Jump roping).
Any exercises with various training methods – interval etc.
Team games.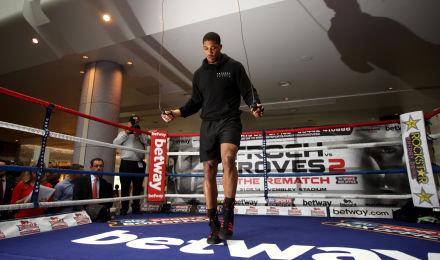 Boxing Specific Endurance Training Exercises – examples
All bags punching, punching to the other boxing equipment,
Sparring.
Shadow Boxing.
Pad work with coach.

Strength Training
Strength is the ability to apply forces to physical objects using the muscles. Physical strength is also
referred as muscular strength. It is easy to connect strength training with weight training. However,
in the early stages of training, weight training with heavy weights is not recommended.
General Strength Training Exercises
Exercises using own body weight or partner's.
Throwing medicine balls.
Various forms of jumps, multi-jumps, hops, bounds.
Upper Body
Chin-up/Underhand Pull-down

Pull-up/Overhand Pull-down

Bent Row

Push-up/Chest Press (dumbbell/barbell)

Decline Push-up/Incline Press (dumbbell/barbell)

Triceps Dips (chair)

Bicep Curls (dumbbell/barbell)
Squats

Burpees

Calf Raises
Sit-ups

Leg Raises

Side Bends

Lower Back Extensions
Boxing Specific Strength Training Exercises- examples
Shadow Boxing with very light weights

Shadow boxing on soft surfaces (legs strength)

Shadow boxing and other exercises in water with light weights

Punch exercise with heavier gloves

Exercises with rubber resistance.

Speed Training
Speed is the ability to perform movements in the fastest way in the shortest time. Speed training
can be done to develop reaction time, quick movements and frequency of movements.
General Speed Training Exercises- examples
Short distance (20 – 60 meters) running

Running and physical exercises with repetition training method – sprints

Skipping (Jump Rope) with acceleration

Alternating starts in various body position

Team games and plays
Boxing Specific Speed Training Exercises- examples
Pad work with the coach

Shadow boxing with different pace on the coach's signal.

All bags punching with different pace, based on the coach's signal

Boxing technique exercises with partner from lower weight category

Shadow boxing in limited movements space
The post HOW TO TRAIN YOURSELF PHYSICALLY FOR A BOXING MATCH ?? appeared first on boxingtogetfit.com.