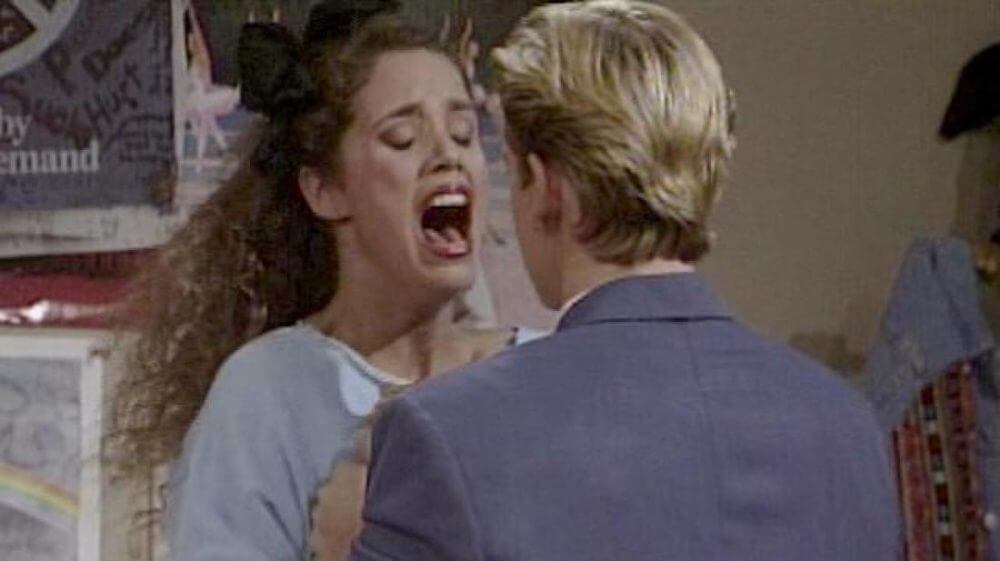 In his recent memoir, Saved By The Bell producer Peter Engel admitted that "Jessie's Song," an episode that was widely ridiculed for its dramatic portrayal of caffeine pill usage, was actually supposed to take on a much darker subject and serve as a jumping-off point for tackling more serious teenage issues on the show.
A first draft of the episode was recently uncovered.
INT. JESSIE'S ROOM – NIGHT
JESSIE SPANO is passed out on top of her fully-made bed, when Zack MORRIS enters dressed to nines for the girls' performance that night. He's flabbergasted to see Jessie is sleeping!
ZACK
Jessie Hey Jessie, wake up, we gotta go.
Jessie rubs her eyes, and then looks around the room frantically.
JESSIE
My geometry test! I've got to take my geometry test!
ZACK
You already took that test.
JESSIE
(confused)
I did?
ZACK
Yeah! Come on, it's 6:30. We gotta go, let's go.
JESSIE
(more confused)
Where are we going?
ZACK
(incredulously)
Where are we going? You're singing tonight.
JESSIE
Singing! Tonight!
(scratching her trademark curls)
Okay, then I've got to wash my hair.
ZACK
No Jessie, there's no time.
JESSIE
(screaming into the cold, unforgiving void and looking directly at the studio audience)
NO TIME! There's never enough time! I have no time to study! I'm not going to get into Stanford! I'm going to let everyone down. Oh my God, I'm so confused.
ZACK
No Jessie, it's okay. Just calm down, okay? It's gonna be okay. Everything's gonna be okay.
Jessie's face becomes calm as she remembers her little secret.
JESSIE
You're right, everything's gonna be okay. I just need to take some of these.
Jessie reaches into the drawer of her bedside table and pulls out a giant, unmarked pill bottle. Zack immediately grabs them from her. He's shocked at what he's seeing.
ZACK
(holding the bottle towards JESSIE)
What are these? Jessie, you're taking… you're taking caffeine pills!
JESSIE
I can explain, it's just with the band and school and Stanford…I've just been so tired, and I needed a little help and-
ZACK
(cutting her off)
And these aren't going to cut it for someone with your demanding schedule. You need something stronger, Jessie.
JESSIE
I do?
ZACK
(shaking his head lovingly)
Oh, Jessie. Of course, you do.
Zack reaches into the back pocket of his acid-washed jeans, pulls out a baggie with a pinkish form of powder and holds it up for Jessie to see.
ZACK
What you need is this.
JESSIE
Oh my God! Is that crack, Zack?
ZACK
No silly, it's just speed. It lasts longer than crack or coke, plus it's more socially acceptable. We're not drug addicts, Jessie. There's just a lot of pressure being at the top of Bayside's social scene.
JESSIE
We …
ZACK
Let me show you something …
Zack again reaches into the other back pocket of his acid-washed designer jeans and pulls out a high-tech, top-of-the-line, two-foot high cellular telephone.
ZACK
(into the futuristic piece of technology)
Listen, change of plans. Come up and we'll just get our minds right here.
(beat)
Don't worry about Jessie, she knows.
(winks at JESSIE)
Besides, something tells me she might be interested, too.
A FEW MINUTES LATER…
INT. JESSIE'S ROOM – NIGHT
The door to Jessie's bedroom swings open, and in marches Kelly, Lisa, Mr. Belding and Slater, who's wearing the infamous leotard from the "Breaking Up Is Hard to Undue" episode. Zack begins pouring out the speed on Jessie's dresser and dividing it up into even lines. Slater whistles and Screech crawls out from underneath Jessie's bed, a spot in which he's been hiding for God knows how long.
JESSIE
Mr. Belding? What is he doing here?
SLATER
How do you think we get the good chalk, mama?
BELDING
Not only am I your principal Ms. Spano, I'm also the Bayside Candyman.
KELLY
You know it drives me wild when you call yourself that, Richard.
Kelly goes over to Mr. Belding and begins kissing him passionately. Mr. Belding places two meaty hands on Kelly's rear and squeezes gently.
Jessie is about to protest the situation, but before she can, Slater pirouettes over to her, gently puts a finger to her mouth, and leads her over to the lines on the dresser.
SLATER
Shh, don't overthink it, mama. Just let it happen.
JESSIE
(uncertainly and to the entire group)
Am I supposed to, like, just snort this or something… like they do in the movies?
SLATER
That's what most of us do, but LISA insists on mainlining.
Lisa calmly pulls a syringe out of her fashionable purse and injects it into a vein in her neck.
LISA
I keep telling these guys, this is like thirty times more potent than snorting it.
JESSIE
Just one line couldn't hurt, I guess.
As her peers and principal chant her name in unison, Jessie hesitantly sniffs the smallest of the lines Zack has cut. Instantly, the room starts spinning and a chorus of demonic, maniacal laughter emanates from the group as their distorted faces shift in and out of focus. During the group's drug orgy, Screech pulls out a revolver and addresses the group with a wild look on his face.
SCREECH
Who wants to play Russian Roulette? I'll start.
As Screech places the revolver on his temple, Zack and Slater high-five, Mr. Belding continues to laugh uncontrollably, and Lisa and Kelly begin singing "I'm So Excited" while executing the choreographed dance moves they had planned for the night's performance.
Jessie snaps out of her speed trance and moves to stop Screech, but it's too late. We hear the clear sound of a gunshot and the camera cuts to a view of a blank bedroom wall. We hear a sickening sound as Screech's blood, skull and gray matter splatters all over the wall. The camera holds the stain, which looks eerily like Max's profile before we…
CUT TO:
INT. JESSIE'S ROOM – MORNING
Jessie awakes from a deep sleep, sits bolt upright and screams.
JESSIE
NOOOOO! Oh, thank God! It was just a dream.
The camera pulls back and we see Mr. Belding and Slater are also in the bed with Jessie. Slater is caressing the thick covering of salt and pepper hair on Mr. Belding's chest.
BELDING
What was just a dream, Ms. Spano?
Belding and Slater exchange a knowing look that devolves into that awful maniacal laughter. Jessie lets out one last blood-curdling scream and the camera fades to black.
THE END.
The post The First Draft of the Infamous 'Saved By The Bell' Caffeine Pill Episode appeared first on Robot Butt.