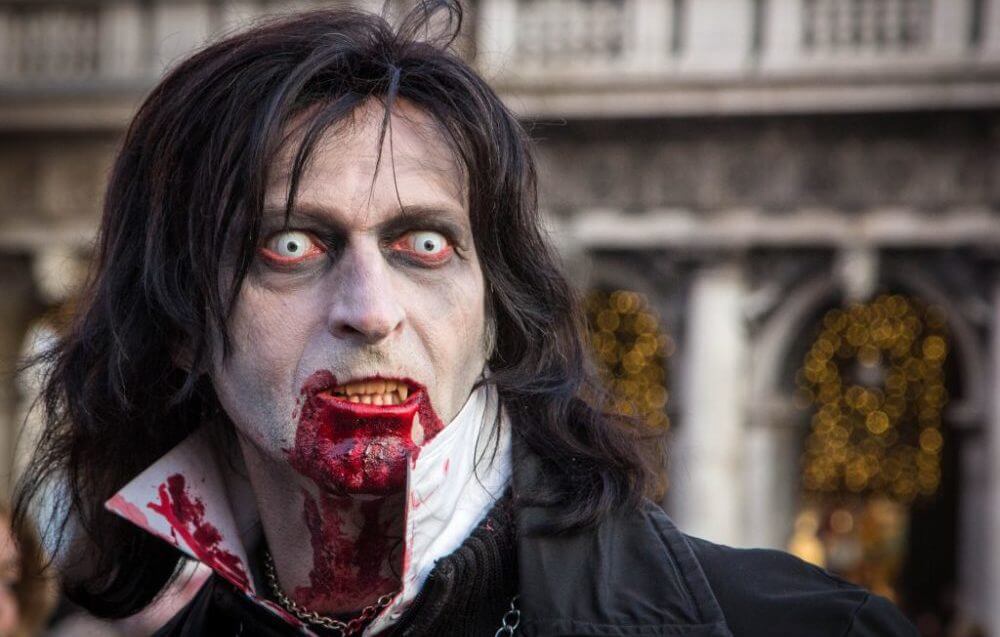 When I was younger, there was nothing I loved more than a good Prank.
Filling a neighbor's gas tank with bubble bath, or their redwood pool with pig slop always gave me the jollies. I suppose many of you would call that childish, but in my heyday, everyone I knew loved it.
"You got me again, Gerald!" they'd all yell, covered in whipped cream, running from a swarm of wasps, smiles of joy on their faces. People knew how to have fun then. Everyone is too sensitive, too guarded, now. Rigging a tripwire to a buddy's doggy door to set off an alarm at 2 a.m. is considered an invasion of privacy instead of what it truly is: a sign of affection.
The Sussmans moved into the neighborhood in the summer of 1962. They were a quiet family, typical of vampires. They kept irregular hours, dressed all in black and were pale as ghosts. Nothing out of the ordinary. They were friendly, though. They came to every neighborhood BBQ and party once the sun went down.
Judy and I and our little boy, Daniel, became quite friendly with them. Donald and Kathy had a tyke of their own. We adults would sit out on our patio with cocktails – gin and tonic for me and the wife, blood for Don and Kath – while the kids sat by the fire pit, toasting marshmallows and spiders.
We were quite the little clique. Just a group of pals, living it up in our own little suburban Camelot. But let me tell you, Don's good nature belied a competitiveness, an intensity I'd not found among the targets of my pranks and goofs. When playful push came to playful shove, he shoved back. Hard.
The practical jokes started innocently enough. I like to start small, and then escalate if my target proves to be a good sport. I sent ten pizzas to the Sussmans late one night, and Don gamely had twenty delivered to my house the next. We were off and running.
All was relatively harmless during the prank war's early days. Don would fill my rain barrels with vinegar; I'd lace the dirt in his family's coffins with fertilizer. I'd replace his blood supply with cherry juice; he'd replace my cherry juice with blood. It was fun.
The winter of 1963 was terribly cold. Bernie Sogman and his coal delivery truck became permanent residents of our little neighborhood for three months. One night, I got the grand idea to pay Bernie a little extra to fill Don's coal bin to the brim with garlic. I had a good laugh over that one.
Don's son, Chad, was the one who found my surprise. His vampiric aversion to the stuff was a bit more… pronounced than most creatures of the night. The boy swelled up like that girl in the Willy Wonka movie. I watched the family roll him up the stairs, his face beet red, glistening under a film of sweat. Don caught me looking through the window and offered a smirk in acknowledgement of a prank well pulled, but he flashed a fang before he Turned back to his son for another rotation.
I can't fault him for his retaliation. He filled my coal bin with bats. In an instance of poetic justice, Daniel was the unfortunate victim of this gag. I can still hear the shrieks, a series of piercing wails that curdled my blood. To this day, I'm not sure if it was my son or the bats that were making the hellish noise. Nevertheless, Daniel had to get A TON of rabies shots. Literally. A ton. Two thousand. One for each bat.
We continued with the little pranks for a bit after that. Greased doorknobs, firecrackers tossed through doggy doors, slashed tires, etc. My ambition got the better of me, though. That summer, the Sussmans were set to travel to a big family reunion in Romania, and I had a little idea to add a last-minute complication to their travel plans.
I blocked every door (and a few windows) of their house with crucifixes. Boy did I laugh as I sat in my darkened living room, watching their faces become more and more distorted by frustration as every exit was thwarted. They eventually escaped through the coal chute, covered in soot. I don't know how he could have seen me, but I swear Don turned to me and flashed that fangy smirk as he loaded his brood into his car.
Two weeks later, Judy and I were awoken by a scream coming from Danny's room. I bolted out of bed and sprinted down the hall. As I burst into the room and flicked the light switch, I saw my son crouched on the top of his bookshelf, eyes wide like a set of whitewall tires. He hissed at me.
"What's going on?" I asked, staring at my son.
He blinked and hopped down from the bookshelf.
"Sorry for waking you, father," he replied. I thought I saw a rat. I was trying to catch it. I was hungry."
"Oh. Okay," I muttered, still a bit groggy from sleep.
Danny shrugged.
"I'll catch one some other time," he said, bending to pick a silverfish off the floor. He popped it into his mouth and flopped back onto his bed. "Goodnight."
"Night," I replied, turning to the door. As I reached to hit the light switch, I turned back to look at Danny. There were two puncture wounds in his neck.
Don had turned my son into a damn Renfield. Sure, he was still my boy, but now Judy and I were treated to nightly rants about his "dark masters" who wanted to cover the world in shadow. Once school started in the fall, his work suffered. Instead of getting straight As, our little ex-honor student was preaching doom and gloom to his classmates. The nuns who taught him renounced their faith as he crawled on the floors, looking for "snacks."
You'd think with a son turned into a raving lunatic, I'd admit defeat. But I was invigorated. I'd finally met my match, and we were beyond schoolboy ribbing. Now we'd have to prank like men.
The Sussmans had us over for dinner one night in late October 1964. Even though the pranks had gotten personal, we were still friends. Skill recognizes skill, I guess. At some point, I excused myself to go to the bathroom, and snuck around the house, changing all the alarm clocks to ring during daylight hours.
I'm not quite sure what I expected to happen, maybe some mild discomfort and panic when they realized the sun was still up as they opened their coffins. Some singed hair and smoked skin, perhaps. What I didn't expect was for Kathy to be vaporized the moment she greeted the day, so to speak.
Yeah, I killed a vampire. I guess I should have known better, but Don didn't seem too broken up by it, so I didn't feel that guilty. I apologized, he said "Good one," and that was that. Or so I thought.
I should have suspected something was up when I came home late from the office Halloween party to find Judy sitting straight up in bed, staring into the dark.
"Whatcha looking at, hon?" I asked.
"Nothing," she replied, dreamily. "Can't sleep."
I was a bit drunk and too tired to press, so I got into bed and turned off the light. While I slept, Judy, under Don's thrall, snuck out of the house, drove across town, and cut the brakes on my mother's car.
Imagine the horror on the faces of all the townsfolk at the Halloween carnival the next day as my mother's Buick 8 barreled through the town square, bounced off the gazebo and plunged into the canal. Fortunately, my mother was fine. Hook & Ladder Co. 99 had a truck at the celebration, so the firefighters were able to fish her out of the canal in a flash.
The Johnson family wasn't so lucky. The four of them were sideswiped as they stood by the giant cider barrel. They found Joseph Sr.'s ring finger lodged in the grill of the Buick.
Of course, they discovered that the breaks had been cut, and Judy's fingerprints were all over the car, and on my set of pliers in the garage. There was nothing we could do. It didn't matter that she couldn't remember a thing. She's up for parole in 2020.
And so, Don Sussman had the last laugh in our little battle of wits. There was no way I could top vehicular manslaughter. We shook hands and that was that. We had both lost our wives, and damaged each other's sons, but it made us better friends, and, I like to think, better pranksters.
Sometimes I think of my wife, nearly ninety, staring out over some prison yard. I look at my son, rejoicing as he snatches a fly out of mid-air for "dinner," and I wonder if the prank war was worth it. But then I think of Don and his smirk, that fang glistening when the light hits it just right, and I feel like a young man again, filled with giddy delight at yet another clever gag. Nothing can top it. I'm sure Judy understands.
The post Highlights From a Prank War With My Vampire Neighbor appeared first on Robot Butt.