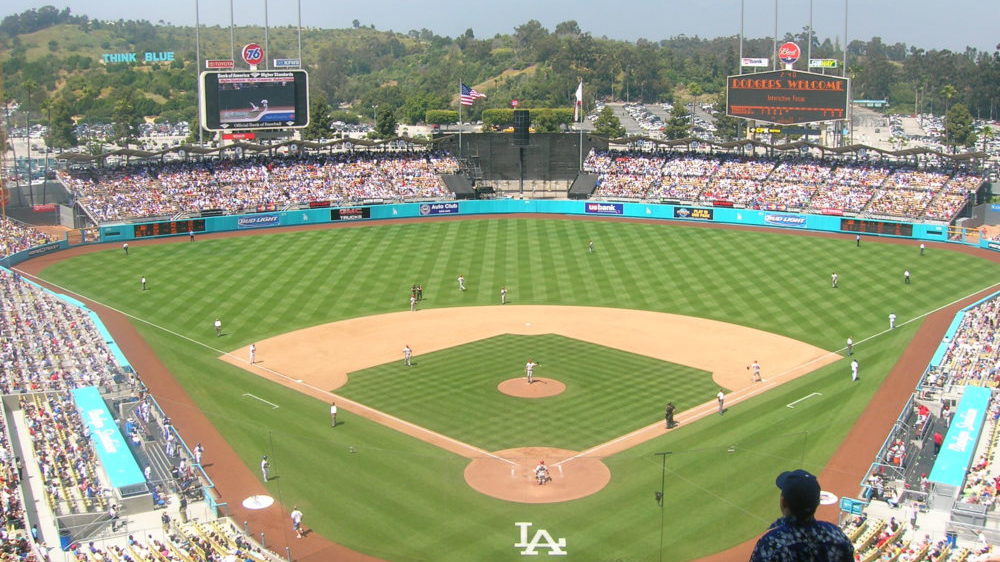 The Dodgers are back in the World Series and boy, I wish my dad was here to see this. Pop never shared his feelings about love, friendship, or family – in fact the only thing he ever spoke to me about was the correct way to be a die-hard Dodger fan. I wish he'd given me more to work with, but I've tried to honor his memory by using his sports advice in my marriage to Darlene.
Always be loyal: No matter whether they win or lose, you never abandon your team.
Darlene's first few seasons as a LuLaRoe reseller were marked by trial and error, tears, and staggering financial losses, but I made sure she knew I'd always be there to buy her more inventory. Right until she gave up and the garage mysteriously burned to the ground.
Worship young talent: The Dodgers nurture their prospects, and it's won them 18 Rookie of the Year awards since 1947.
In our rookie year together, I was convinced Darlene had more potential than any woman I'd ever met. It's not that I regret signing her to a lifetime contract, but the way she spends money I don't think she understood I have a salary cap.
Show up at the ballpark: Year after year, Dodger fans consistently set Major League attendance records.
Speaking of attendance, our wedding set a record for the largest crowd ever served by our caterer, Giorgio. It ended up taking forty-seven trays of baked ziti to satisfy the massive throng of Darlene's cousins, high school boyfriends, and ex-physical trainers.
Wear your colors with pride: Show your team gear and let everyone know you bleed Dodger Blue.
With money tight and Allstate still holding out on the garage settlement, I've resorted to wearing this last pair of LuLaRoe leggings I salvaged from the fire. They're not exactly Dodger Blue, but they do contain stripes of navy, turquoise, aquamarine, periwinkle, and teal, if you can just ignore the overlapping geometric shapes in ochre, magenta, eggplant, goldenrod, and rust.
Stay true to the only genuine home team: They may call themselves the Los Angeles Angels, but those fakers from Orange County don't deserve our support.
Even though my family shares my name, my town, and a lifetime spent together, I don't trust that they're on my side. All they do is laugh and repeat those hurtful stories about Darlene and Giorgio, the large muscular caterer from our wedding.
Hold out hope: The Dodgers haven't brought home a World Series ring since 1988, but they're still one of the winningest franchises in history.
It's been thirty years for the Dodgers and three years since my nuptials. I can never forget Kirk Gibson rounding the diamond after his dramatic home run, but I wish I could recall the last time I got to third base with my wife.
HATE THE GIANTS!: It's the final mark of true blue Dodger fan – the one thing we despise the most in the world is a San Francisco Giant.
This morning as Darlene drove off for the Bay Area with her enormous pasta-peddling boyfriend, everything my old man tried to teach me hit home, and I'm finally the kind of Dodger fan my pop would have admired.
I hate you, Giorgio.
I love you, Dad.
Go Dodgers.
The post 7 Rules My Dad Taught Me About Being a Dodgers Fan That I Tried to Apply to My Marriage appeared first on Robot Butt.