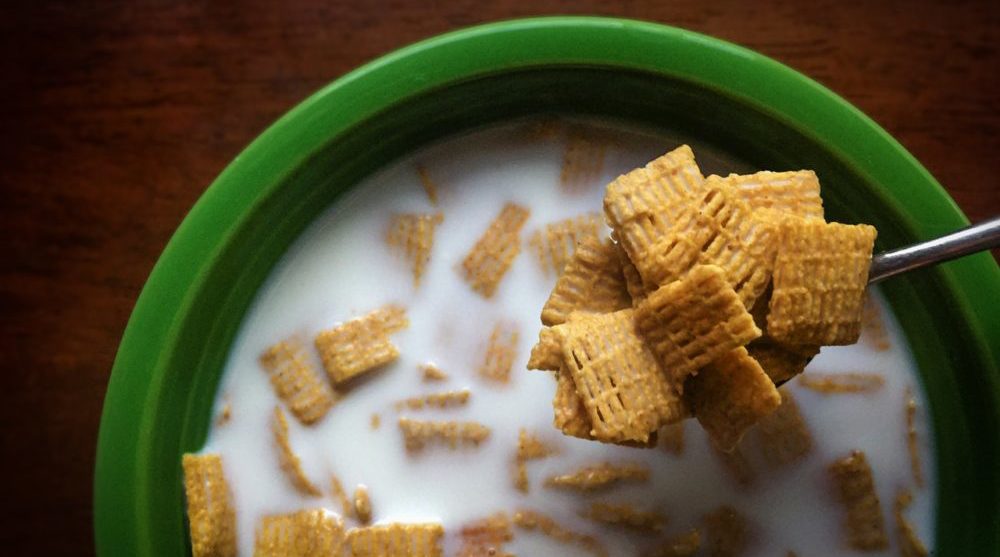 1. Corn Flakes: Corn Flakes were invented by John Harvey Kellogg to discourage masturbation (seriously: Google it). Right after you've Murdered someone isn't necessarily a bad time to masturbate, it's just not hygienic to do it until you shower.
2. Cheerios: Killing someone is stressful, even if they deserved it. Try Cheerios to bring you some much-needed cheer!
3. Lucky Charms: If you've gotten their blood all over you, that means you've had quite the workout. Consider replacing your lost sugars with Lucky Charms.
4. Steel-cut oatmeal: A good option if you plan to eat your victim, as it goes well with steel-cut human.
5. All-bran: If you didn't shit yourself with fear, it might be because you're backed up. Consider this high-fiber option to help move things along.
6. Grape Nuts: This extremely bland and pointless cereal is a good way to satiate your hunger without appearing to celebrate the death of another human being, as that might be in poor taste.
7. Count Chocula: It's a little on the nose to eat monster-brand cereal right after killing someone, but clearly subtlety isn't your strong suit. Let this be a warning to anyone who is still considering messing with you.
8. Rice Krispies: Hearing the snap, crackle, and pop of Rice Krispies will help blunt the trauma of hearing your victim's flesh make these sounds by associating them with a positive experience.
9. Quaker Oatmeal Squares: Your victim has suffered, and if you are to avoid karmic retribution, you need to suffer an equal amount by shoveling this horrible mulch down your throat.
10. Cocoa Puffs: You've done a hard day's work. Why not treat yourself?
The post The Top Ten Cereals to Eat Right After You've Murdered Someone (and You're Still Covered in Their Blood) appeared first on Robot Butt.