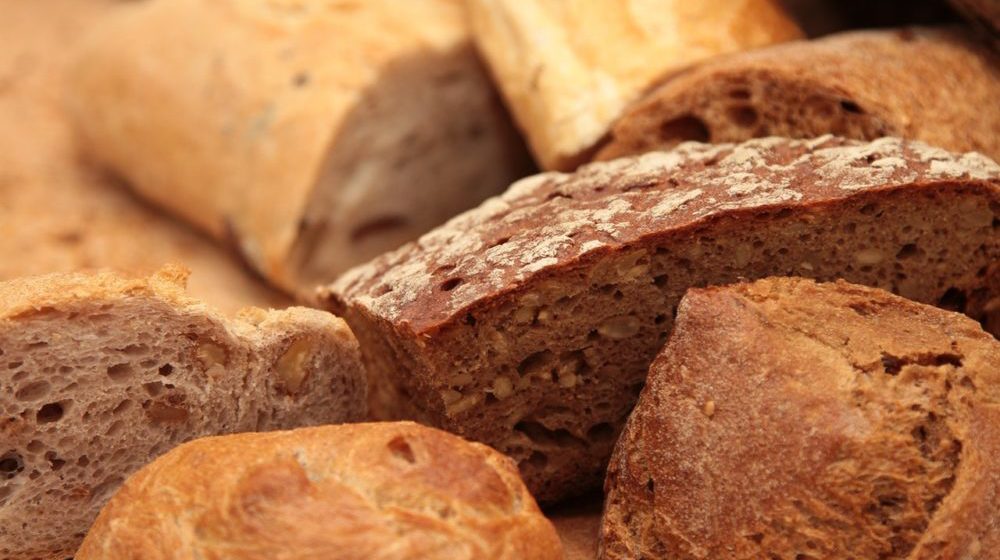 Have you grown tired of the gluten-free diet trend? I know I have! It's time to move in the opposite direction. Introducing the Gluten-Full All Gluten, All Day Diet™ created by me, a lover of all things gluten!
Perhaps it is too extreme of a reaction, but my family and I now eat nothing BUT gluten, specifically in the form of Bread. No fruits, no vegetables, not even candy. The Gluten-Full All Gluten, All Day Diet™ is strictly ALL BREAD!
Coincidentally, my family has recently fallen on hard times financially due to years of living beyond our means, and day-old bread is the now only thing we can afford. I'm just trying to make it seem like this Gluten-Full All Gluten, All Day Diet™ shenanigan is my choice!
I'll be printing several copies of the full cookbook next week to sell on my personal Facebook page, but until then, here are some of my favorite recipes!
Breadsticks
Do you know a small child who enjoys spending their free time playing with sticks? I don't. This morning I spent some time considering how to get the children in my life to play with sticks, and then to eat those sticks, in a way that does not carry with it a high probability of said children ingesting bark, or traces of animal feces and/or urine. Like a bolt of lightning, it came to me. Breadsticks!
How has nobody ever thought of this?! Not only is bread inexpensive and nutritious, but to my knowledge, most brands of bread do not contain even the slightest trace of excrement of dogs, chickens, or any other animal for that matter. Well, mice maybe, but that's not a big deal! When prepared with love and care, I just know your child or that of your neighbors will adore spending a sunny afternoon playing with, and then eating, these sticks!
The beauty of this snack is that truly ANY kind of bread will create a magical bread stick! Are you and your children smitten with birch trees? Then use white bread! More of a lover of the ash tree? You might want to make your bread sticks with a honey wheat bread. What about some bread sticks that resemble a maple tree, for Canadian children? Be bold and use a rye bread! Want to blow someone's mind? Use a marble rye!
Here's a fun idea for special occasions: Use several different types of bread in a variety of shades and have kids try to guess what tree's wooden stick each breadstick most closely resembles. You're welcome!
Remove crusts for sticks having a smoother appearance or keep the crust on for a more rustic look. Please bear in mind that moist bread works best. Old, crusty breads need not apply!
Ingredients:
Pieces of bread in varying sizes, shapes, and colors.
Instructions:
Getting a flat Slice of bread or an oblong-shaped brat bun to look like a real stick takes more than a little bit of tenacity. There is no right or wrong way to do this, as long as you don't make a mistake. I have done this more than once with great success and what I recommend is ripping slices of bread into strips. DO NOT CUT THE BREAD INTO STRIPS!!
Now comes the fun part. Using your hands, roll the strips until they start to look like a stick. Remember how I mentioned moist bread works best? I meant it. Not only will a moist bread roll better because with moisture comes pliability, but it will also act as an adhesive so your main stick can have additional sticks branching off. Repeat until satisfied with your stick(s)!
Remember, it needs to look like a real stick or your kids aren't likely to want to play with it. Make sure they play with the finished bread sticks gently, mind you, because these sticks are rather frail and the slightest touch is going to cause them to fall apart, ruining the illusion of being wooden sticks.
Once playtime is over, snack time begins! Dipping sauces are optional.
Dipping Sauce Suggestions:
Margarine
Cheese-like substance
Braunschweiger
Frank's Red Hot
Miracle Whip
Cat food
Bread Smoothie
Back when we were financially irresponsible, whenever I stopped by the local natural foods grocery store it seemed all I saw was organic this and organic that. Just as my partner Gene insists that 4,000-thread count pillow shams in the fourth guest bedroom are a luxury we no longer can afford (temporarily, I say!), so too is fruit. Organic fruit, to be exact. I don't know about you, but I for one am not comfortable feeding my children a mango that is not USDA certified organic!
Before my family fell on hard times, there were few rewards my dear children treasured more than a trip to Jamba Juice for some refreshing and delicious fruit smoothies. To quell their cries for a lower-cost alternative, I developed this gem of a concoction. Get that blender out of storage and serve up some bread smoothies the next time you host a playdate! I can't think of a more refreshing way to fill that fruit smoothie void that surely has left a gaping hole in your family's existence, just as it has in mine.
Ingredients:
Some bread. Any variety.
1 6/16 cup water
Instructions:
Put several slices of bread into the blender. Pulse into breadcrumbs for approximately twenty seconds. Depending on what kind of bread you opted to use along with the freshness of the bread, this may take more or less time. Make sure to put the top on the blender so you don't end up with breadcrumbs everywhere! Haha! Ha! What a doozy that would be to clean up! That would be a situation!
Once you have created crumbs of bread, add 1 6/16 cup water. Blend until smooth. Pour this taste sensation into a glass, add some whip cream, and top it all off with a cherry! Insert a straw and give this bread smoothie to someone you love!
Bread Sandwich
Have you grown tired of opening your lunch box, only to find the same sandwich, day after day, serving as a reminder of your inability to enjoy life? Or perhaps your lunch of Triscuits and blueberry-flavored Activia has lost its luster. Well, have I got a surprise for you! If this sandwich doesn't whet your whistle, I'm not sure what will.
This recipe was a true labor of love. I stayed up late (10 p.m.!!) each night for three (3!!) weeks conducting brainstorming sessions, then narrowed that list down to the top eighteen sandwiches having the highest potential to change the lives of the sandwich-eating public forever. FOREVER.
During a period of twelve stressful but exhilarating days, I conducted a series of blind taste tests with my cat, Ms. Fluffkins, I mean, my neighbor, June. The results were inconclusively unanimous. I don't care what your political beliefs are. You simply cannot argue with hard, scientific facts like that! Try this one on for size and then try telling me this isn't the greatest sandwich to ever enter your mouth! I proudly present to you the bread sandwich.
Ingredients:
3 slices of bread
Instructions:
Using whatever three slices of bread you want, assemble your sandwich. First, lay one slice of bread onto a plate. Next, put another slice on top. This is the middle of your sandwich. Lastly, put your third slice on the top of the other two slices. Voila! You've made a bread sandwich!
Like many of my recipes, the bread sandwich provides the opportunity to flex your creative muscles. Use any variety and combination of bread you want! There are literally 9,405,274.46 ways to make this sandwich. Two slices of wheat and one slice of rye? Rye not! (LOLROFL). Three slices of white bread? Sounds boring, but not everyone is a risk-taker! Pumpernickel on the inside, sourdough on the outside? Don't mind if I do! For extra hungry tummies, double up on the inner bread!
Additional ways to spice up your bread sandwich:
1. Toast the middle slice of bread.
2. Toast the outer slices of bread.
3. Instead of putting a slice of bread in the middle, put in a Kaiser roll! Now that's a big sandwich!
These are NOT options:
1. Using a sweet bread of any sort. That's not a sandwich. It's a dessert.
2. Adding condiments.
3. Adding any fillings other than bread. It's called a bread sandwich for a reason.
Enjoy! Visit my Facebook page to add your name to the waitlist for the full Gluten-Full All Gluten, All Day Diet™ cookbook for even more gluttonous gluten-full recipes! Have a breadtastic day!
The post Gluten-Free? NO! Gluten-FULL Recipes for the Lover of All Things Gluten! Specifically, Bread!! appeared first on Robot Butt.