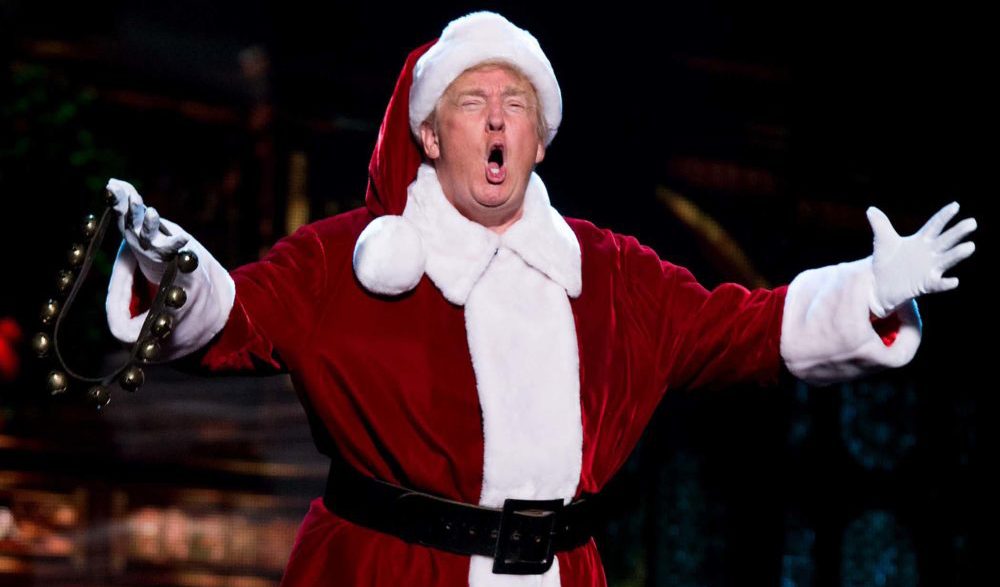 With the holiday season barreling upon us like a stampede of Black Friday shoppers hurtling each other for a $7 doorbuster, it's been particularly difficult keeping up with the constant insanity that is this administration. It has been SO crazy, in fact, that each one of these is a link to a different crazy story. I could easily hyperlink this entire piece, word for word, but searching for those twenty was so anxiety-inducingly easy, that that's really all I can handle for one day. The broader point here is that some things just fall off the radar, but THIS time of year, there's just one jolly old man on everyone's radar, including NORAD's: Santa Claus.
Under the newly revised immigration bill, Mr. Kringle is not permitted to operate a vehicle in American airspace. There was a brief debate on the Senate floor this week as to whether or not a sleigh is legally a vehicle, which was succinctly shut down after a compelling argument by Senate Majority Leader Mitch Mcconnell in a statement, which began at 10:47 a.m.:
"Under ordinary circumstances, I would oppose such a measure, but these are different times. We have to weigh our options carefully, given the possibility of an airborne attack. Also, a sleigh is SO a vehicle, and if you don't think so, well that's, that's just dumb, you're just dumb."
McConnell's statement, which ended at 4:13 p.m., was buried under a slew of feel-good holiday reporting by the majority of the mainstream media, End-Of-The-World-ers shouting on street corners, and fortune cookies – the typical modern news resources. Meanwhile, with the public distracted, the administration has enlisted a New Santa, an American Santa, to take over for his banned immigrant predecessor.
With American Santa comes a few subtle changes, all carefully designed to make us feel safe and festive as he staves off the War on Christmas. He embodies the very ideals of America – family, Christianity, and capitalism.
His workshop sits atop a snow covered-hellscape somewhere north of Fargo, North Dakota, and his ELF team – Employed Legal Freelancers – have been considered a giant boon for the local economy. However, you won't find the toys you'd normally expect – American Santa heads a cooperation of dedicated lawyers hired to "make Christmas happen" through deals with corporations such as Amazon, Target, Wal, K, and other such Marts.
Other changes include:
Mandatory angel tree toppers
Fines for use of the phrase "Happy Holidays"
The ONLY colors acceptable for decorating are green, red, white, and blue
Boys will receive gifts in blue, black, and/or green (and maybe sometimes red), and will be limited to a specific list of toys, including: action figures, trucks, trains, swords, army-related items, toy guns, sports items, video games, drum sets, and Marvel Comics
Girls will receive gifts in pink, purple, red, and white (blue and green are acceptable in rainbow format ONLY, or patriotic purposes); toys included on the girl list are: dolls, dollhouses, my-first-make-up products, pretty dresses, pretty purses, pretty shoes, play cooking sets, play cleaning sets, and something called Shopkins?
Automatically adding Ivanka Trump's perfume to every Amazon order
When asked to comment, Santa Claus released only a short press release via Alabaster Snowball, longtime trusted Kringle employee, and personal Clause confidante, which stated:
"Merry Christmas to all, and be sure to indict!"
The post With Trump's New Santa Clause, Terms and Conditions May Apply appeared first on Robot Butt.