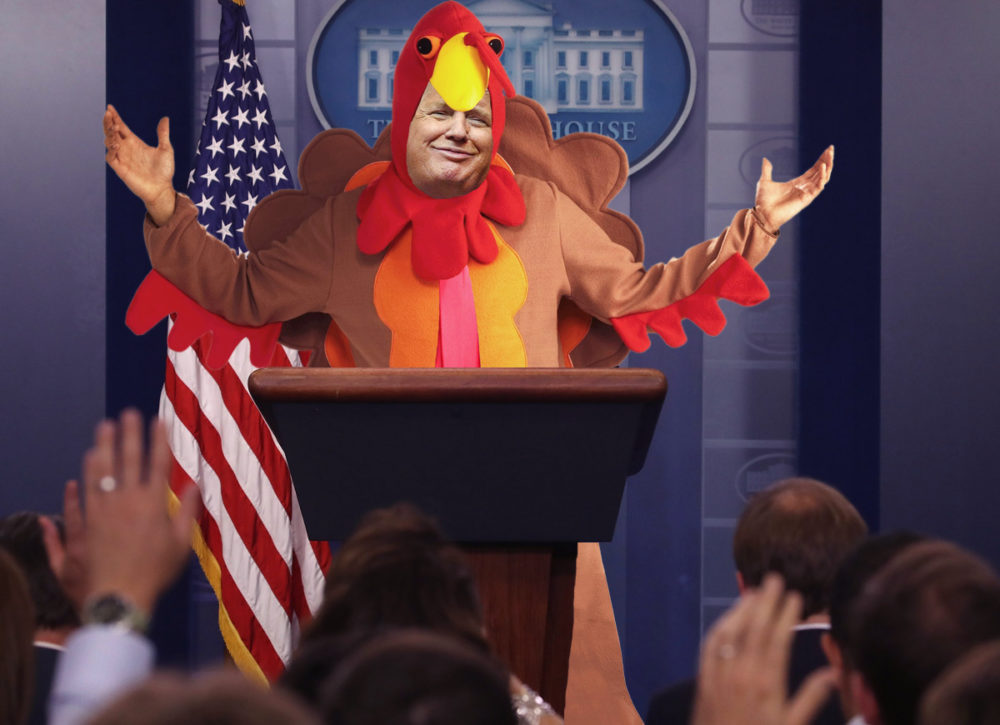 WASHINGTON – In an impromptu White House press conference this morning, President Trump, clad in a tight-fitting Turkey Costume, pardoned himself for "being delicious" as well as "any and all federal crimes he may have committed since birth."
"This is wonderful," Mr. Trump said in unprepared remarks. "We're here, it's almost Thanksgiving. Pilgrims, Indians, candied yams – so tasty – mashed potatoes, pie… Jared, tell the cooks to start early. But Thanksgiving. Tremendous holiday. The best. Oh, and gotta have the Turkey – not this one though. Sorry, Bobby. Also, I absolve myself of crimes – all crimes – past and future."
The president's decision sent shock waves across Capitol Hill, with Democrats calling for immediate impeachment proceedings and area tailors calling for additional thread to reinforce the costume's visibly strained seams. Republicans, meanwhile, held firm to the party line.
"The Constitution grants the president the right to pardon himself in a turkey costume. Every fifth grader knows that," said former Speaker of the House Newt Gingrich. "It's like liberals aren't even aware of the ideals this country was founded upon."
Senate Majority Leader Mitch McConnell shared similar sentiments. "Once again, the media and our friends across the aisle are making it their crusade to attack this administration regardless of the truth. Every year, the turkey pardon takes place, and it's a wonderful tradition, but suddenly this year it's a problem. The partisanship is despicable."
Whether the president's actions will face repercussions remains to be seen, but some in Washington are eager to put the pardon behind them and focus on the Republican party's goals.
"I support the president's right to pardon. One hundred percent," said Speaker of the House Paul Ryan. "But there's hard work left to be done for the American people, and that's what I'm interested in."
"Now, if you'll excuse me, I need to concentrate on tax cuts," Ryan said, before donning a striped burglar costume and mask, and slinging a large, empty money sack over his shoulder.
The post Dressed in Turkey Costume, Donald Trump Pardons Self appeared first on Robot Butt.