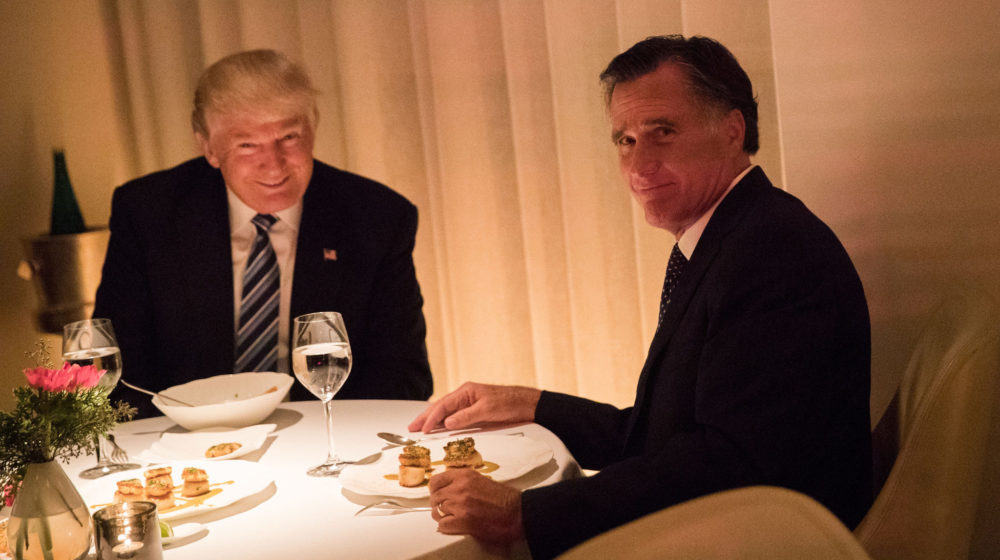 Jean Georges is pleased to reveal the complete dinner menu, with water pairings, served to former Massachusetts governor Mitt Romney during his meeting with President-elect Donald Trump on November 29th, 2016. The two former political opponents dined together to discuss the possible appointment of Governor Romney as Secretary of State. Jean Georges prides itself on crafting appropriate menus for world leaders, dignitaries and prix fixe Mother's Day brunches.
Appetizer
Lamb backbone skewers
Hope Springs mineral water – Hope, AK
Primi
Broken pasta shells with vinegar reduction
Dasani (PepsiCo) – Purchase, NY
Secondi
Fazia Farms blackened crow with battered sweetbreads and spirit evaporate drizzle
Smartwater bottle filled with New York City tap water – New York, NY
Dolci
Two muddled cherries with stunted banana, dusted with crushed nuts
Trump Brand™ bottled water – Atlantic City, NJ
The post The Complete Menu of Mitt Romney's Dinner With Donald Trump at Jean Georges appeared first on Robot Butt.