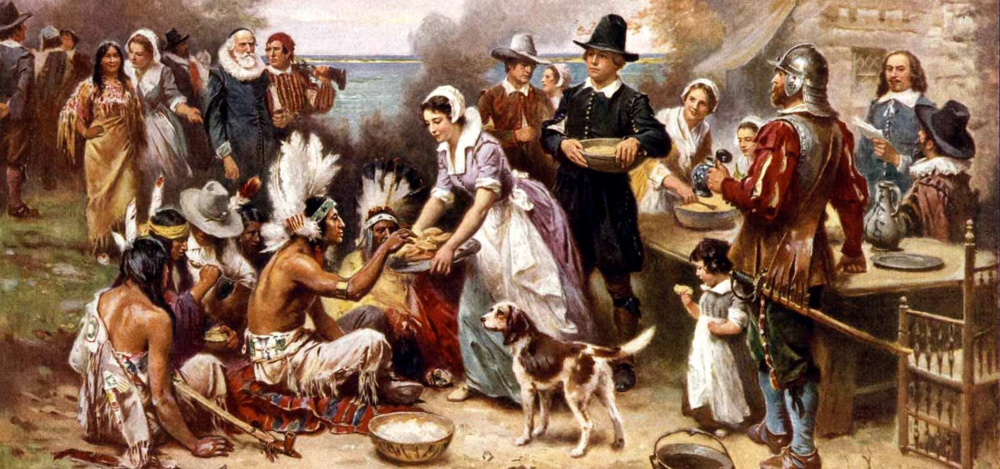 Historians have recently discovered the Twitter page of Constance Hopkins, an original Plymouth Colony member. An outstandingly blah account of the first Thanksgiving of 1621 was narrated in her Tweets. Read on to relive the social media hype during the founding of one of America's greatest holidays!
Who cooked the mashed potatoes? They are SO soupy #Gross #TastesLikeFuckingCardboard #TakeACookingClass
OMG Susanna has been wearing the same hand-knitted dress for the last 11 days #KnitANewDress for Christ sakes
@GovernorBradford Pass the pepper..
(1/2) Myles Standish drank the whole barrel of hard cider AGAIN..He's slurring his words yelling "ya fuck you & your country King James…
(2/2) New England is better, cheerio!" #FuckingTypical #Damn140characterlimit
@GovernorBradord Thx..pass the salt
Can't wait to watch football after this is over, OH WAIT I CAN'T I have to go harvest food for rest of the winter #FML
@MStandish4prez Thanks for throwing up all over my outhouse IM RLY EXCITED YOU ARE PART OF THIS COLONY FOREVER
U kno what I'm thankful for? Massasoit & Squanto. These fellas actually know how to cook up good American grub #TurkeyDoneRight
@WompanoagsWereHereFirst I'm moving in with you guys, this colony is TAPPED
Alright everyone has GOT TO GO I need to get ready for #BlackFridayShopping #BOGODealsOnFur
@PlymouthColony4Life If this "Thanksgiving" thing is going to happen next year everyone needs to BYOB, add greenbean casserole to the menu and disinvite @MStandish4prez
Time to say sayonora to half the colony #WinterIsComing #SurvivaloftheFittest #I'mDrunkOffTurkey
Ms. Hopkins' tweets ended after Thanksgiving, leading historians to believe she either succumbed to the brutal New England winter or forgot her password.
The post 13 Historical Tweets From the First Thanksgiving appeared first on Robot Butt.