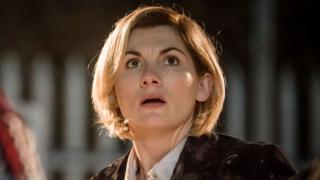 Image caption
The gala volume of Doctor Who will be shown on New Year's Day on BBC One instead of Christmas Day for the first time since the drama's return in 2005.
It will be the first Doctor Who bout to debut on 1 January since the second part of David Tennant's series exit aired on the first day of 2010.
Executive creator Chris Chibnall said it would identify Jodie Whittaker's Doctor "face a terrifying alien threat".
The current streak – Whittaker's first – will conclude on 9 December.
"We're thrilled to be starting the New Year with a bang on BBC One, " said Chibnall, who promised publics "an action-packed, hour-long special adventure for all the family".