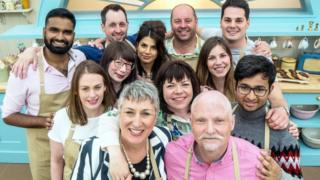 Image copyright
Channel 4/ Love Production
Image caption
It's back. The tent swathed in gilded sunshine, a chocolate meltdown as a result of aforementioned sun, one contestant's separated biscuit dreams and the ice-cold glare of Paul Hollywood.
The Great British Bake Off has returned in all its beauty for a ninth line – the second since decamping to Channel 4.
We've now become used to the adverts, Prue's slightly more acerbic coming to evaluating is comparable to Mary Berry's rosy positivity, and the new superpower presenting dynamic of Sandi and Noel.
An audience of 6.1 million people tuned in to insure Tuesday's first episode kick off with cookie – rather than cake – week.
Given the familiar and unchanged sort of the picture, this was obviously a major upset in the cosy Bake Off circles.