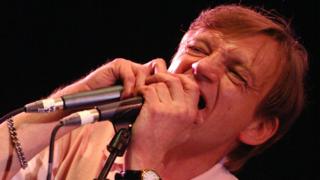 Image caption
Mark E Smith, the snarl vocalist and single-minded ruler of Manchester post-punk group The Fall, was a boulder hero whose booze and engaging – as well as his torment but uncommon melodic geniu – became the stuff of legend.
Over the past 40 years, enormous strips have come and gone. Melodic tendencies have waxed and waned.
But The Fall – basically Mark E Smith and whoever he hadn't come out with at the time – remained belligerently immoveable as the unfashionable but unshrinking gathering in the shade of the music scene.
In that time, he hired and shot more than 60 bandmates and liberated 30 albums of music that normally boasted frayed, repetitive guitars and Smith's corrosive creek of semi-consciousness.
His enunciated sing-slur made him unlike any other frontman, and he aroused passion among followers "whos" drawn to his singular spirit and straying style.