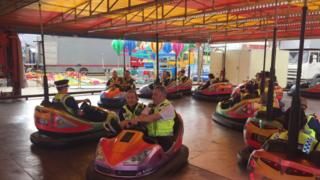 Image copyright
Twitter
Image caption
Police men pictured travelling the dodgems at Hull Fair were doing so as "light-hearted public engagement", army boss say.
The Sun newspaper printed the pictures taken away from an officer's Twitter sheet and said occupants were "furious".
But, Humberside's deputy chief Constable Andy Mcdyer said he was "really disappointed in the article".
More than 25 detectives were on duty during the eight-day event, which attracted more than 500,000 visitors.
More on this and other Hull stories