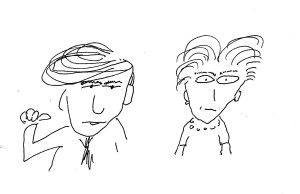 Pundits are looking forward to the future possibility of a Hillary vs Trump debate. Both are unafraid of looking like total a-holes in front of the public, and a televised debate could look like something out of a Jerry Springer show…maybe even with some hair-pulling and kick boxing.
The latest flap has been a barb battle over women's issues…Trump saying he cherishes women, and Hillary saying, "Then why not me?" Much more firework extravaganza would be anticipated in their respective drives for women's votes during the campaigns. Trump has flip-flopped a bit over the Right to Choose/ Right to Life issue, ultimately claiming he is in the middle somewhere…while Hillary has maintained her strong position about protecting abortions.
"I can't help thinking about that poor depressed girl in the Dirty Dancing movie who desperately wanted an abortion so she could continue her summer dancing job, " Hillary remarked to a crowd. "Would it be better to let her career, her dreams, go down the drain? Are you going to let Donald Trump make those kinds of decisions for you? He'll probably tell you to get a job as a waitress and shut your pie hole."
In response, Trump just smirked. "Hillary has a way of touching something deep inside you…deep, deep inside. It kinda reminds me of that fellow on America's Got Talent who calls himself The Regurgitator. You know, I think he could win it all. He can regurgitate a freaking billiard ball…amazing! Someone told me he grew up in an orphanage in Scotland. Imagine the loss to the world if he had been aborted."
Ratings between these 2 could skyrocket in a debate. The networks are already pre-selling advertising slots at near Super Bowl prices. Stay tuned.
Disclaimer: all stories in Bizarreville are fiction…at least until they become fact.