New York City houses some of the best Furniture stores in the world given its long history of accommodating new residents. I'm here to offer you 12 best furniture stores in NYC to buy modern furniture with a balance of affordability and great aesthetics. From small walk-up studios to luxury penthouses, everyone demands and deserves quality furniture and decor.
For each of the 12 furniture stores below, I've included a store description, relative affordability, map links, as well as a few photos showing the store's design style. Leave a comment if you have a favorite store in NYC of your own!
1. Online Furniture Stores
Given the evolution of online retail, it's now easier than ever to purchase furniture online and have them delivered to your home, minimizing all the hassle and stress. Check us out at FROY – we curate for the best modern furniture at affordable prices, with free shipping and 14-day returns to boot! We're confident you'll be happy.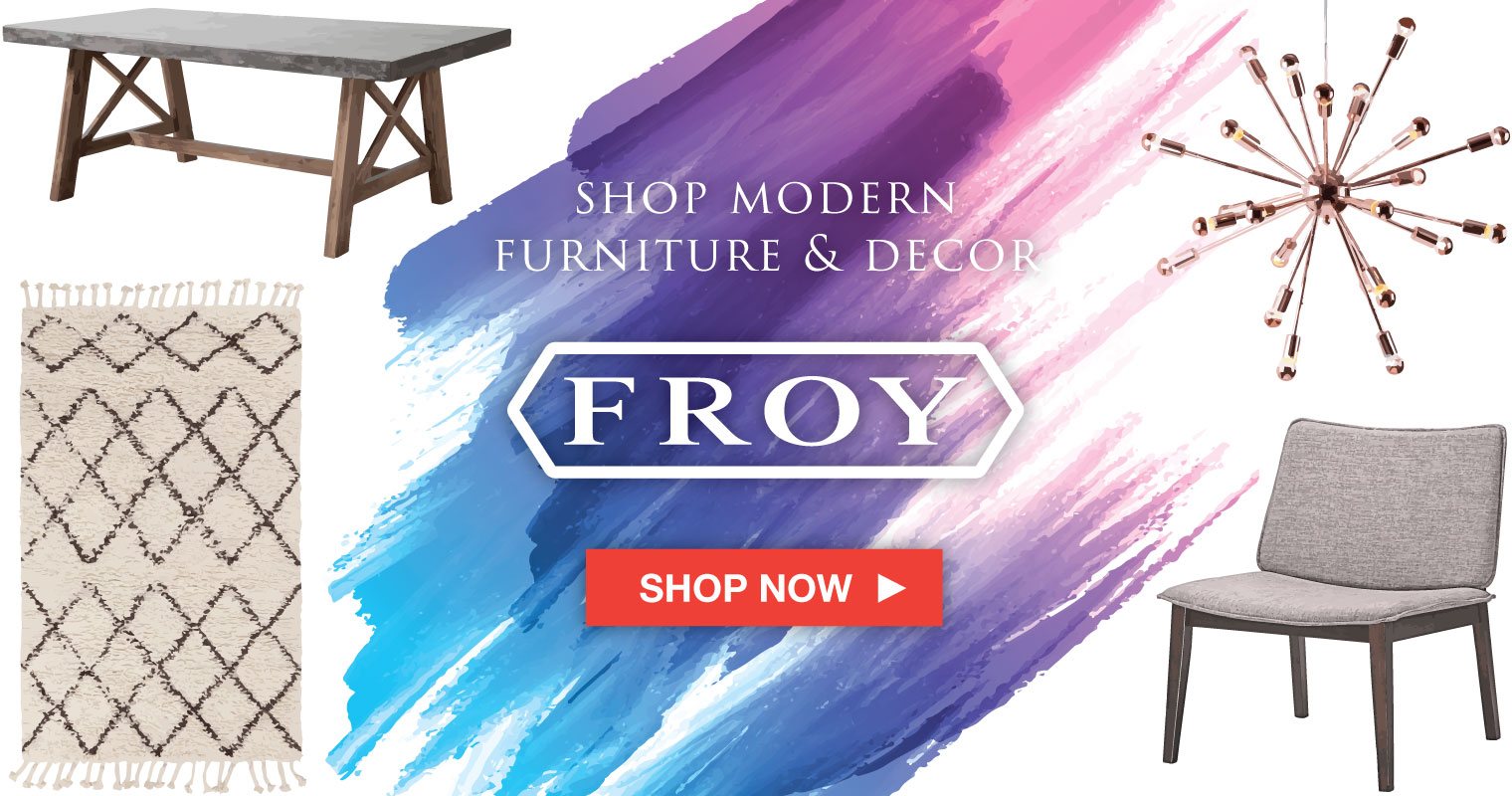 Another great online-only furniture store is Wayfair. These guys are the biggest online-only retailer, so their catalog will take a very long time to sift through the good and bad, but there are great deals and selections. Stores like Urban Outfitters Apartment focus mainly on apparel in their physical stores, but offer a wide array of economical furniture on their website. In this day and age, if you're not trying to open your furniture search to online stores, you're greatly missing out!
2. IKEA Brooklyn
Located in Red Hook, Brooklyn, IKEA may be a long journey for those living in Manhattan, but it's a labyrinth filled with furniture and decor. Though some of their quality might be suspect and designs a bore, the majority of their products (particularly the higher-range items) are modern and chic. Be warned that stock shortages occur on occasion.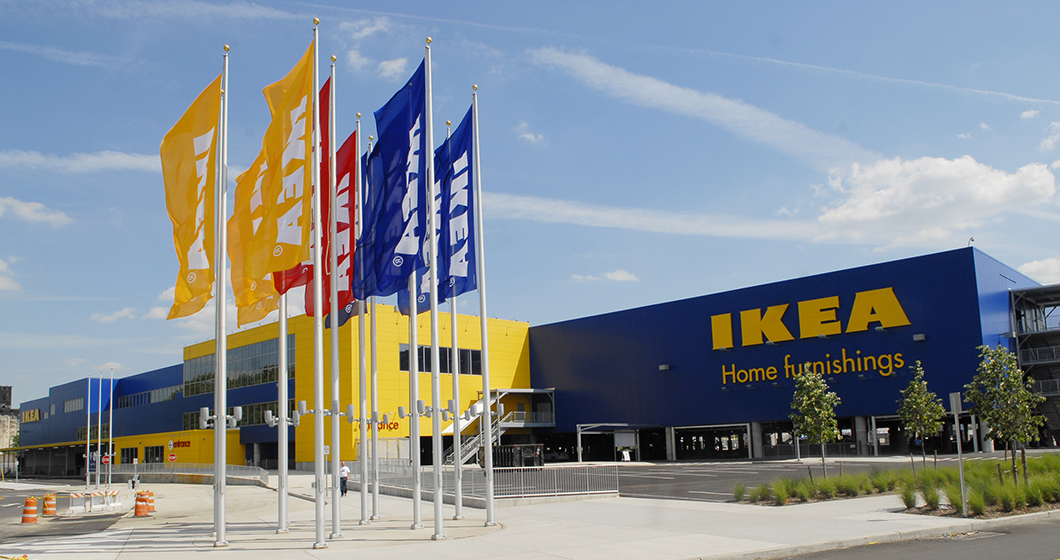 Their online store is a mixed bag. First of all, they don't offer free shipping. In my case, the estimated shipping cost for larger furniture pieces is $140 to our office in midtown Manhattan. Furthermore, many of their catalog are not available online.
IKEA Brooklyn: 1 Beard St, Brooklyn, NY 11231 (Google Maps); (888) 888-4532
3. HomeGoods
Despite having two stores (one in Upper West and another in Flatbush), you may have never heard of HomeGoods. They are rather large with furniture and decor selections covering predominantly contemporary chic aesthetics, as opposed to the Scandinavian modern designs of IKEA. Though most items are fairly priced, bargain hunters can really find some products at steep discounts compared to similar designs at high end furniture stores in NYC. HomeGoods does not sell online.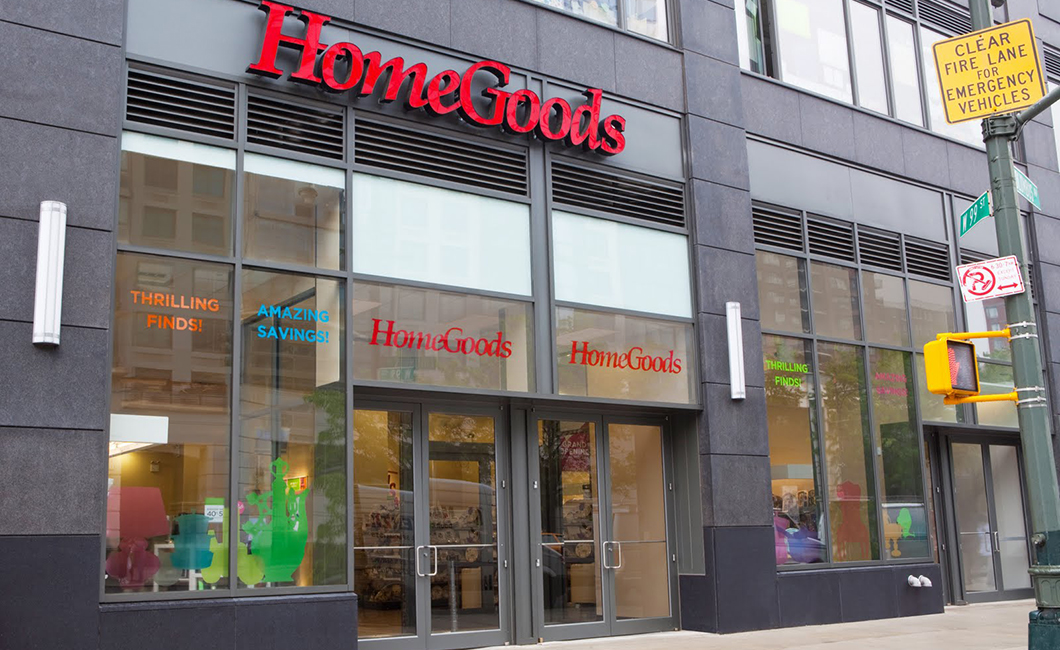 HomeGoods Upper West: 795 Columbus Ave, New York, NY 10025 (Google Maps); (212) 280-6303
HomeGoods Flatbush: 2201 Nostrand Ave, Brooklyn, NY 11210 (Google Maps); (718) 434-5730
4. Nadeau Furniture with a Soul
This smaller store is a recent find and it's a gem! Ever browsed Pinterest and wished you could bring a piece of those perfectly curated designs to your home? Well, that's what it feels like shopping at Nadeau. The products generally have a transitional, vintage, or world-inspired look. Pricing is very competitive and the designs are truly unique. They're small but I'm placing them highly on this list! Nadeau also does not have an online store, so you'll want to visit them in person.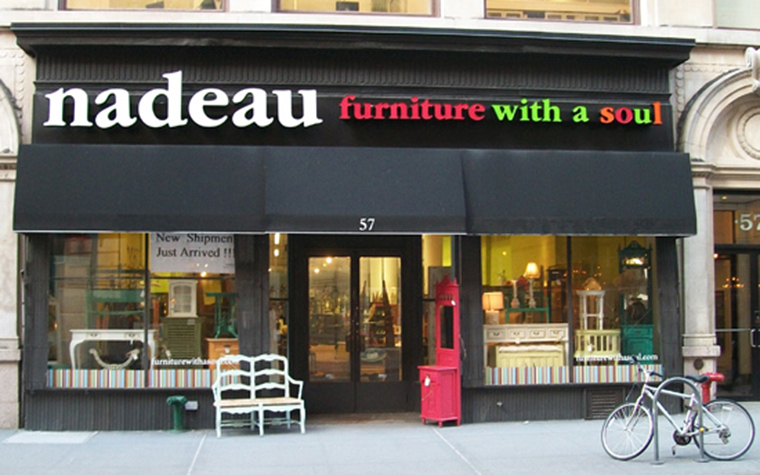 Nadeau NYC: 57 E 11th St, New York, NY 10003 (Google Maps); (646) 602-9507
5. Furnish Green
This is another harder-to-spot furniture store in NYC. Their style can best be described as a mixture of industrial modern and vintage, with a dash of mid-century charm. Price is amazing for this sort of look, given how most other stores selling "vintage" has outrageous markups. The store is tucked away on the third floor of a building, so it's truly a New York secret!
They also have a broad selection of products available on their online store. Though they don't offer free shipping, block delivery is available at $65-$75 depending on your borough. However, individual deliveries can be $130-$140, with larger pieces potentially costing even more. Be wary of a $60 additional charge if your building requires insurance.
Furnish Green: 1261 Broadway #309, New York, NY 10001 (Google Maps); (917) 583-9051
6. CB2
CB2 offers a mixture of minimalist modern and contemporary chic furniture/decor. Their pricing is at the golden point – more expensive than the flat-pack pieces of IKEA and less expensive than its pricier sister store Crate & Barrel. Before you look at C&B, West Elm, or BoConcept, you need to check out CB2 given overlaps in style and, frankly, quality. Their designs will give your rooms a urban and chic aesthetic, but I'd definitely recommend mixing some pieces from stores like Nadeau and Furnish Green (the two stores listed above) for a dash of culture and creative flavor.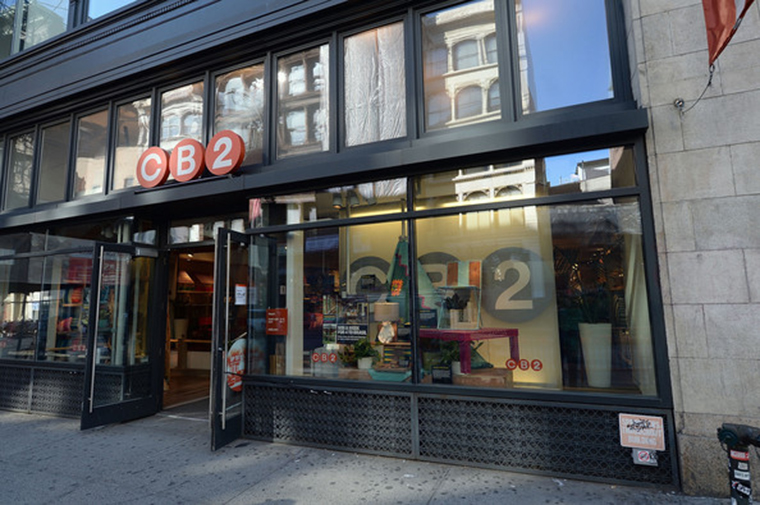 CB2's online store is well managed with a wide selection of products available from furniture to lighting to decor. They do not offer free shipping. For residents in NYC, they offer reduced local in-home delivery fees ranging from $60 to $80 for furniture orders under $450 and $100 to $160 for any furniture orders above $450. Their returns process is a bit complicated though, so have a look before ordering – some returns are charged a 25% restocking fee.
CB2 Midtown East: 979 3rd Ave, New York, NY 10022 (Google Maps); (212) 355-7974
CB2 SoHo: 451 Broadway, New York, NY 10013 (Google Maps); (212) 219-1454
7. Pier 1 Imports
Pier 1 Imports is a cross between New England chic, country, world-inspired designs. They are very well priced, similar to CB2, given their unique designs. If you can't find what you need between their Union Square or UES locations, you should try browsing for furniture on the web at Pier1.com. I've found that their physical stores focus much more on decor (and, for some reason, poor selection of designs), so you'll definitely want to check out their online store for furniture. Pier 1 is one of the go-to stores when it comes to trunk tables. There is a $170 charge for in-home delivery for large furniture pieces.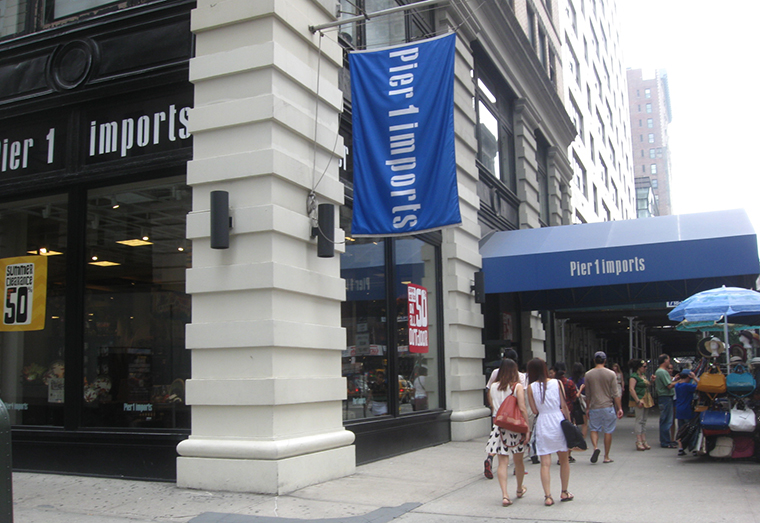 Pier 1 Union Square: 71 5th Ave, New York, NY 10003 (Google Maps); (212) 206-1911
Pier 1 Upper East: 1110 3rd Ave, New York, NY 10065 (Google Maps); (646) 358-1360
8. West Elm
West Elm, put simply, is my favorite furniture store in NYC. The only reason they aren't much higher on this list is because I have to consider pricing accessibility. While mostly the middle-upper class shops at West Elm, the whole world can shop at IKEA. With that said, their designs fit my tastes perfectly – even more than the designer furniture at stores like DWR. Their style is urban modern, with frequent use of refined wood and elegant metal elements.
Shopping West Elm online is a good idea given their wider selection. However, like most furniture retailers – except us at FROY, of course

– they charge shipping, which is set at 10% of the total value of the product along with a $100 fixed surcharge for large pieces. Everything looks beautiful!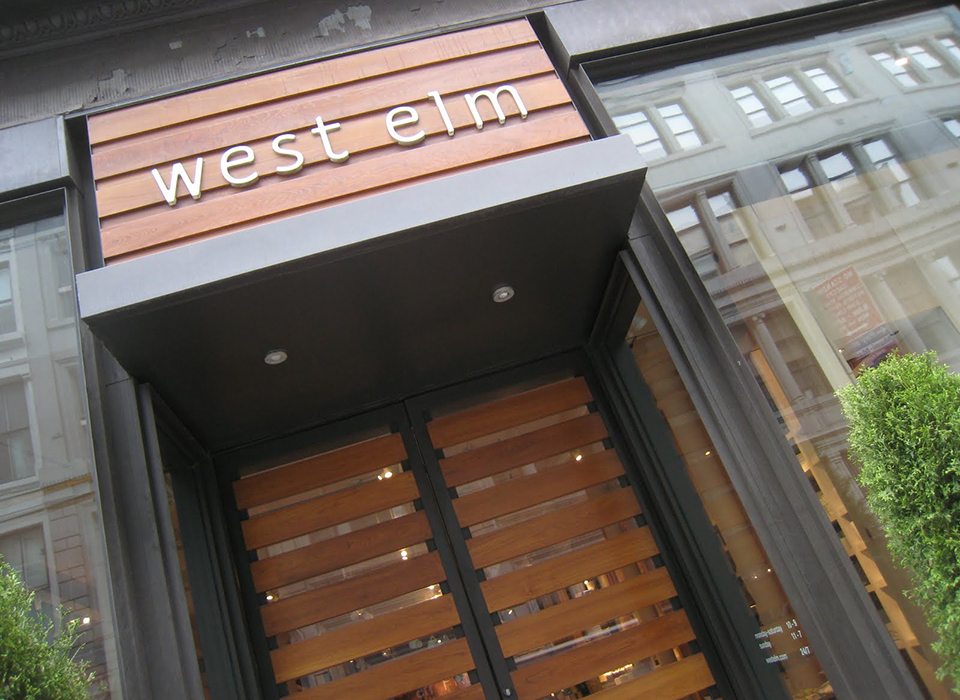 West Elm Chelsea: 112 West 18th Street, New York, NY 10011 (Google Maps); (212) 929-4464
West Elm Broadway: 1870 Broadway, New York, NY 10023 (Google Maps); (212) 247-8077
West Elm Brooklyn: 75 Front St, Brooklyn, NY 11201 (Google Maps); (718) 875-7757
9. Cure Thrift Shop
I can create an entire top 12 list with NYC furniture thrift shops alone, but, for the purposes of this list, I'm picking just one of my favorites. Located in East Village, you'll find really unique vintage, mid-century, and some contemporary designs here for reasonable prices (3-seat sofa for $500, for example). By inviting some furniture from Cure to your home, you can create a unique and other-era charm. They don't have a web store, so you'll just have to walk over and see for yourself. Also, in case you're curious, the store is called Cure because all proceeds go to benefit Juvenile Diabetes Research & Advocacy.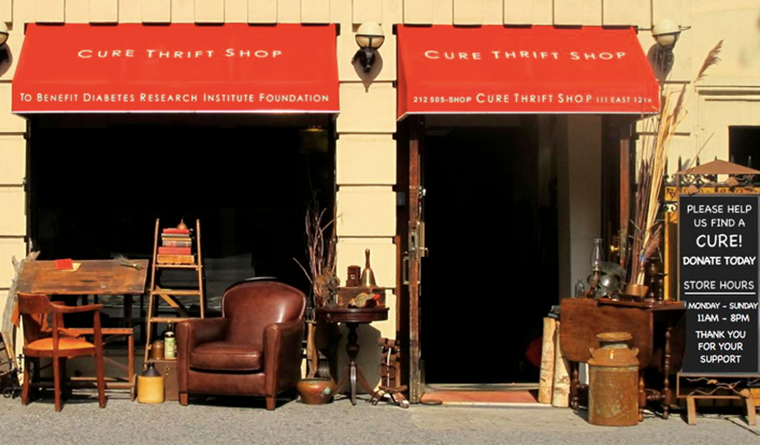 Cure: 111 E 12th St, New York, NY 10003 (Google Maps); (212) 505-7467
10. Salvation Army
I'm serious. Salvation Army is an incredibly underrated and oft-ignored destination to shop for furniture in NYC. With multiple locations spread across New York, there's likely a convenient location near you. You can find all sorts of designs here, from contemporary to country to vintage (the real, authentic kind) and anything in between. Bargains are aplenty, with some items that you'll feel like a steal.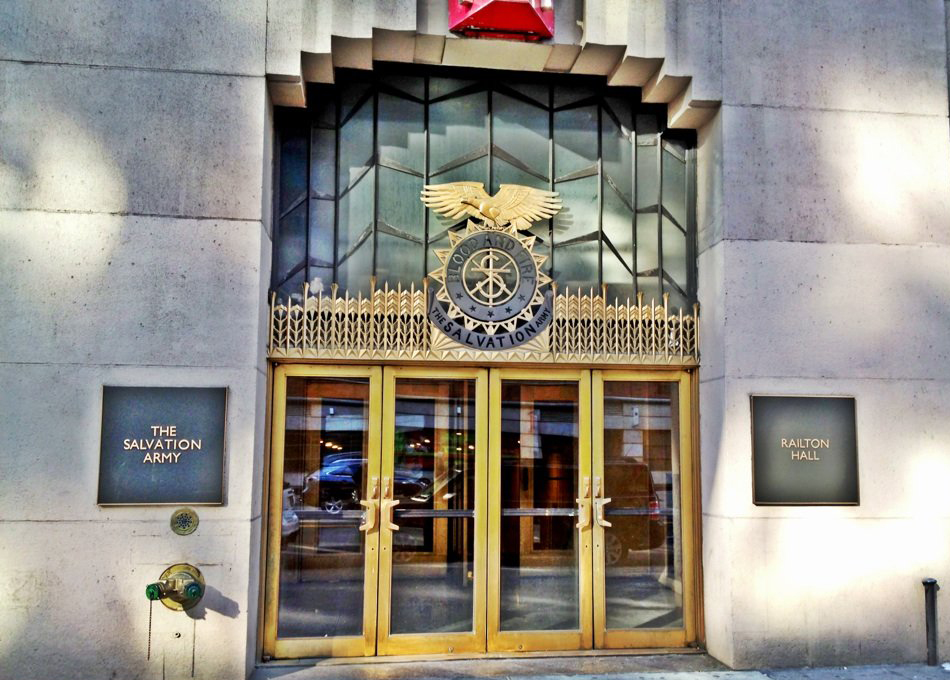 The great characteristic of shopping at Salvation Army is that the items do not feel commercial and soulless, as you would at some generic furniture warehouse. I despise the sort of designs at stores like Bob's Discount Furniture and, if looking for bargains, would prefer spending an hour hunting for a hidden jewel at Salvation Army any day of the week. Obviously, Salvation Army does not have an online store.
Click here to see a map of approximately all 10 Salvation Army stores in NYC.
11. Pottery Barn
If you're looking to decorate your home with a warm, chic, transitional design style, Pottery Barn's furniture is the way to go. If CB2 is the affordable alternative to Crate & Barrel, than Pottery Barn can be an alternative to Restoration Hardware. Prices range widely, with coffee tables ranging anywhere from $200 to $1000, though most seem to be around $400.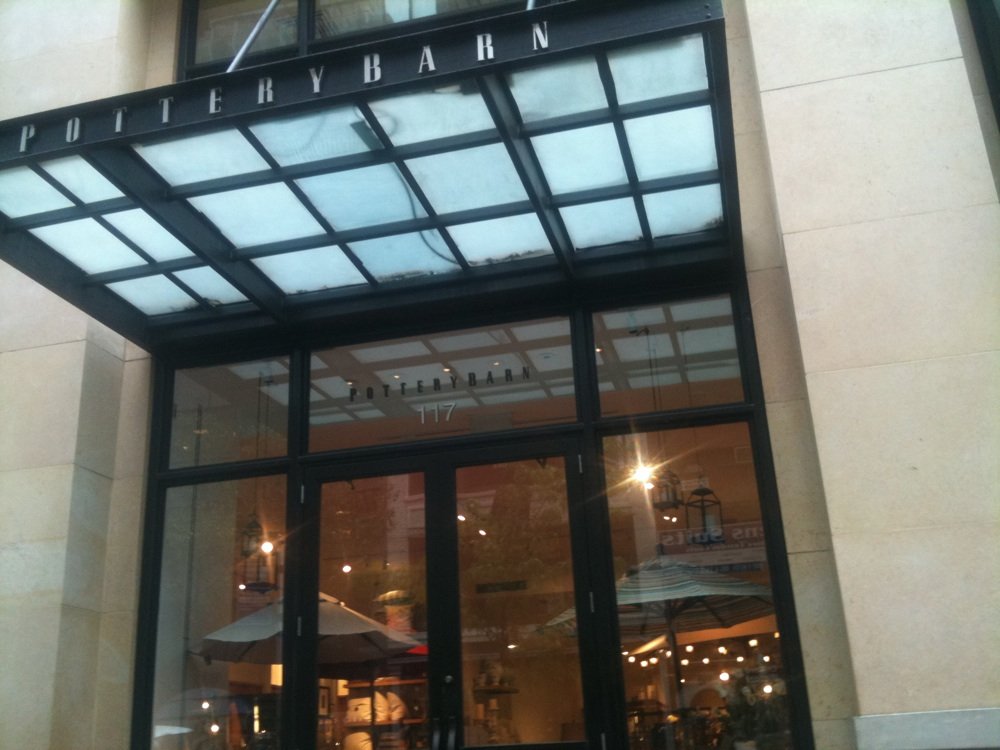 Although PB's designs are great, their NYC stores seem to lack in customer service satisfaction – most locations have 2.5 Yelp scores. You can consider shopping their website, which has their full catalog available. Shipping for most furniture will cost 10% of the order value plus $50-$125 surcharge.
Pottery Barn Chelsea: 104 7th Ave, New York, NY 10011 (Google Maps); (646) 336-7160
Pottery Barn Midtown East: 117 E 59th St, New York, NY 10022 (Google Maps); (917) 369-0050
Pottery Barn Upper West: 1965 Broadway, New York, NY 10023 (Google Maps); (212) 579-8477
12. Blu Dot
Blu Dot's NYC store is probably your best option for "borderline" economical high-end modern designs. Some of their items are going to be priced above other stores on this list, but they're not Design Within Reach. Their style, unlike the others on this list, are very one-dimensional: they focus purely on minimalist modern, and they execute exceptionally well. Though their showroom is limited, you can find a large catalog of offerings on BlutDot.com. Standard curbside delivery rate is 5% of your order total, with an option for in-home delivery available at $100 extra.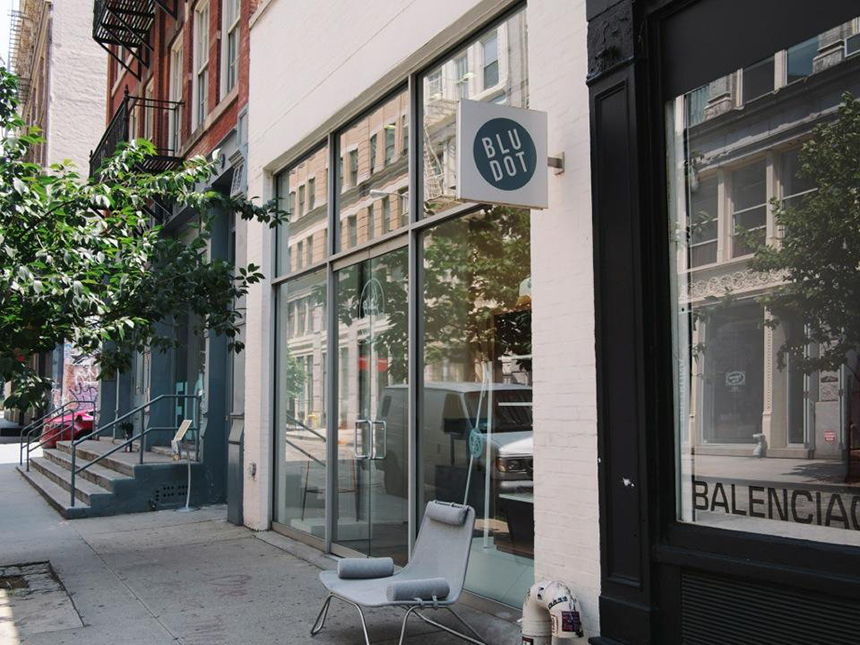 Blu Dot NYC: 140 Wooster St, New York, NY 10012 (Google Maps); (212) 780-9058
Final Words
NYC is a big place, so it's impossible to list every great furniture store options. However, your time to shop is also limited, so I limited the selections to 12 stores. Given that you're reading this blog, you obviously have a refined taste for design, so I didn't include any Bob's Discount Furniture sorts on this list.
You may notice some popular stores not on this list, such as BoConcept. In my research, I found that BoConcept has a negative reputation when it comes to customer service, as covered here by Apartment Therapy with over 80 scathing comments. Yikes. I also omitted DWR, Environment Furniture, and other stores with inaccessible pricing.
All in all, I'd recommend you pick a few furniture stores in NYC with styles that you like and combine your search with online shopping (especially at our store!) to cover as much ground as possible. Good luck!
The post Furniture Stores in NYC: 12 Best Shops for Modern Designs appeared first on FROY BLOG.