No matter where you live, the timeless aesthetic of a rustic Farmhouse can be applied to your home with some strategic furniture and design choices. To start you off on your journey, we've identified the 10 best stores for farmhouse decor and furniture. Whether you're looking to furnish your living room, dining room, bedroom, or your entire home in this bucolic style, the unique items you'll find at these stores will help you achieve that dreamy vintage finish.
Inspired by the pastoral lifestyle, the farmhouse look is characterized by rustic wood pieces, simple silhouettes, and liberal use of white and beige colors. Many items in this style are also made from reclaimed lumber or are truly vintage.
1. FROY
If you're on the lookout for farmhouse furniture with a modern twist, FROY's handpicked offerings feature artfully distressed wooden tables, upholstered linen sofas, and cozy knitted pillows. The store offers both traditional rustic furniture, as well as softer, more elegant designs to help you furnish a complex yet balanced farmhouse interior. Introducing hints of gold and glam to your rustic pieces can give your home a modern upgrade to this traditional style. For your kitchen counter, consider these Ivory Frederick Counter Stools adorned with rattan caning. Complement them with some wooden crates that double as a storage solution. Finish off your look with statement light fixtures woven with a sturdy rope, or add a bundle of twigs or dried lavender in a simple glass vase.
Frederick X Back Bar Stool

Salvaged Crate Shelf

Huntington Bed
2. World Market
World Market has a versatile selection of vintage farm furniture to suit every style and budget. Their Alder Wood Farmhouse Barn Door Bookshelf is the epitome of farmhouse chic, with a burnt-alder finish and sliding doors that reveal adjustable inner compartments. Its matching counterpart is the Wood Farmhouse Barn Door Bar, which is perfect for a party with family and friends. In addition, it features hanging racks for glasses and your favorite wine bottles. Lastly, if you're really aiming to impress, the Farmhouse Butcher Block Kitchen Island can be used for a cooking demo or as a DIY salad station. It's definitely one of the best stores for farmhouse decor.
Source
3. Pottery Barn
Are you aiming to transform your bedroom into a country farmhouse abode? Pottery Barn's furnishings have an elegant shabby-chic finish that's sure to stand the test of time. For instance, one of their bestsellers is the gorgeous Farmhouse Canopy Bed in gray, espresso, or charcoal. You'll fall in love with the hand-finished surface and clean straight lines. Add in a comfy throw blanket and some beige linens for that effortless vibe. Similarly, warm up your wooden floors by trying out a Chunky Wool/Jute Rug to add some texture. Don't forget to accessorize with a bouquet of ivory hydrangeas in a terracotta vase!
Source
4. Birch Lane
When it comes to decorating your home like an antique farmhouse from the past, it's all about painting your walls with a whitewashed finish, installing vintage accents, and instantly making it feel more welcoming. Birch Lane's broad selection of farmhouse finds has everything you need. To attain the industrial look, the Ashmont Warm Bronze Arched Table Lamp comes in distressed bronze and looks fantastic with a vintage Edison bulb. In contrast, the Bershire 6-Light Globe Chandelier evokes a sweet Southern vibe with its delicate circular frame and antique ivory finish. Finally, adding botanical artwork to your walls can provide an unexpected pop of color.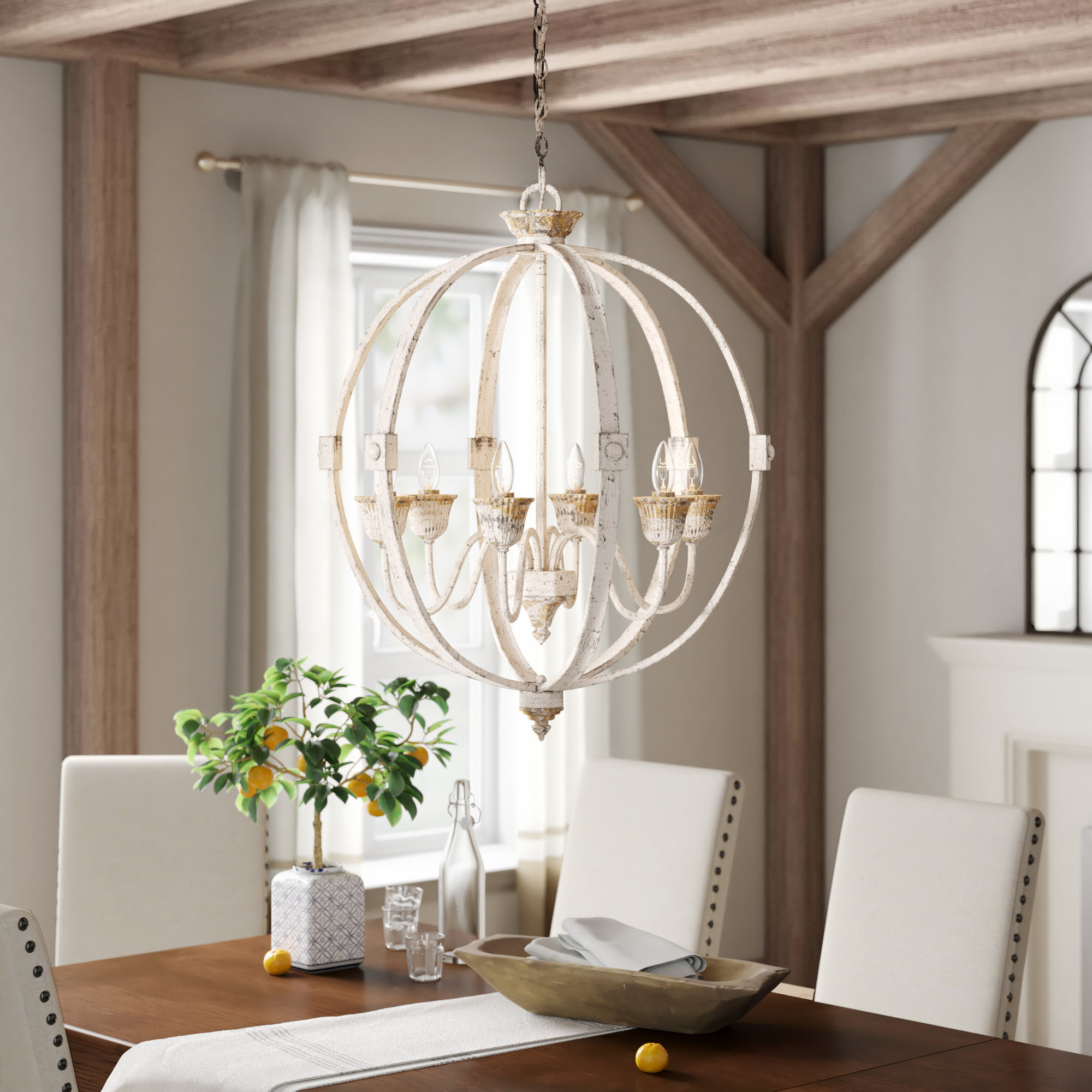 Source
5. Bassett Furniture
For the ultimate treasure trove of rustic farmhouse furniture, Bassett Furniture has an incredible selection of decorative nightstands, bed frames, and dressers. Tying different pieces together can be tricky, but they have all the wooden finishes you can dream up. As one of the best stores for farmhouse decor, they offer the Custom Made Maple Farmhouse Table which is ideal for family meals and candlelit gatherings. In addition, the McDaniel Clock has an aged appeal and easy-to-read iron numbers on top of a pine finish. To make a small space feel more open, add a vintage-inspired wall mirror to bring in a lighter element. Above all, using soft colors like dove grey and white will show off the natural wood grain.
Source
6. Bella Cottage
Dreaming of a gorgeous fairytale interior? Bella Cottage's modern farmhouse collection consists of stylish French-inspired finds handpicked from around the world. They sell one of a kind antique pieces that you won't find anywhere else. The ultimate bedroom piece is their reversible Pom Pom at Home Carter Duvet, which comes in pastel shades of warm amber and cool denim. If you want to switch things up, you can flip sides from stripes to solids! A book collector's dream is the Moria Bookcase in Ebony Walnut, which has beautiful arches throughout its five layers.
Source
7. Kathy Kuo Home
One thing that most people love about rustic farmhouse decor is how it creates a truly welcoming atmosphere. To give your kitchen this charm, Kathy Kuo Home's collection of country farmhouse furnishings definitely hits the spot. Check out some of their eco-friendly options like the Lyle Lodge Reclaimed Pine Adjustable Dining Table. It looks like a typical farmhouse table but can sit anywhere from 4 to 14 individuals with a few easy adjustments. In addition, the Dauphine French Country Display Case Cabinet can show off your treasured china pieces or silverware. Lastly, accessorizing with unique pieces like the Alice Round Serving Tray will help set the mood.
Source
8. Chic Artique
Every modern farmhouse isn't complete without a porch swing. A secret find in one of the best stores for farmhouse decor is Chic Artique's Farmhouse Porch Swing, which is the ideal place to sip on a freshly brewed cup of tea on a sunny afternoon. It is sturdily made with a thick chain and rope. Once you're done with the front of your home, don't forget about the back door too. Add the Rustic "Y'all" (Hall) Tree with Bench to organize your stray footwear and clean up your clutter. Finally, hang any key essentials on the hooks so you can make a quick getaway.
Source
9. Antique Farm House
If you already have the basic foundations of an antique farmhouse, all you need are a few bits and pieces to tie all the elements together. True to its name, Antique Farm House's Reclaimed Wood Display Cases resemble genuine antiques. Why not add a scented candle or show off your special keepsakes? You can also brighten up your home with Framed Vintage-Style Wallpaper. Alternatively, add a twist to your indoor plants with Footed Metal Planters. To add to their fresh from the farm feel, they even double up as magazine holders.
Source
10. Shabby Chic
For the lived-in vibe that defines farmhouse chic, Shabby Chic stocks a selection of brands that embody both comfort and style. One of their cutest pieces is the Vintage Green Stool, which has a timeworn beauty and unique imperfections. Use it as a decorative piece for some wooden picture frames or to reach items on high shelves. In addition, it also comes in other colors including pink, grey, and white, depending on your mood. Finally, the Cromwell Adjustable Table with Mirror is another vintage-inspired item, adorned with a mirrored surface.
Source
To sum it up, creating your rustic farmhouse involves choosing slipcovered furniture pieces and throwing in some industrial-style elements. To truly nail the look, aim for natural tones like whites, greys, and beiges and add a few metallics for a hint of modernity. For more design inspiration, check out our previous post on 'Interior Design Styles: 8 Popular Types Explained'. If you have any favorite stores to add to the list or some tips of your own, feel free to leave a comment below!
The post Top 10 Farmhouse Furniture & Decor Stores in 2020 appeared first on Lazy Loft.