Color theory is a science that many designers swear by: red for a dining room to promote appetite, yellow for a kitchen to create a happy atmosphere, green for a sunroom to enhance the growing energy, and black on special occasions. But you may be surprised to find that Colors not only have an effect on our moods but also on how big, small, cold, hot or inviting a room can appear.
Let's first look at the biggest player in the room: the walls. Here are four colors that make a room look bigger, and there are definitely a few unexpected colors on this list!
White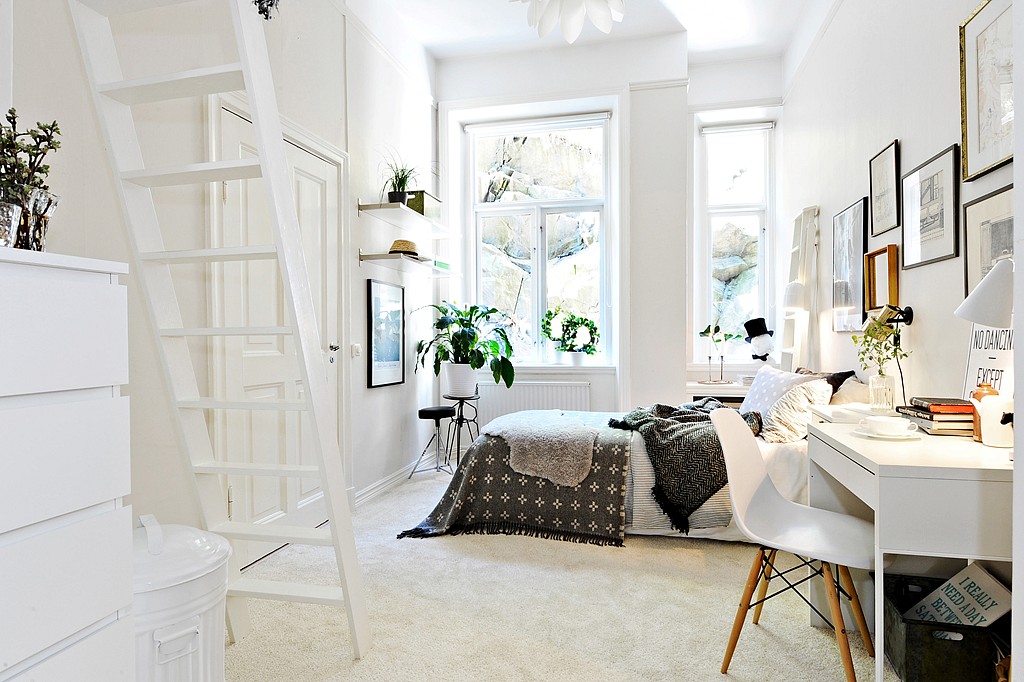 Source
The first is the most obvious one: white. If you have a tiny room filled with rich, saturated colors, the room will look smaller. Add a coat of white paint, and instantly, you have a room that appears bigger. There is a bit of science behind this trick: white is light-reflective, while the darker a color gets, the more light it absorbs. If you add a satin or gloss finish to your walls, it will further increase the amount of light reflected, which then further visually increases the space.
Pastel Colors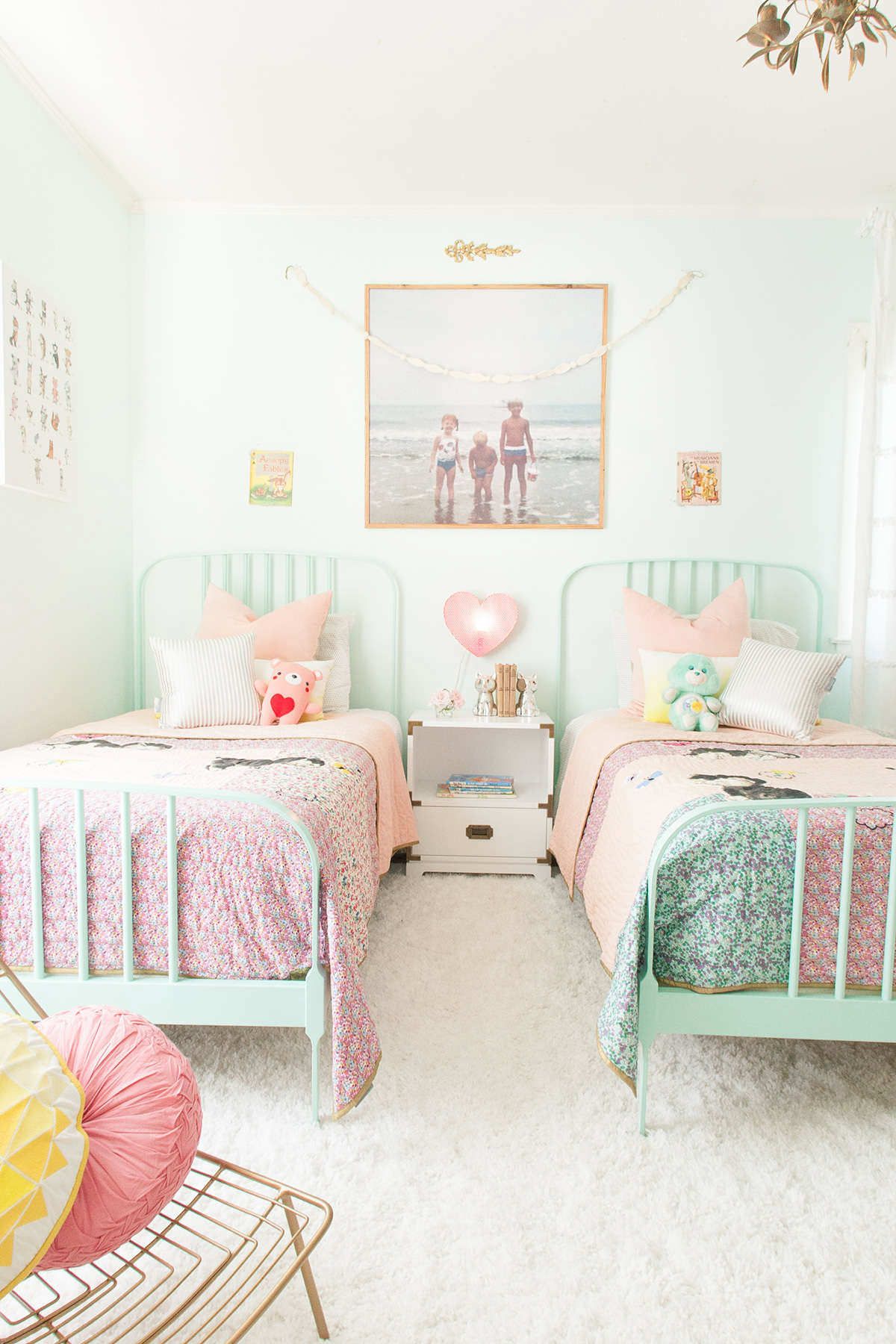 Source
Not far removed from white, pastels are slightly darker hues that add a bit of color to a room without taking away too much of the light-reflecting benefit. Think buttery yellow, blush, pistachio and duck-egg blue for a trendy room. Use white trims for a bit of contrast and to prevent the room from looking washed out.
Gray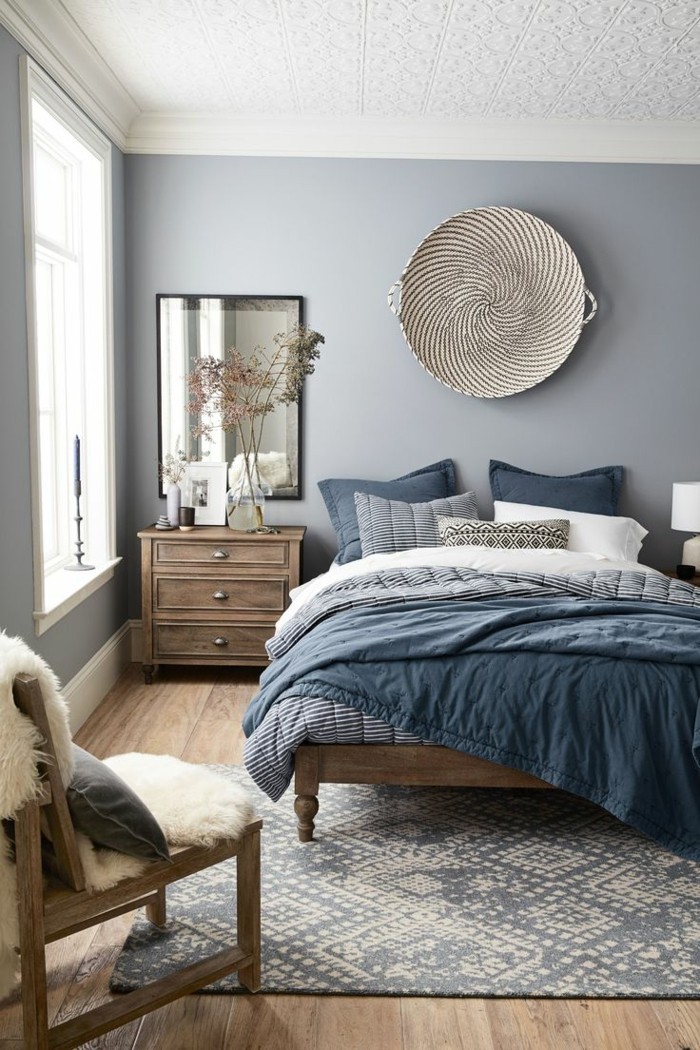 Source
Gray is a mixture of black and white, so it then makes sense that it will retain the qualities of its parent colors. In that way, very pale gray has a wonderfully warming effect without surrendering its ability to reflect light. Gray also can create a bit of depth, which is why it is such a wonderful color to work with in smaller interiors.
Black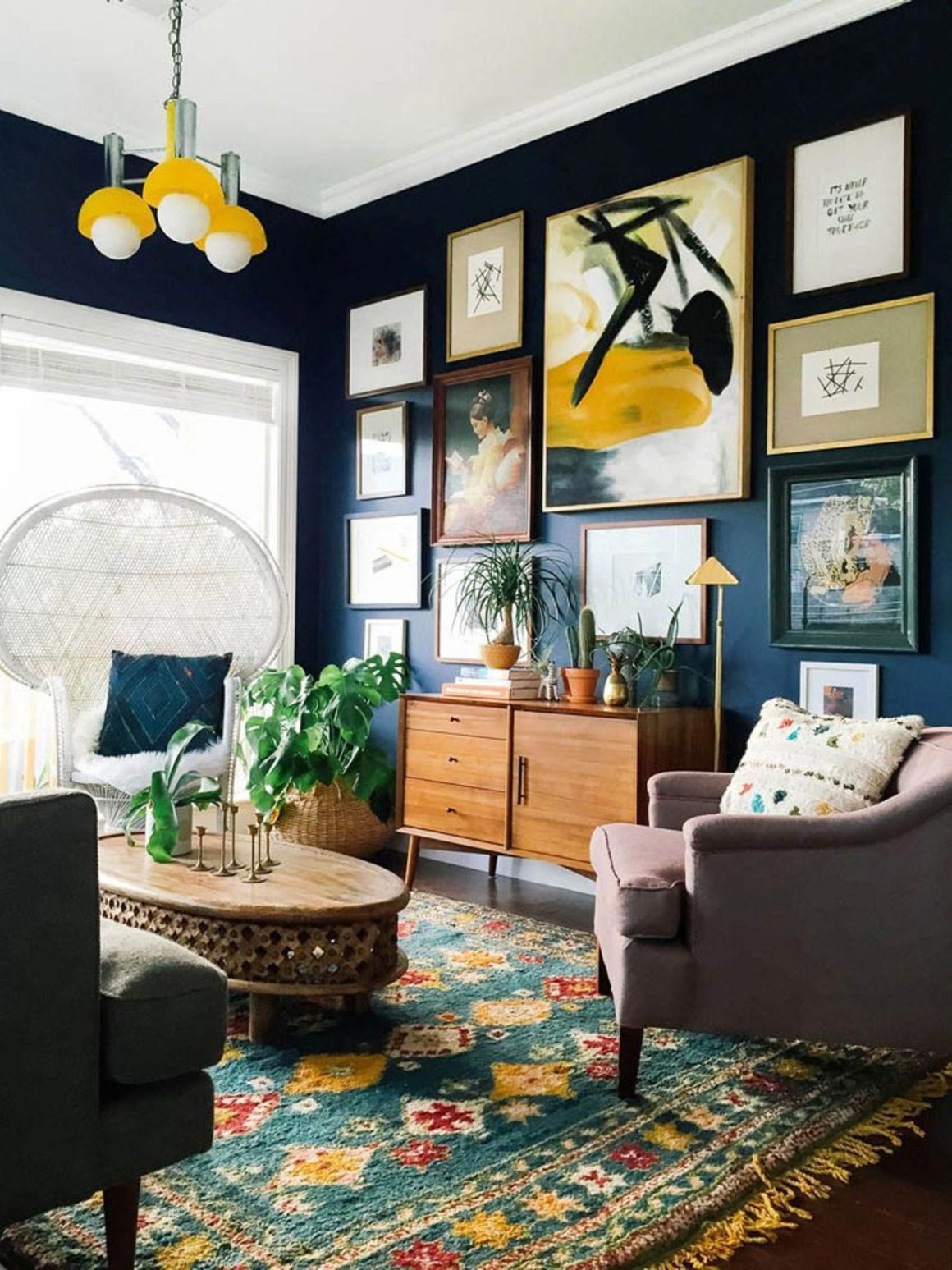 Source
And since white and gray is on the list, it then makes sense that black also to be! Because of the incredible depth created by a very dark color, black has the unlikely ability to increase a room's size rather than making it appear smaller. Used sparingly on one or two accent walls, or above or below a dado rail, black paint in both a gloss or matte finish will make the walls disappear into the void, creating space in its stead.
But of course, it's not only the walls in a room that make us feel claustrophobic. Dark Floor finishes and bulky furniture in dark colors have the same effect. Here are a few pro tips on how to deal with that.
Floor Colors To Visually Increase The Size Of a Room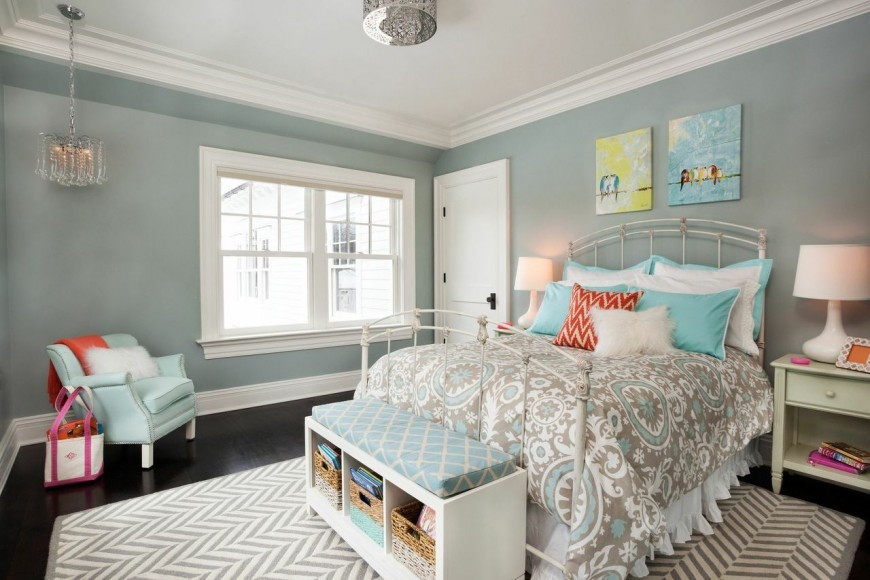 Source
Dark Wood vs. Light Wood Floors
Light wood is the obvious choice if you have a smaller room, but you will not always be able to change the floor finish in your home. This is especially true if you are a tenant! If your dark wood floor is there to stay, it is especially important to stick to light-colored furniture. A white or light gray sofa will cover a large part of a dark floor. And in a bedroom, your bed will do the same, so choose light-colored bedlinen to prevent the room from looking crowded.
Marble And Tile Floors
Most natural stone and tile floors have a glossy finish that helps to reflect light around a room. This helps these floor finishes to usually work very well for smaller spaces unless of course, they are matte and dark like slate. But a very dark floor can also have the same effect as a dark wall and actually make a room look more spacious than it really is. If you have a dark stone or tile floor, carefully choose furniture items that will help to reflect the light and keep them smaller rather than bulky.
Layering With Rugs
If you are not able to change your dark tile or hardwood floor, then you'll need to resort to a tried and tested designer trick: layer a light-colored rug over it! Keep the design simple so that you don't replace one overpowering element with another. This is especially useful when you have dark furniture as well. Light sisal rugs, pale wool, and lightly patterned modern watercolor rugs will all do wonders to cover up a dark floor.
Furniture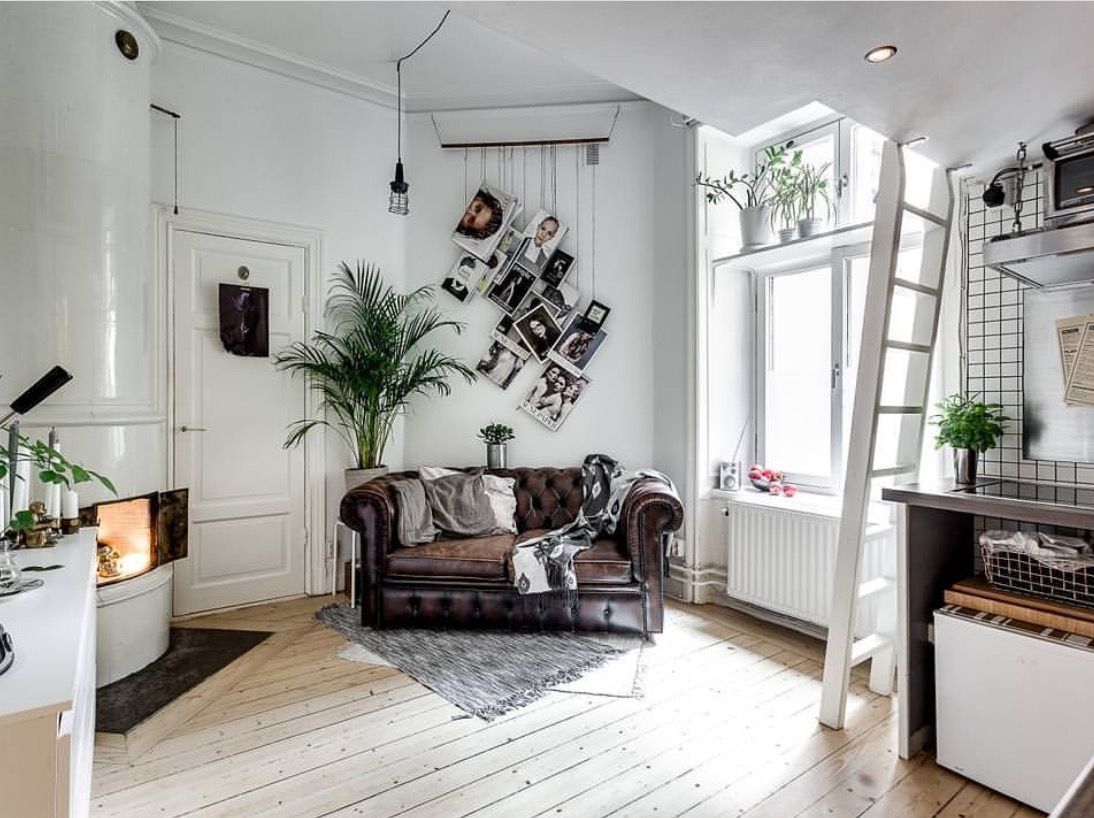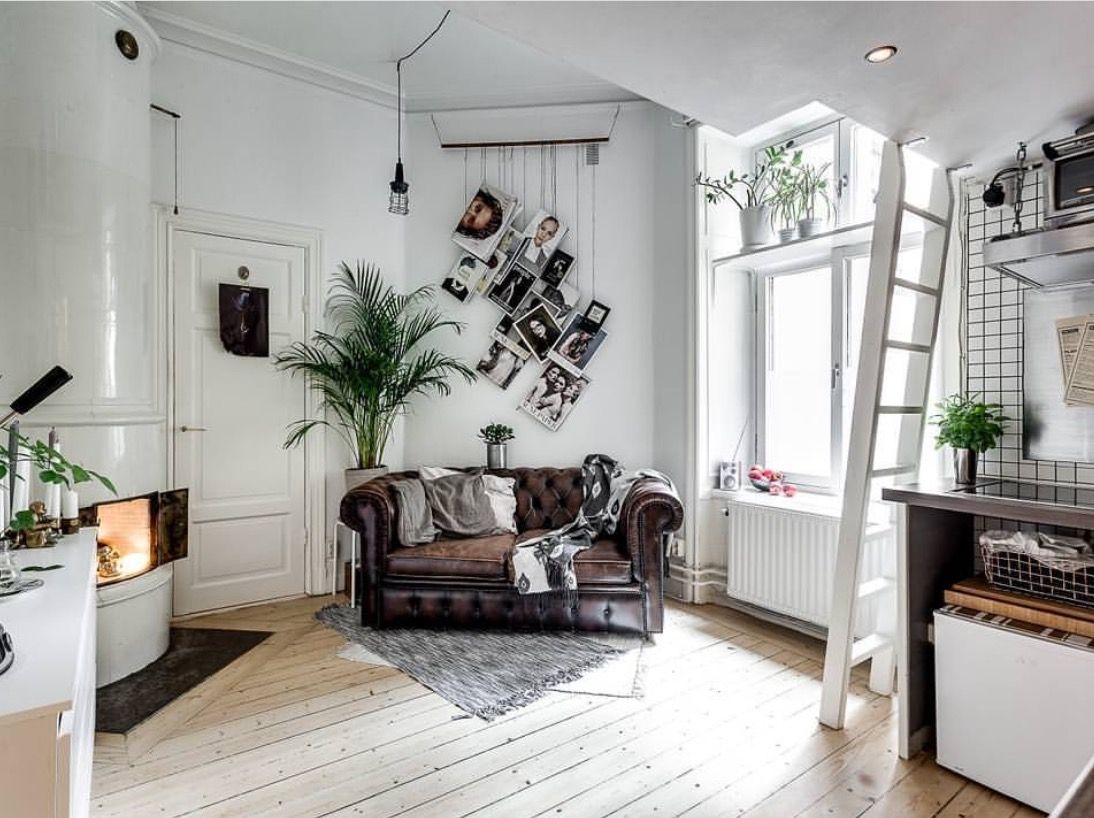 Source
It makes sense that a large sofa in a small room will look out of place, and even more so if it is in a dark or bright color! Always consider the size of the room when you purchase furniture, and if the room is on the smaller side, choose smaller sofas with pale upholstery. Larger furniture items like sideboard cabinets in white/wood combinations are ideal for smaller rooms. Choose furniture that will help to keep things light and airy.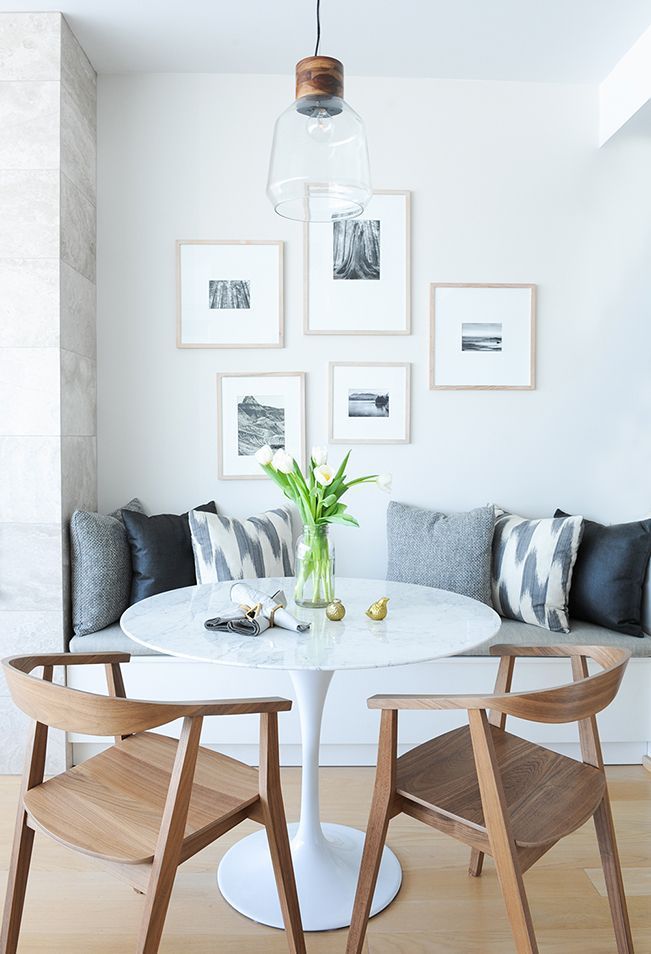 Source
You want as much light as possible to bounce around a small room, so choose reflective surfaces where possible. High gloss finishes on furniture items and glass, polished metal, and crystal are great ways to introduce light-reflective surfaces to a room.
Accents and Decor Colors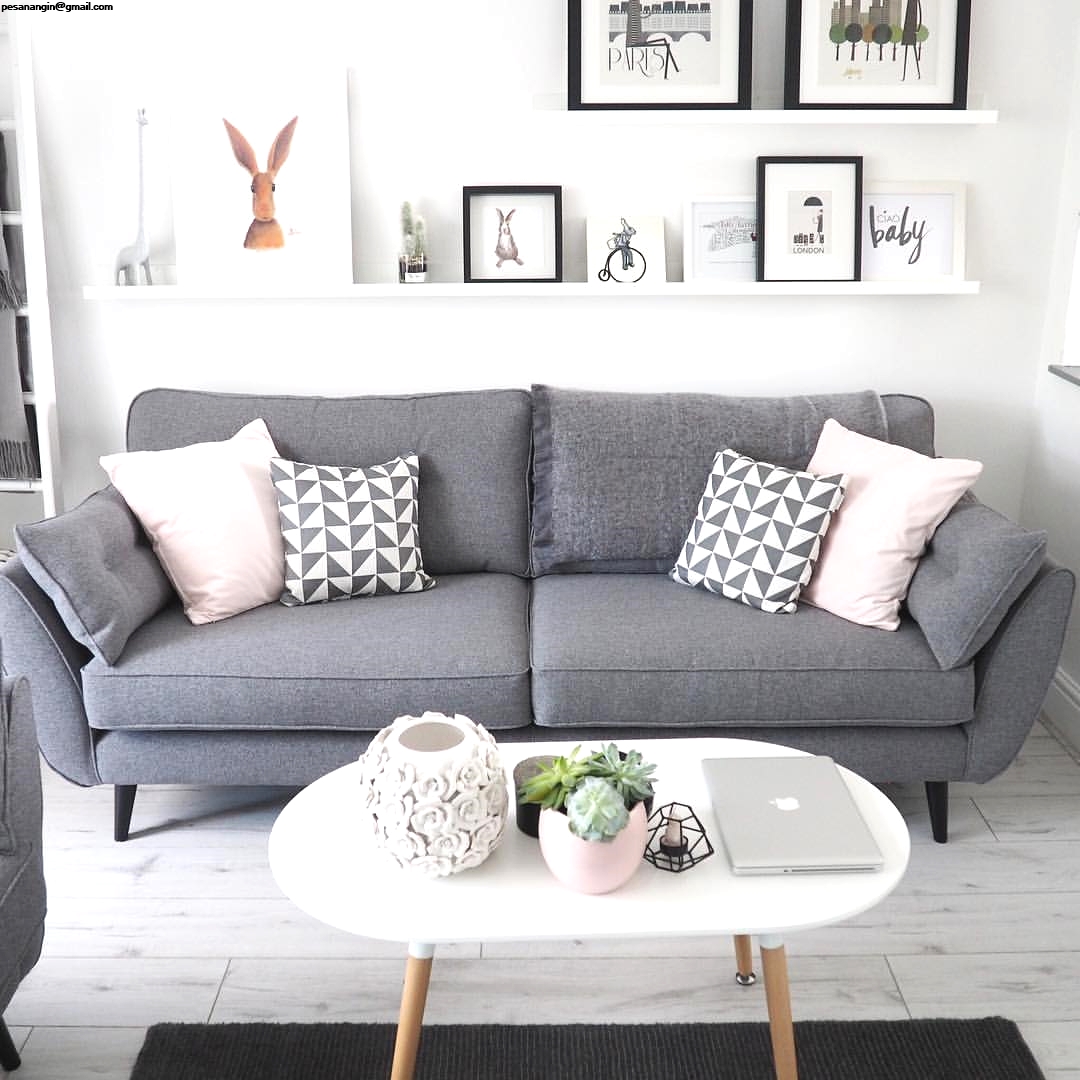 Source
If your dark sofa is here to stay, it's time to accessorize! Light colored throw pillows and throw blankets can minimize the effect of an overpowering piece of furniture. Take care not to add too much extra bulk to the sofa by keeping your throw pillows to two or three.
Patterns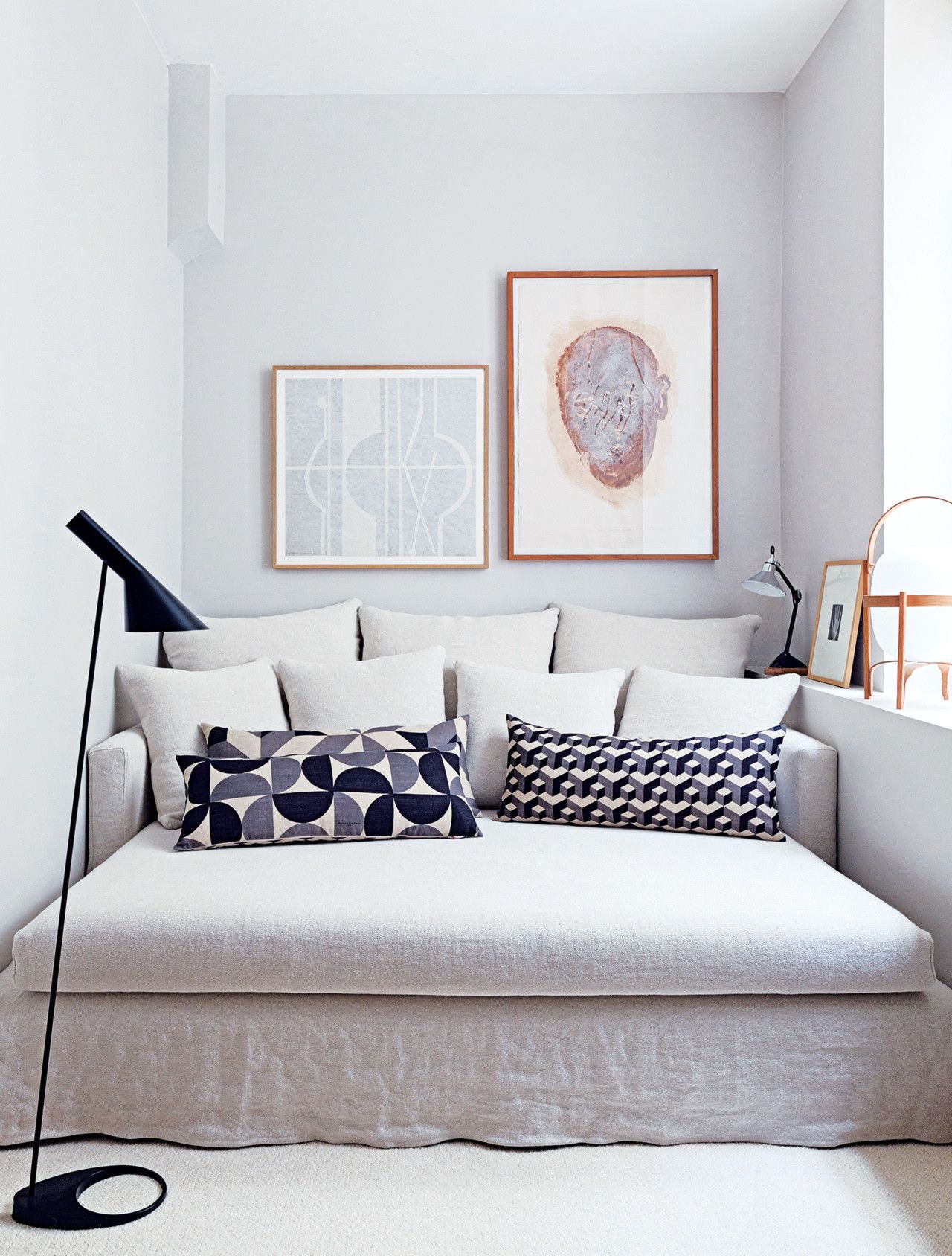 Source
It's not only large items of furniture that can make a room look overstuffed: visual clutter has the same effect! A lot of patterns can make your room look very busy, so if the area is already crowded, contain your patterns by keeping them in neutral colors. Texture is a great way to add visual interest, so rather choose textured fabrics and accessories than heavily patterned ones.
Mirrors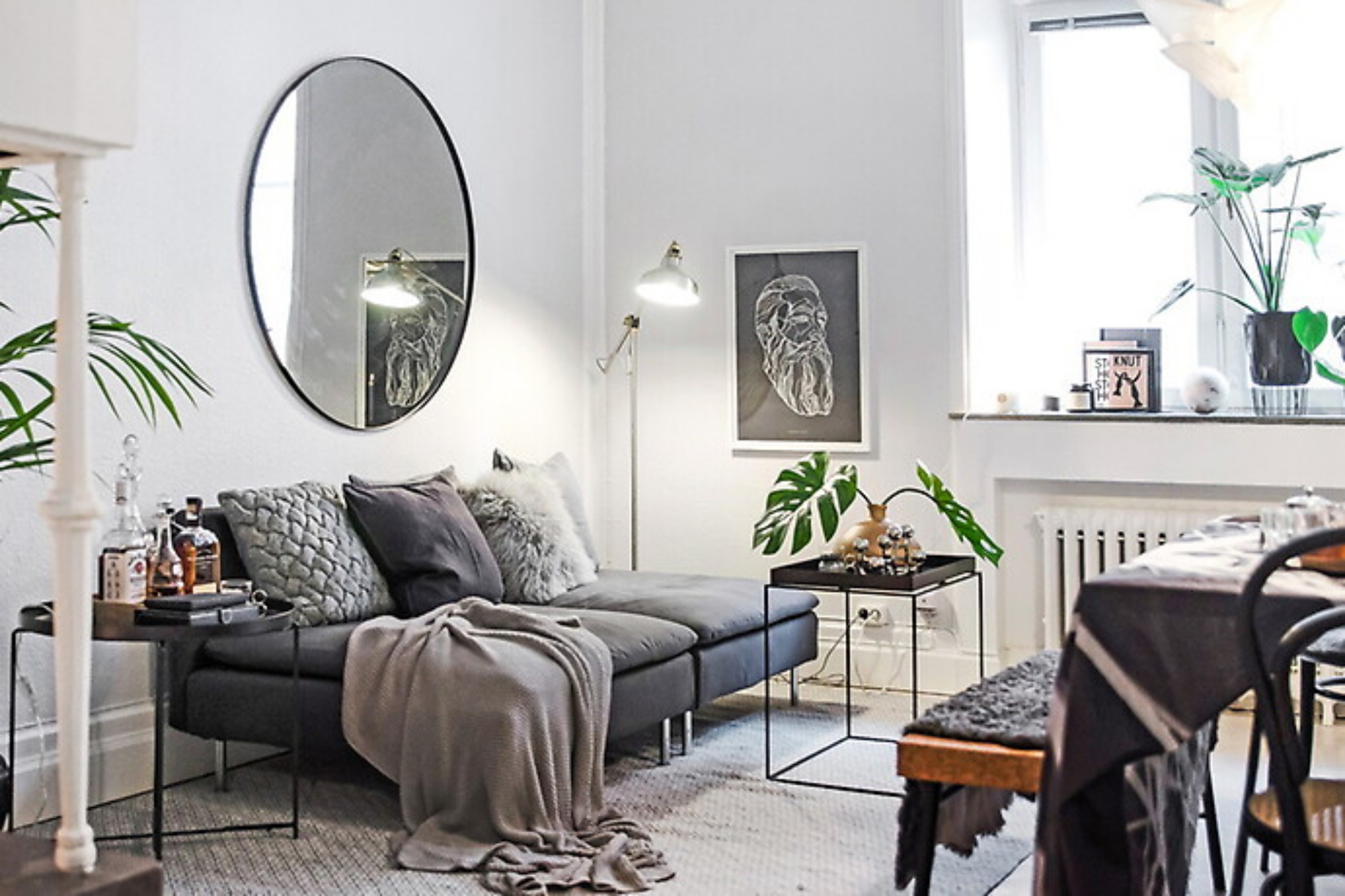 Source
Using mirrors to enlarge a room visually is an old but very effective designer trick. Especially when placed opposite a window, a large mirror against a wall can reflect both light and the view from outside, opening up a room as few other items can. When you want to increase a TV room or media room, be sure also to install blackout curtains on the window opposite the mirror so that you don't have added glare on the screen when in use.
Artwork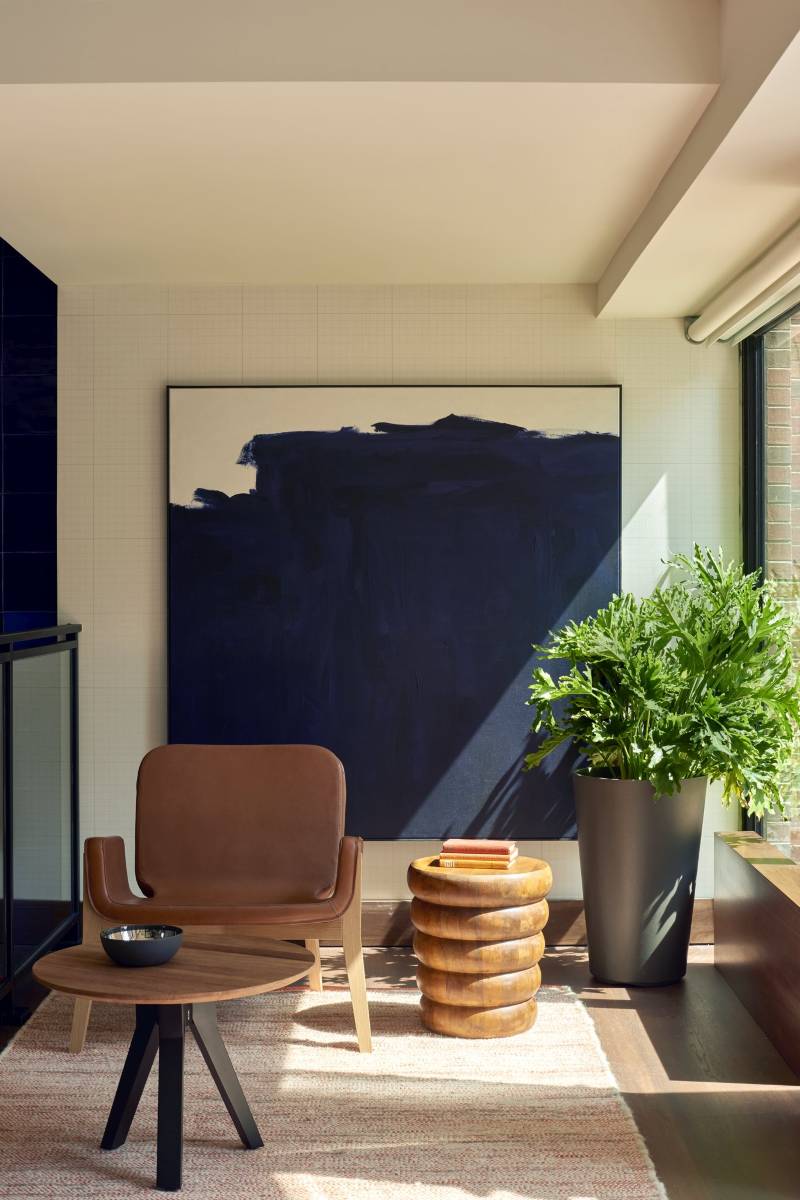 Source
It is important to keep the artwork in a room proportionate to the size of the room. A very large artwork will generally overpower a small wall unless of course, that is the intention! If you can't change the color of a dark wall, like a stone or timber wall, an oversized artwork in a light color will do wonders to brighten up the room. And if you have painted a dark focal wall in your small room, then offset that with a collection of light-colored frames for maximum visual impact.
We'd love to know what your biggest small-room challenge is. Share it in the comments below!
The post 4 Colors That Make a Room Look Bigger appeared first on Lazy Loft by FROY.