In recent years, Tapestries have flawlessly flaunted their way into home décor trends. A major reason is because tapestries provide the color and beauty of traditional wall art, while also offering the texture and warmth of area rugs. Hence, you can freely express your personality through the many designs and styles of the particular tapestry wall hanging that you choose to showcase. Let's explore the different ideas for using tapestries to decorate your bedroom, living room, or anywhere else in your home!

A short announcement before we begin: we've recently ramped up our offerings of modern tapestries at FROY! Click on the image link below and check out some of our new designs.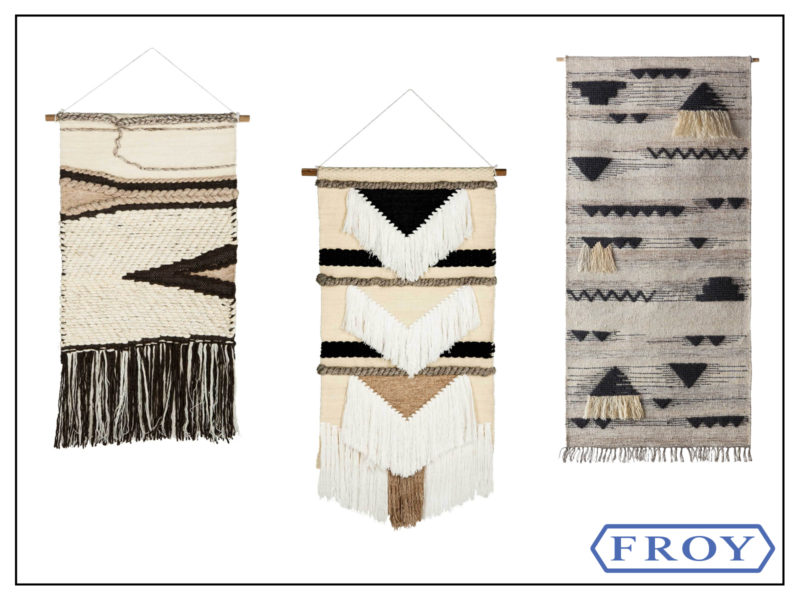 A Little History
Dating back to the Middle Ages, wall hangings were originally produced in monasteries and convents as means of presenting Bible stories to the common people. Eventually, the art spread to the secular community, specifically in Paris, because tapestries became a status symbol for the wealthy and powerful. Later on, they were commissioned by lay people for a more functional and practical purpose – that is, as means to provide privacy around beds, partition rooms, prevent drafts, and insulate from the cold.
Historically, the popular subjects for tapestries were biblical stories, battles, legends or sports, allegories, myths, and landscapes. However, as wall hangings make a revival in modern design, many artists are licensing their artwork to be turned into tapestries.
There's no denying the impact of tapestries in the home decorating space. Even simply browsing Pinterest for home design ideas will reveal a plethora of living room and bedroom shots featuring different tapestries.
Different Types of Tapestries
Wall tapestries are a form of textile art that celebrates craftsmanship, since they are commonly woven by hand on a loom. They are made by repeatedly weaving the weft (horizontal threads) over and under the warp (vertical threads), then squishing (tamping) the horizontal threads down making them very close together, thus, completely hiding the vertical threads from being visible. It is woven in natural warp thread such as linen, wool, or cotton, making any space or room stand out!
Our tapestry designs evoke the spirit of artisanal sophistication with muted neutrals and stylish fringe or tassels. The focus is on plush and warm varieties that offer a more luxurious feel to your room when hung. They generally feature unique geometric patterns, blending traditional influences from Moroccan and tribal heirlooms with modern abstract art. So if you're a minimalist who still wants to make an artistic statement, our pieces will be perfect for you!
Source

Source
Other popular tapestry types include the popular Urban Outfitters tapestries, which are mostly thin drapes with mandala patterns and clever art prints. They're often huge, so if you want to go for that young, bohemian look, definitely check them out. If you want to support smaller artists, check out the tapestries by Society 6. They feature many bold artwork by creatives on thin drapes similar to the ones offered by UO.
Different Ideas for Hanging Tapestries
Here are a few design inspirations to incorporate tapestries in your interior design: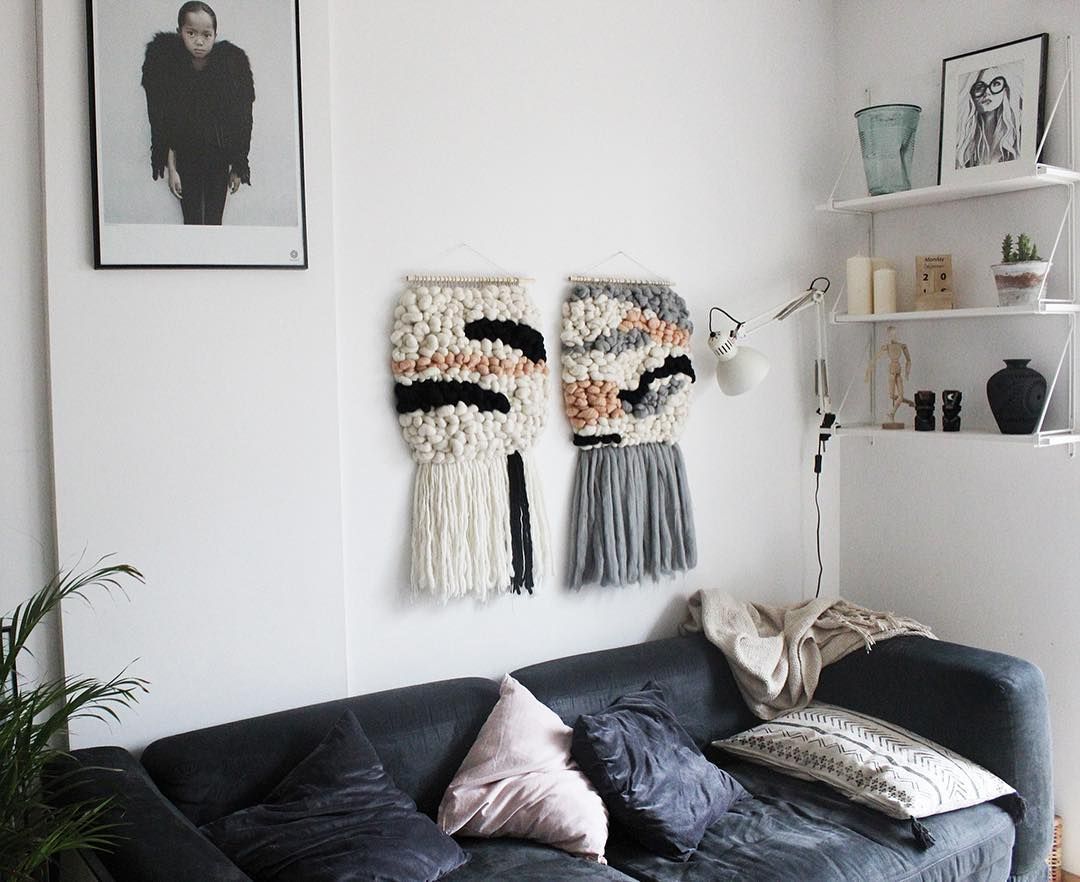 Source
Use heavy wall tapestry with a lot of texture and thick weaving in a contemporary minimal room to add some pop and life. You can be bold and go as colorful and as thick as you like to emphasize the liveliness. Alternatively, you can choose a more muted option to let the wall hanging blend in with the rest of the space.
Exaggerated colors can immediately make your space feel warm and lived-in. By contrast, if you want a more serious and sophisticated aesthetic, match the colors to the rest of your room's color palette.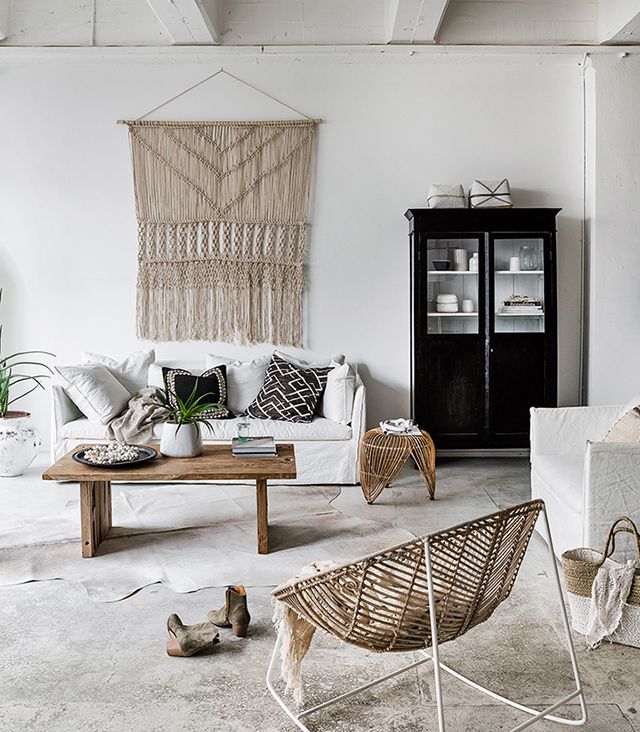 Source
Other ideas to consider when choosing tapestries are shape and knotting technique. The most popular is probably macrame. Macrame tapestries are those wall hanging made from unique knotting techniques, as opposed to weaving or knitting. Using a combination of hitching and reef knots, artisans can create beautiful designs that showcase intricate patterns. They also almost always feature tassels that provide a free flowing feel.
Our Favorite Tapestries
FROY offers tapestries that are classic, yet contemporary. We have a full collection here which you can view, but here are some hand-picked designs by yours truly: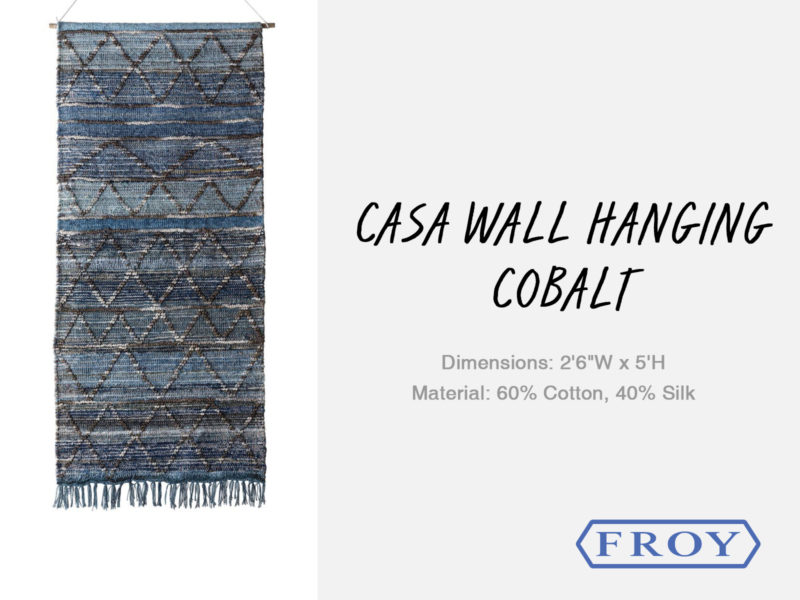 1. CASA WALL HANGING COBALT
Lifelong artisans meticulously hand weaved this Casa Wall Hanging. Check out its rich medley of overlapping stripes and playful geometry! Hang this piece for a tapestry that lays flush against your wall and features nuanced details.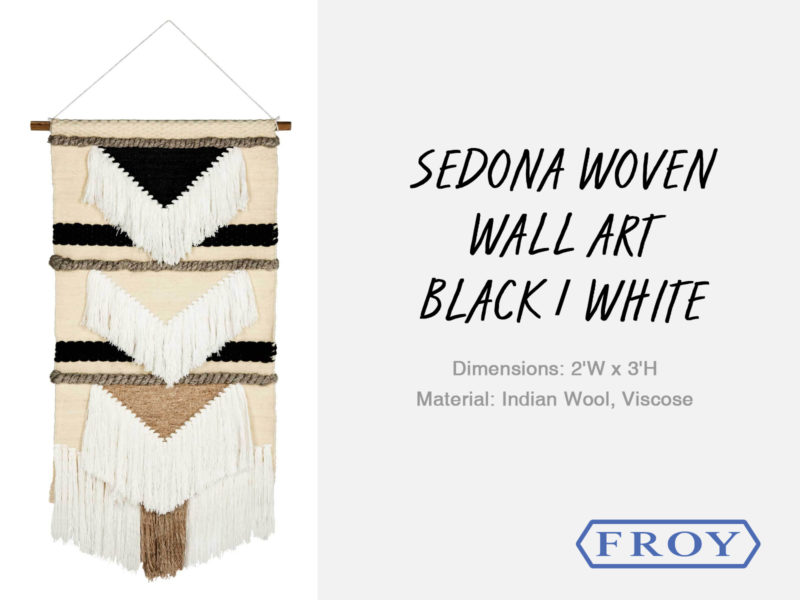 2. SEDONA WOVEN WALL ART BLACK/WHITE
Highlighted with three tiers of fringe, this contemporary woven wall hanging will surely bring elevated style and a sense of movement to your space! You'll instantly fall in love with its dynamic black and white geometric pattern with chic fringes.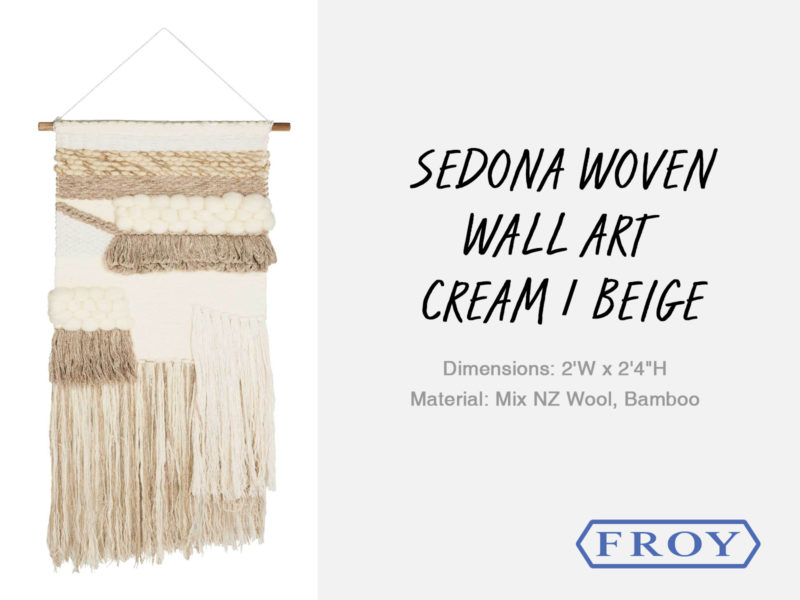 3. SEDONA WOVEN WALL ART CREAM/BEIGE
Finely crafted with wool and cotton, its dynamic patterns add layers of texture. With its asymmetrical design, this tapestry offers an eclectic and spontaneous essence to your interior design. It would also bring a soft, sculptural touch to any room with its heavy plush accents blended with overlapping fringes.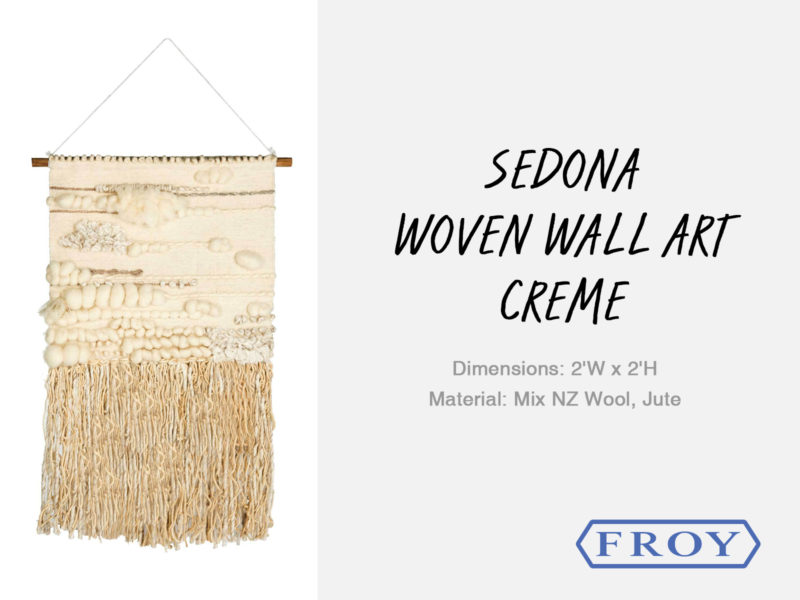 4. SEDONA WOVEN WALL ART CREME
If you're searching for a woven wall tapestry that would surely blend beautifully with any decor, consider this piece. Though inspired by the warm and cozy Scandinavian style, you can use it in any popular interior design style. It has soothing neutral cream hues and over-plush texture.
Conclusion
The very best quality of modern wall tapestries makes the most of what we have now – that is, using the old and new materials in the market. Thus, today's pieces use new and improved fibers, textiles, pigments, and dyes to either reproduce classical art and famous tapestry from the past or produce new designs that goes with the style trend.
As mentioned previously, tapestries are a classic, yet contemporary choice for your wall decor. Moreover, they transport us back to a simpler time where knots, weaves and other forms of human craftsmanship were valued. In this fast-paced modern world of ours, tapestries inspire the human spirit.
I hope these ideas and inspirations from this post have steered you towards choosing tapestries as your choice of wall decor. In fact, you can mix up wall hanging with traditional wall arts and mirrors for a rich flourish of creative expression. Happy decorating and let me know what you think in the comments!
The post Tapestry Ideas for Decorating Your Home appeared first on Lazy Loft by FROY.