The new year is here, and many people are making resolutions. For homeowners, this can mean a commitment to Declutter the house. The experts at Alair Homes offer the following list as a guide to a more organized home.
Coats and Winter Clothing
Lurking inside many closets are coats, sweaters and other cold-weather gear that is rarely or never worn. These items can be donated to a local charity or thrift store, which will benefit those in need right away. It also saves the trouble of having to deal with them during a spring cleaning.
Gift Wrapping Items
The holidays are hectic, and it is very easy to shove leftover wrapping paper into a closet or drawer and forget about it. A better approach is to neatly roll up the paper and store it away for next year. Throw away ribbon bits and any empty tape dispensers.
Blankets and Bedding
A good rule to follow is giving away one old set of bedding when a new one is received. Going through old bath towels can he helpful as well, and animal shelters are often in dire need of them. This will keep the linen closet in order.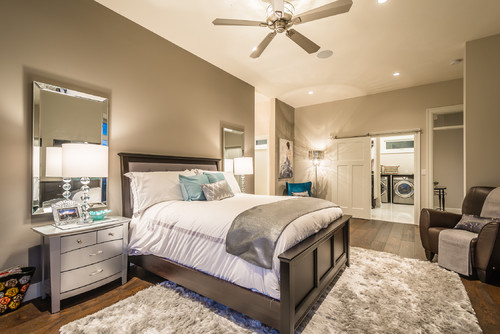 Toys
Children often receive new toys as Christmas gifts, which makes cleaning out the toy box less painful. Keep the toys that encourage creativity and imagination and throw away the ones that are broken or the kids have simply outgrown. In some cases, toys can be donated.
Personal Closet
One of the biggest steps to declutter a home is cleaning out a personal clothes closet. Old, worn-out clothing can be put into a recycling bin to be used as textile fabric. Pieces that are still in good condition can be donated or sold at a yard sale. To avoid future closet stuffing, give away one item of clothing for every new one bought or received.
Pantry and Kitchen
It is easy to buy too much food during the holidays. If the pantry is bursting at the seams, consider sorting out the items that are not needed and giving them a food bank. In addition, the other kitchen cupboards may contain pots and pans that are no longer needed or require reorganization.
Art Supplies
Whether it is children's watercolors or a complete home studio, art supplies can quickly pile up. To reduce clutter and chaos, remove everything that is not in immediate use and limit the supply closet to a few vital items.
Catalogs and Magazines
The holidays bring catalogs in the mail, leading to big pileups later on. Taking an afternoon to sit down and sort through them will help with decluttering. This is also a good time to get a handle on any neglected mail and old magazines.
Bookshelves
Books are a popular gift choice, but they can add to already overcrowded shelves. Give away unloved titles and make a clear division between read and unread books. This task also provides an opportunity to dust the bookshelves.
Decorations
Once the holidays end, neatly pack away all the lights and ornaments to make next Christmas easier. Give away all unused items, and store all the favorites in an accessible place.
The post 10 Things to Declutter For the New Year appeared first on USA.