Temperatures are dropping, colorful autumn leaves are fading, skies are bright and clear as the Earth succumbs to a quiet slumber. We long to linger for the secure, soothing feeling of warmth. Those moments when you are wrapped up tightly in a fuzzy blanket, making sure your toes are tucked in near a glowing fire, seem all too ephemeral. Wouldn't it be nice if we could experience those small pleasures for longer than just the holidays? You can! Adding a few wood accents to your home may be just what you need to create the wonderful, warming aura to last you throughout the year.
Wood Blinds are a great way to create a cozy, natural atmosphere that is sure to melt your heart. This style of blinds is exceptionally sturdy and they can compliment nearly any style of décor. What more can you ask for? Since Wood Blinds come in all sorts of different tones and finishes, they make an easy addition to an already existing room. It's hard to say no to such a simple solution. Although real Wood Blinds are one of our most refined types of window treatments, Faux Wood Blinds are considered to be a more cost-friendly substitution. Faux Wood not only tends to be a bit cheaper than the real deal, but Faux Wood Blinds are also more durable and easier to clean. However, Faux Wood Blinds do not have the character and finishing touch of real Wood Blinds, and can look contrived, but I do recommend Faux Wood for the bathroom or other high humidity areas or very dry, hot sunny rooms. Designing a room with Wood Window Treatments can really make a difference in creating a calm feeling of warmth.
My Favorite Wood Blinds
Woven Wood blinds are so classic yet are right at home in a modern, traditional or eclectic room. Some of my favorite Wood Blinds are our Blindsgalore Premium 2″ Wood Blinds. I love the weathered look in this collection with just enough texture to add interest without being overly decorated. For you "modernists," this collection has a very cool, black painted option that will surely amp up any space in your home.
These Blindsgalore Premium Woods also have many paint options, different colors and textures that can be muted or moody or playful to design in your style. Interesting finishes add even more personality to your windows.
Another beautiful collection from our Bali Northern Heights 2″ Wood Blinds assortment, offers the "Frosting" (pastels) and the "Cottage" (speckled egg look) category. To really see the visual effect of our Wood Blinds and especially our distressed and mottled blinds, order an assortment of FREE swatches to view in your own room. Our Wood Blind selections will change your mind about "humdrum" blinds.
If you are following the trend of designing with a warm, layered gray color scheme, be sure to consider in our Bali Woods, these evocative colors: Koala, Smoked Oyster and Distant Thunder. I love the mood suggestion of these colors.
You should be able to imagine by now that Wood Blinds are now stylish, whether you choose a traditional or a more contemporary look. Wood can be a very versatile material and playing with the different color finishes can completely change a room's character. Looking for similar shades of color that already exist within the room can help you narrow down the perfect stain or style. Whether you're mad about mahogany or pining for a light pine, this is a very important process. Together, lighter colors and lighter woods can make for an inviting, serene cottage feel while darker wood lends itself in creating a rich, dramatic environment. Both light and dark woods can also be combined to create a unique, modern feel. Luckily, there are no hard, fast rules when introducing wood accents into your home. It's all about creating the atmosphere you want and establishing that natural, comfortable vibe you crave. A helpful tip: no matter which color or types of wood suit your style, it's probably a good idea to keep them uniform throughout the space.
Wood offers depth and a classic layer of richness to your home and wood never disappoints. You can add pieces as grandiose as a fireplace, or keep it understated and classy with smaller accents like our Wood Window Blinds. Even as the snow begins to melt away, the flowers start blooming and the birds get back to serenading you each morning, your home will be able to maintain the intimate environment that you've created.
You can be sure that introducing wood décor into your home is, hands down, the best to create that warm, fuzzy feeling that will last all year round.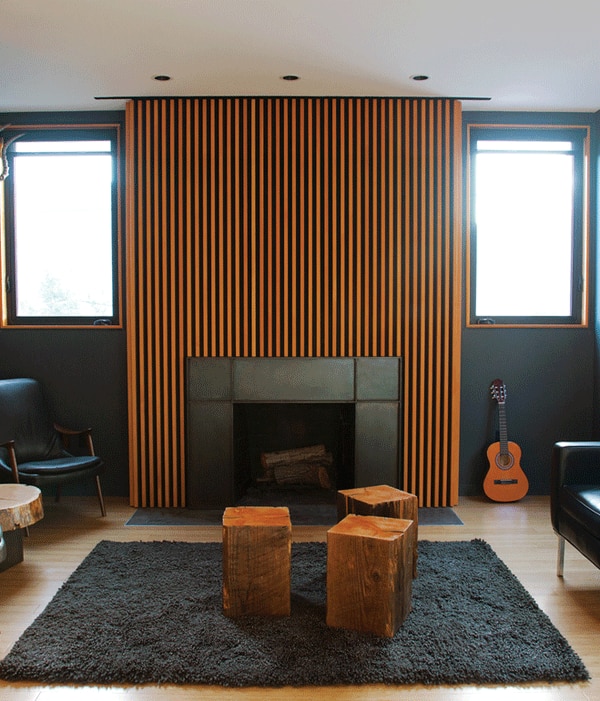 Featured Image: Blindsgalore Premium Wood Blinds
The post Warm Up With Wood Window Treatments appeared first on Blindsgalore Blog.