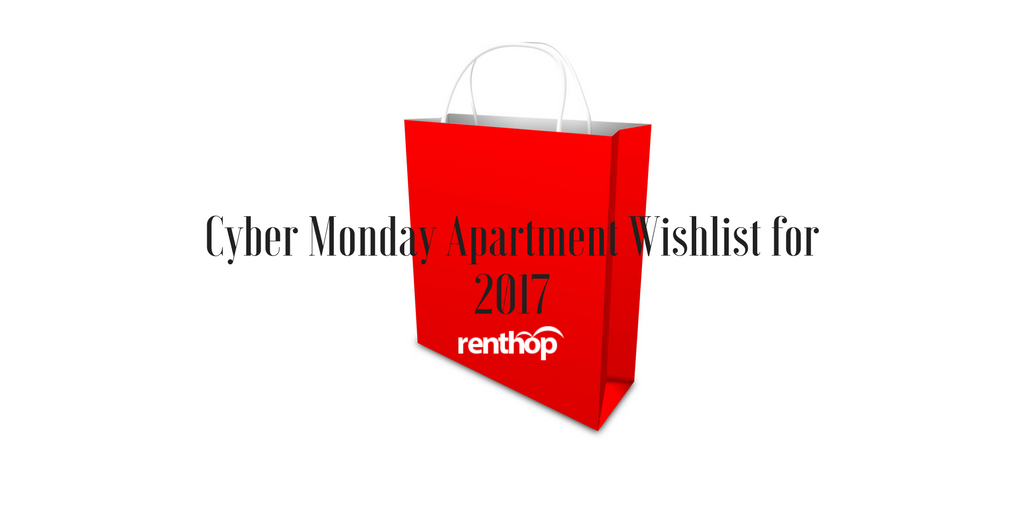 Whether you have just newly moved into your own place or if you have lived alone for a while, there are always new things to purchase. Shopping lists are seemingly never-ending and there are always areas in your apartment that could be improved. One of the best times of the years to stock up on the things you want or need is Cyber Monday, which is basically the online shopping version of the popular Black Friday sales. With Cyber Monday right around the corner, we thought we would share some of our top picks for our apartments.
Pick up an Amazon Echo from Amazon
One of the hottest things to pick up this Cyber Monday will likely be a smart home assistant. These will help you play music, shop online, answer questions, tell you the weather, and more. Think of it as your own personal assistant in a nice and aesthetic piece of technology that will sit on your counter or table. These are great to have for your apartment, and won't cost you an arm and a leg either. There are many variants out there, but one of the best is the Amazon Echo. While it can be purchased from a lot of different websites on Cyber Monday, why not buy it right from the source? That's right, Amazon.com itself is a great place to buy the Echo and they are sure to have a discount during Black Friday/Cyber Monday week as well.
Get a 4K TV from Best Buy
4K TVs have been around for a while, and as a result, are finally cheap enough to actually consider buying compared to a standard HDTV for most people. 4K TVs have a much higher resolution and give you much better picture quality than almost everything else on the market. If you are a big-time TV watcher, or just want an upgrade to your apartment, Cyber Monday is the time to buy. Best Buy will likely have many different types and sizes of 4K TVs at hundreds of dollars off during their Cyber Monday sale. In addition to TVs, Best Buy is also an incredible place to shop for other pieces of technology as well. If you need a laptop, some new headphones, or gaming system/games, Best Buy is one of the best places to check out.
Buy a Canon Printer from Office Depot
A printer is one of those things that many people won't think to buy for their new apartment, but will be wishing they did when they need to print off a document or scan something to their computer. Instead of being stuck wishing, be sure to check out Office Depot's Cyber Monday sale. They have a Canon monochrome laser printer on sale for around half price, which is a steal. Office Depot will also have a lot of other home office or stationary items on sale, so if you need to restock your desk (or get a new one), be sure to take a look at the deals at Office Depot.
Purchase some tools from Lowes
If you are a renter you will most likely go to your landlord for any big repairs needed to be done to the apartment. However, that doesn't mean you shouldn't have a fully-stocked toolset. This can be helpful in small fixes, or if you ever have a neighbor or family member who needs something fixed up. Lowes is the perfect place to get all of the tools you need this Cyber Monday as they have up to 50% off of many of their tools including drills, saws, toolboxes, and everything in between. Of course, Lowes has a ton more deals on all things DIY so if you are a handy person who likes to build and create, check out all of the deals on their site.
Get your Christmas decorations from Home Depot
With November around half-way finished, the Christmas season is right around the corner. While everyone wants their apartment to be festive and fun, those Christmas trees, decorations, and lights don't come cheap. Instead of spending more than you need, you should check out the Home Depot Cyber Monday sale. They have a ton of decorations on sale at huge discounts, some even over 50% off. They even offer free shipping on holiday décor as well, so there is no reason to look anywhere else!
Grab some affordable furniture from Overstock
While some people might not want to buy furniture online, Overstock.com should change your mind. This site has great deals on almost anything you could think of in terms of furniture. Need a new couch after years of suffering through an old one? Overstock has you covered. Just moved in and looking for barstools for your island? Overstock got you covered. No matter your furniture needs, Overstock will have them and they are famous for having a big Black Friday/Cyber Monday sale, so don't miss out! In addition to furniture, the site has deals on toys, clothes, bedding, and much more. Take a look at their website around Cyber Monday and we are sure you will see some things you didn't even know your apartment needed.