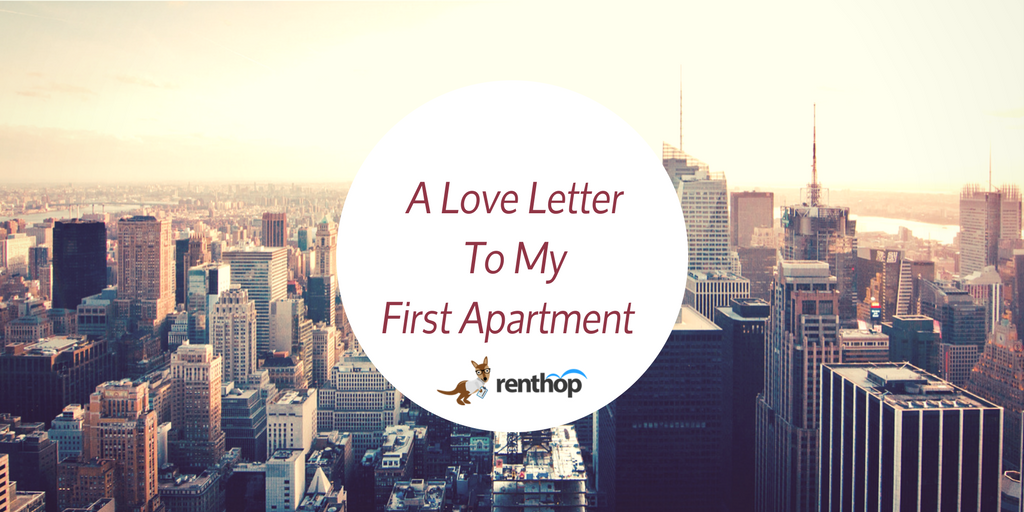 It's Valentine's Day again and Love is the main focus. You probably can't wait to spend a day with your loved one, handing them her Valentine's Day gift or his Valentine's Day gift. Here at RentHop, we believe that it's not only important to give someone a bit of extra attention on a day like this, but also direct some attention to the people who made an impact on your life. For me, I want to direct some special attention to my first Apartment.
Dear apartment,
Where to start? There's so much I want to say. Some things good, others not so much. While some things might seem crass I want you to know that I mean well. Because without you, I would be in a tough place now (seriously).
I think about you a lot and how much you've meant to me. Along with some parental guidance, you've been a big part of me becoming the person I am today. If it hadn't been for you I never would have been able to really branch out. You allowed me to test myself. Find out who I really was. You allowed me to let loose without judgment, but rather with encouragement. And more importantly, you were there when I needed solace.
Of course, there were times where I wished you were someone else. Someone younger and more stylish. Someone bigger than a 1 bedroom, especially since that 1 bedroom was shared with another person. And without a doubt, someone who was soundproof. You never could block out the noise from the Russian Neighbor upstairs, who I swear kept changing the WiFi password on a regular basis for some weird reason. And then there was the fact that you came without an oven. What kind of apartment doesn't come with an oven?! The fact that I could never make pizza at home was distressing. But I got over it.
You never held my small (and big) tantrums against me. I didn't always appreciate it, I know. But I do now. You were always such a good listener, and sometimes I took that for granted. I remember always fantasizing about the future and how much better than you I would do. And while I might be better off now ( I have an oven and no loud Russian neighbor in sight, so good job me!) there's so much today's apartment can't give me.
Thanks for being there through emotional fights with boyfriends and girlfriends. Thanks for being a sanctuary when I started my first day of university and all those all-nighters that followed from finishing papers that were due the next day. Thanks for being there for those mornings when the sun was too bright and the alcohol level was still too high.
Thanks for being a dear friend. Thanks for being my first apartment.
Love, Me