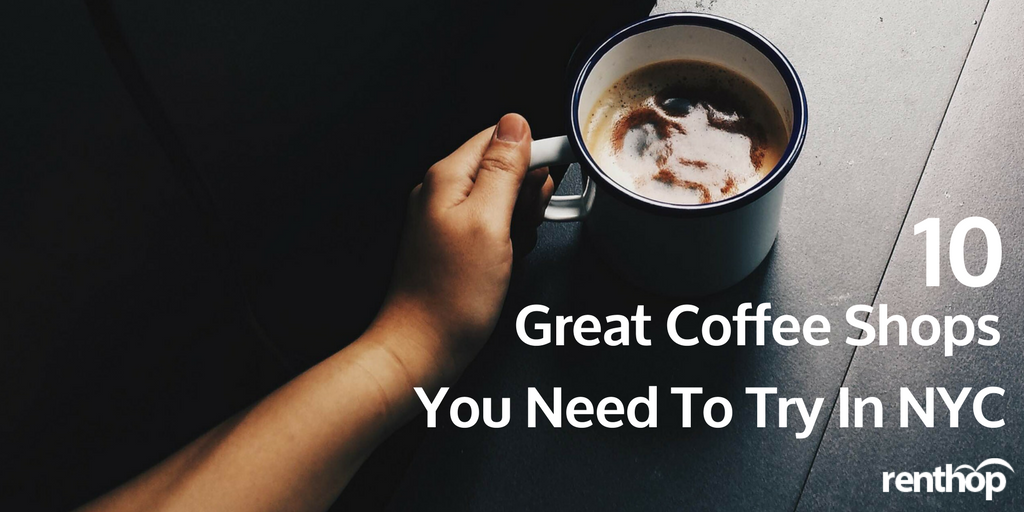 For those who live in New York City, it sometimes feels like the city's residents are fueled with caffeine. It's always high tempo, full speed ahead, everyday. To keep the energy level this high we're assuming coffee plays a major factor.
New York is home to an abundance of coffee shops. So which one to choose from other than the well-known Starbucks brand? If you're just visiting or you newly moved to New York, make sure to check out the following 10 coffee shops.
1. Kaffe 1668
Kaffe 1668 is an absolute favorite, hands down. Like it says on their website, "Holy Guacamole! That's some good Kaffe 1668." The coffee shop itself is Swedish, but you'll find tons of different coffee options here. Want to grab some breakfast or lunch with your coffee? Kaffe 1668 got you covered. Take a trip to one of their three locations (275 Greenwich Street, 401 Greenwich Street, and 530 5th Avenue) if you haven't been yet.
2. Blue Bottle Coffee
This coffee shop is a well-known one by New Yorkers. You can get a coffee at Blue Bottle Coffee in both Manhattan and Brooklyn, spread out over impressive eight locations. The shop originates from Oakland, California and it has a variety of coffee options, varying from your classics to options you just need to try. Do yourself a favor an try the New Orleans cold brew if you haven't already.
3. Café Grumpy
Café Grumpy? Isn't that the coffee shop in that really popular HBO show Girls? Oh yes, it is. And it's a real coffee shop to! The coffee shop which was founded in 2005 started off trendy Greenpoint, Brooklyn. With its grown popularity, thanks to avid coffee-addicts and some help from Lena Dunham and the girls, Café Grumpy has grown and expanded to seven locations throughout Manhattan and Brooklyn, with one more opening soon! The shop has its own roastery, so you know you'll get your hands on some good coffee here.
4. Bluestone Lane
Australian-style coffee? Don't mind if I do. Another famous coffee shop here in New York is named Bluestone Lane. The shop is spread out through the city, with locations in Manhattan and Brooklyn. They also have locations in Montauk but those are season based. You want to know what coffee tastes like in Melbourne, Australia? Head over to Bluestone Lane. Bluestone Lane says itself that the shop is where premium coffee is a way of life. Why don't you go and find out over a cup of coffee, mate?
5. Coffee Rx
Oh, now this is a wildcard. Most of the coffee shops from this list is located in Manhattan, Williamsburg, Downtown Brooklyn, or Greenpoint. But that doesn't mean that other areas don't have good coffee, though. Just check this place out. Coffee Rx is located in Bay Ridge, Brooklyn and customers can't stop bragging about the coffee. You'll be met by simple interior design and a young staff which always serves your coffee with a smile. Don't leave without trying their nutella monster. You won't regret it.
6. Stumptown
"Coffee is a tree, and you probably prefer one branch to another, even if you don't know it yet." Well put, Stumptown. The coffee is reasonably priced and it is said that their baristas make a mean latte. It's a popular spot for New Yorkers to stop by to get their daily hit of caffeine so expect a line when you go there. If you don't want to deal with the line but can't stand living without the coffee you can get freshly roasted coffee from Stumptown delivered to your door.
7. Box kite
Where do you go for specialty coffee and innovative food? Well, you head to Box Kite of course. The shop, which serves as a multi-roaster shop, offers a seasonal coffee menu from roasters like Madcap and Ritual. This small coffee shop has entered the hearts of New Yorkers, thanks to their exceptional coffee and food options.
8. Parlor Coffee
It might not get any hipper for a coffee shop than being located in the backroom of a barbershop. Parlor Coffee is located in the back of a Williamsburg barbershop, Persons of Interest. They roast locally, which for some coffee enthusiasts is a big, big plus. Either buy a bag of beans from the shop or stay to grab a coffee to go. This isn't the sit down and chat kind of place. It's a, "Let's get down to business, I need caffeine, please" kind of place. We recommend trying the cortado, although we hear they're getting raving reviews about almost all their coffee options.
9. Birch Coffee
Now this is a "sit down and chat with a coffee" kind a place. Big shop with a decent amount of seating and great coffee has lead Birch Coffee to become one of the more popular coffee shops in New York. Birch Coffee was founded by two guys who just wanted to make a business out of the thing they loved the most: coffee. And they have. You'll find this trendy coffee shop in seven different locations in Manhattan and on Long Island City!
10. Everyman Espresso
Two locations. East Village and Soho. Although they can't compare to most of the coffee shops in number of locations, they can compare on taste and quality. While the coffee shop seems fairly anonymous by reading through their website, that is not true about their coffee. The baristas know what they're doing and it's know as one of the best espresso shops in Manhattan. Oh, and they just opened another location in Park Slope! Great news for Brooklynites!