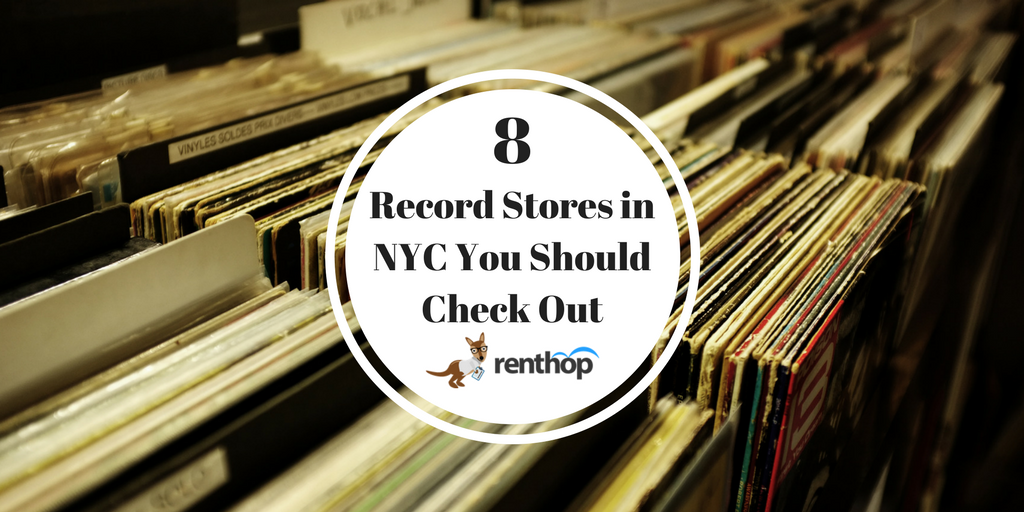 New York City, a city that is well-known for being used in song lyrics as the concrete jungle where dreams are made. The city is the birthplace for a variety of music genres, such as hip hop and punk rock. So it only makes sense that New York City have an impressive number of great records stores throughout its boroughs. Want some new records to blast in your apartment? Here's a short list of a 10 Record stores you can check out in New York City.
1. Rough Trade (64 N 9th St, Brooklyn, NY 11249)
Rough Trade is located in Williamsburg, 64 N. 9th St. to be exact. From the outside it looks like a warehouse. The inside however, is a gold mine. You'll probably end up spending more than an hour in here, browsing and buying. If you're not heading there to buy records they also have a fun little photo booth and you can also buy books here. And if that's not enough, Rough Trade is also a music venue.
2. Academic Records & CDs (12 West 18th Street, NY 10011)
Looking to buy or sell your LPs, CDs, or DVDs? Head over to Academic Records & CDs if you are. Located in the Flatiron District, this place have a large selection of music and movies and if you're interested in either you should devote some time to this place. You're likely to find a rare treasure here as Academic Records & CDs is known for their second-hand classical music collection and rare imports and out of print products.
3. The Thing (1001 Manhattan Ave, Brooklyn, NY 11222)
Another Williamsburg favorite. At The Thing you can find more than just records. So if you're boyfriend or girlfriend don't want to go record shopping you can tempt them with some thrift store shopping in the form of antique furniture and decor items. If they're still not up for it, go alone, because you don't want to miss out on this shop. The basement is stocked with used records. It's basically a treasure hunt just waiting for you.
4. Record Grouch (986 Manhattan Ave, Brooklyn, NY 11222)
Open daily from 12pm to 8pm this store is located not far from The Thing, in Williamsburg. Which is perfect since you can then head to both while you're in Williamsburg. The shop holds a range of genres within used records. You definitely want to check it out.
5. Bleecker Street Records (188 West 4th Street, New York, NY 10014)
Looking for vinyl, CDs, DVDs, posters, or t-shirts? Don't worry, you can find it all under the same roof at Bleecker Street Records. You'll find the store in the heart of Greenwich Village, with a wide selection. Looking to search through a large selection of out of date vinyls? This might be the place for you.
6. Turntable Lab (84 East 10th Street, New York, NY 10003)
Here you have the choice of either checking out records and equipment in the store or basically, ordering it online. Turntable Lab have a pretty awesome online store with basically everything you would need. They describe themselves as a "DJ shop" at its core, as that's what the store started out as. They've been around since 1999 and the store has established quite the reputation among music lovers in New York.
7. CO-OP 87 (87 Guernsey Street, Greenpoint Brooklyn, NY 11222)
Located in Greenpoint, Brooklyn, this gem has been around since 2011. It might be one of the younger additions to the list but the quality doesn't drop because of that. CO-OP 87 stores new and used records and you also have the option of selling or trading in old favorites for new ones. It's open seven days a week, and rumor has it the store has a great hip hop selection.
8. Second Hand Rose Music (48 East 12th Street, New York, NY 10003)
One of the oldest record stores in New York City is located in Greenwich Village. According to the store itself they have a HUGE selection, with over 150,000 titles. Second Hand Rose Music is probably the most underrated store on this list, as the store holds an impressive selection of titles alongside imported out of print titles.
Are you not a fan of music being played loud in the apartment? Check out 5 Cheap and Easy Methods to Sound and Light Proof Any Bedroom!