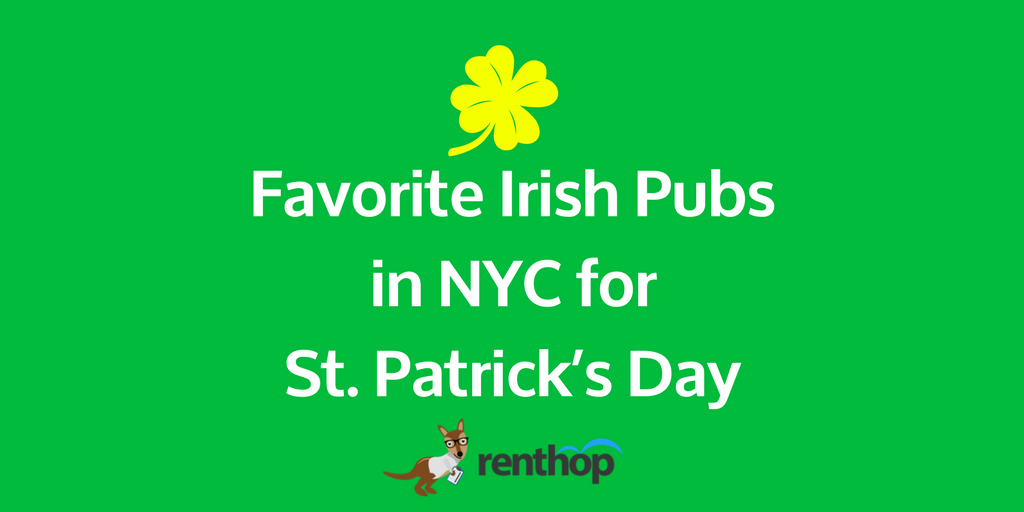 Get out your green clothes, it's St. Paddy's Day again. And no, you don't really have any good reason for not partaking in this celebration because this year it falls on a Friday, buddy. So get your work done and head out to celebrate.
St. Patrick's Day doesn't really need an explanation but for those who have been living under a rock for ages it is a cultural and religious tradition of celebrating Saint Patrick and Irish culture. And it is a lot of fun. Avoid the parade and head to a bar for a Guinness. Haven't decided which pub to hit up yet? Don't worry. We got you covered. Here's a couple of our favorites.
1. Thirsty Scholar (155 2nd Ave A, New York, NY 10003)
We always love to throw in a wildcard, and this is it. You'll look long and hard for a more relaxed pub than the Thirsty Scholar. It's low key, it's quaint, and it's located in the heart of East Village. Say hello to Pete, one of the bartenders from us, if he's in!
2. Molly's Shebeen (287 3rd Ave, New York, NY 10010)
Our infatuation over this place is much due to its looks. It is as old school as it gets, from its wooden furniture, the sawdust on the floor (yes, you read that right), and the pictures hanging on the walls. It's an Irish dive bar, and we love it.
3. An Beal Bocht Cafe (45 W 238th St, Bronx, NY 10463)
Do you work around the Bronx and you've convinced yourself that heading to Manhattan for a pint today of all days is not happening? Horrible excuse since the Bronx has Irish Pubs to! Head to an Beal Bocht Cafe. It's the perfect place if you're not looking for a rager. It even has poetry readings.
4. Donovan's Pub (57-24 Roosevelt Ave, Woodside, NY 11377)
Same goes for those trying to skip out on celebrating St. Patrick's Day just because they live in Queens. There's Irish pubs in Queens to. Donovan's Pub has been around since 1966 and you can get a decent meal here with your pint. Not that hungry? Just go for the Lil' Shepherd's Pie as an appetizer then.
5. Irish Haven (5721 4th Ave, Brooklyn, NY 11220)
Billy Costigan: Cranberry Juice.
Man sitting at the bar: It's a natural diuretic. My girlfriend drinks it when she's got her period. What, do you got your period?
If you don't know where that's from, you might want to skip the St. Paddy's Day celebration and head home to watch The Departed instead. These famous lines are from the famous cranberry juice scene in The Departed, the Scorsese movie with Leonardo DiCaprio and Matt Damon, and it was shot at the Irish Haven in Brooklyn. And the pub is as Irish as it gets. If you haven't been yet, head on over.
6. McAleers Pub (425 Amsterdam Ave, New York, NY 10024)
If you're looking for a low key bar with great food, head on over to McAleers Pub on the Upper West Side. It's been around since the 1950s, it offers Irish cuisine as well as American if you can't decide on what you're craving, and the atmosphere is great.
7. McSorley's Old Ale House (15 E 7th St, New York, NY 10003)
So you want to go somewhere really, really Irish? What about the oldest Irish pub in New York City then? McSorley's has been around since 1854 and it's still running smoothly. If you're craving some history with your pint, head over to McSorley's. Don't wear your nice shoes, they'll just get covered in sawdust anyway.
Are you really not looking to celebrate St. Patrick's Day this year? That's alright, head out for some coffee instead. Here's "10 Great Coffee Shops You Need To Try In NYC."