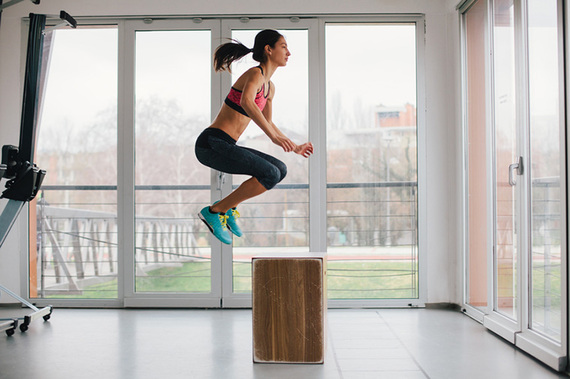 (Photo: Marija Mandic/Stocksy)
By Rachel Lapidos for Well+Good
Yogis have their community of spiritual gangsters, boxers relate with each other over their jab-cross-hook combos, and runners all know what hitting the wall feels like. Hey HIIT class addicts and boot Camp fanatics, what about you?
Maybe you mistake random objects for kettlebells. Or find yourself randomly breaking out into a series of jump squats. But if your favorite Workout is a heart-pumping full-body burn, you're going to notice some recurring themes.
We brainstormed with Chad McDonald, founder of SOLACE New York in New York City, to come up with the things you learn when you spend your time planking, leg-lifting, and burpee-ing with the best of them.
Read on for 10 things you'll only understand if you do boot camp workouts on the reg.
RELATED: The Crazy-Fun Partner HIIT Workout You Can Do In Under 30 Minutes
via GIPHY

1. "One More Rep" Never Means One More
That's always a lie.
via GIPHY
2. The Happier The Instructor, The Harder The Workout
That peppy persona is just a facade–you know they're about to slaughter you with seemingly impossible fitness commands.
RELATED: I (Sort Of) Trained Like An Olympic Gymnast, And This Is What It Was Like
via GIPHY
3. You Could Lose Friends By Taking Them To A Workout
Because you're the reason they can't move the next day (and sometimes the day after that).
via GIPHY
4. The Day After A Leg-Burning Workout You Basically Crawl Everywhere
Walking upright is just not an option.
Head to Well+Good to see the rest…
More Reading From Well+Good:
How Margot Robbie Shaped Up For "Suicide Squad" In Just Two Weeks
Why I'm Going To Keep Running And Hope Other Women Will, Too
Your Glossary For All Things Barre
Follow Well+GOOD on Twitter: www.twitter.com/wellandgoodnyc
— This feed and its contents are the property of The Huffington Post, and use is subject to our terms. It may be used for personal consumption, but may not be distributed on a website.
Via:: Huffpost Healthy Living
The post 10 Things You Only Understand If You Do Boot Camp appeared first on Natural Revolution.