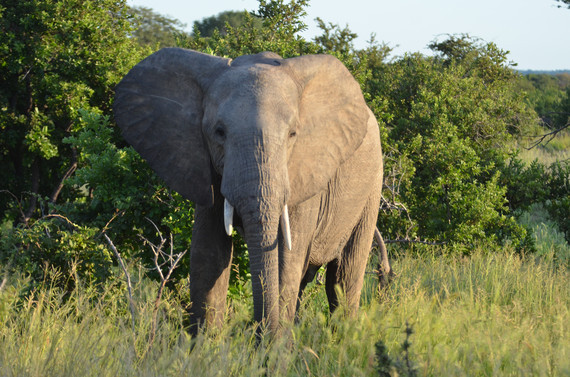 As thousands of conservationists gathered in Honolulu for the IUCN World Conservation Congress this week, it was more than clear that IUCN members needed to take a strong stand if Africa's elephants were to have a chance at survival.
By the close of the congress, the global conservation community had stepped up to say: No more domestic Ivory sales. Elephants have had enough of the ivory trade and so has the world. The final vote overwhelmingly approving Motion 007 calling for closure of domestic elephant ivory markets across the globe was vital, for the news about Africa's elephants is as bad as bad news gets.
The 2016 IUCN World Conservation Congress passed a strong measure in Hawaii calling for the closure of global domestic ivory markets. Image: Cristián Samper/WCS.
At the start of the meeting in Hawaii, WCS's Andrea Turkalo issued a scientific paper for which she served as lead author showing that it will take almost a century for Africa's forest elephants to recover from the intense poaching they have suffered since 2002. At the same time, the results of the Great Elephant Census, funded by Microsoft founder Paul Allen, were released.
Undertaken by a team of scientists and conservationists — including WCS's Dr. Paul Elkan, Falk Grossmann and other WCS field staff, working in cooperation with government wildlife departments — the census has documented that savanna elephants have declined at a rate of 27,000 — or 8 percent — per year, with a total of 144,000 lost in less than a decade. The surveys also revealed that several populations, particularly in West and Central Africa, are at dangerously low levels — risking local extinction.
The shutting down of Domestic Ivory markets would send a clear signal to traffickers and organized criminal syndicates that ivory is worthless and will no longer support their criminal activities. In addition to the threat those activities pose to wildlife, they have been responsible for widespread security problems in local communities.
Cristián Samper at the Dzanga Bai research station of WCS's Andrea Turkalo, the site of recent research indicating that African forest elephants could take close to a century to recover from recent poaching. Image: Elizabeth Bennett/WCS.
The close of domestic markets would play a critical role in preventing the sale of illegal ivory under the cover of a legal trade, making it much easier for law enforcement agencies to do their jobs and much harder for the syndicates to profit from their nefarious trade.
As we leave Hawai'i, many in the conservation community, including government representatives, will now head to a major meeting of the Conference of the Parties to the Convention on International Trade in Endangered Species of Wild Fauna and Flora (CITES) in Johannesburg. There, we remain hopeful the delegates will be emboldened by the IUCN vote to adopt a resolution submitted by African governments that also calls for closure of Domestic Ivory Markets.
Through our policy advocacy and 96 Elephants campaign, WCS has fought to protect elephants on several levels – local, national, and international. We have been encouraged by efforts of several U.S. states — including Hawaii, New York, and California — to ban ivory sales even as the United States and France have closed their markets and China and Hong Kong SAR have promised to do the same.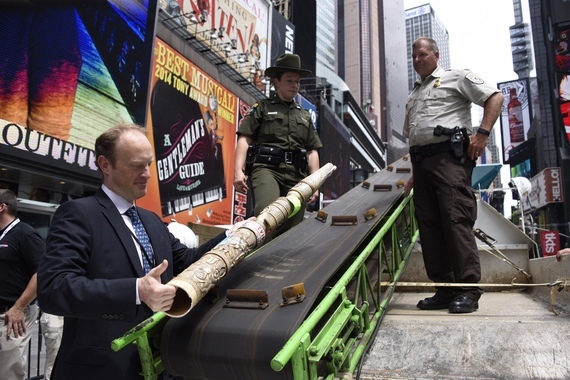 WCS Vice President for Field Conservation Programs Joe Walston loads a piece of carved ivory on a conveyor belt to be crushed in Times Square. Image: Julie Larsen Maher/WCS.
Other key steps have included reinforcement of site-based anti-poaching and protected area management actions. At the same time, a growing number of countries across Africa are taking more effective law enforcement actions against poachers and in their ports, while more than a dozen countries across the world have burned or crushed their stockpiles of confiscated ivory.
All these actions have kept momentum behind shutting down the ivory markets that have devastated elephant populations.
In September 2015, US President Obama and Chinese President Xi committed to "enact nearly complete bans on ivory imports and exports." While China has not taken the final step needed to shut down its domestic ivory market, it has committed to close its market soon – an action likely to inflict a grave blow to ivory criminals.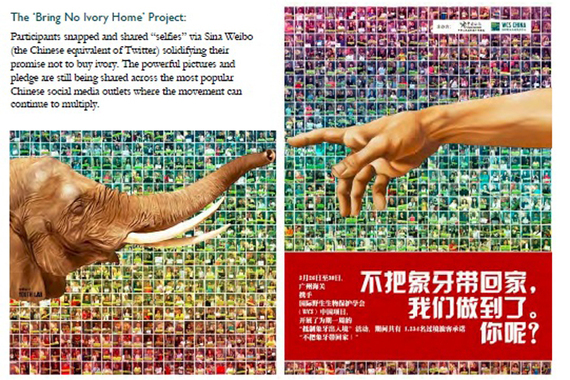 Through a series of social media mini-campaigns developed in China, thousands of Chinese travelers have taken pictures documenting their pledge to "Bring No Ivory Home" on shouhudaxiang.org. Graphic courtesy WCS China Program.
It is important to note that the IUCN ivory motion highlighted the leadership of African nations behind the movement to save elephants, including African-led efforts such as the Cotonou Declaration of 2015; the African Elephant Action Plan and associated African Elephant Fund; and the Elephant Protection Initiative. Africa's leadership has been inspiring to all. Their elephants and their communities are suffering and the world must heed the call to put an end to the ivory trade, once and for all.
The movement to protect Africa's elephants gives us all hope that the elephant will continue to be a vital part of Africa's magnificent natural heritage. WCS will not halt in this effort as we work to stop the killing, stop the trafficking, and stop the demand.
— This feed and its contents are the property of The Huffington Post, and use is subject to our terms. It may be used for personal consumption, but may not be distributed on a website.
Via:: Huffpost Green
The post IUCN Congress Emerges with Global Goal to Close the Domestic Ivory Trade appeared first on Natural Revolution.