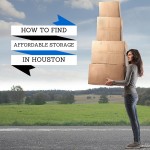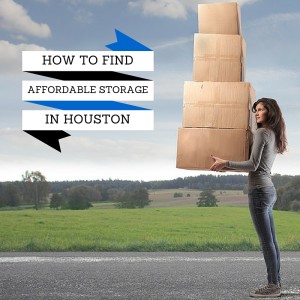 Are you looking for affordable storage Houston facilities and are having trouble finding the best options with the highest quality? Finding businesses that list storage unit prices Houston on their webpages is difficult because most companies want you to call before they tell you they are overcharging. However, offering the lowest prices does not mean that we have done everything to make sure our customers have the best value they can get. In addition, we offer helpful advice to try to help our customers use the smallest units and save money.
Choosing the right size
Affordable storage Houston starts with not renting a space that is too large for what you need. Although the sizes of our units are listed on our website next to prices, it can be difficult to visualize how big 5'x5' actually is. Generally speaking, five foot of space squared is usually the size of a motel bathroom with a bathtub, sink and toilet. A space the size of a regular garage that is big enough for one car is about 10'x15'. Of course, when you talk with us before signing your lease on a storage unit, we can help make sure you get the most out of your width, length and height in your space. In many cases, our customers end up renting smaller units than they expected.
Easily condensing storage to save money
Even the cheapest storage unit prices Houston can be cheaper when the right storage techniques are used. While many storage users are placing their belongings in the unit in boxes, there are other ways to store. For example, some of the items you have in storage could be condensed by storing in plastic bags. Other ideas include placing shelves inside the unit to allow for stacking as high as the ceiling.
Help with downsizing a residence
In our offices, one of the most common projects we work with are older relatives downsizing their current residences. One of the best ways to save money is to figure out how to live in a smaller and more affordable place, and, of course, this solution requires putting some belongings into storage. Instead of upsetting relatives in this process by selecting which items should be retired, our staff can give your relatives an idea of which items are best stored. Once a guideline of the perfect storage unit items has been identified, it can ease the nerves of those individuals that are not ready to say good-bye to things like antiques, keepsakes, and other treasures.
Businesses save money with storage units too!
While homeowners, students and military personnel are common customers at A-AAA Storage in Houston, we also have a long list of happy business customers. Storage Units used by businesses are often a way to store items like paperwork archives, seasonal decorations or other items that take up valuable floor space. Interestingly, instead of using our annual contracts, most business owners find our month-to-month leases are their best option.
Affordable storage units means top-rate security
Finding the best storage units at the lowest prices does not mean you can skimp on security. After all, you want your storage unit experience to be worry-free, and this means not dealing with issues like robbery, infestation or fire. When each of our customers sign up for services, we are giving them a guarantee that we are checking to make sure no one is storing prohibited items. Some of these include perishable items, anything that can combust and illegal drugs. We also give our customers extra layers of security with our secured fences, ever-present staff, gate access codes and security cameras.
Give us a call for affordable storage units in Houston
With multiple locations throughout Houston, we have the storage units you need. At A-AAA Storage in Houston, we are also happy to help you get the pricing you deserve. With our transparent pricing guidelines, there are no surprises when you come to rent with us. With long-term and short-term leasing options available, you can select a month-to-month or annual contract to suit your needs. To get started, give us a call today! We look forward to hearing from you, and we thank you in advance for choosing A-AAA Storage in Houston.
The post How to find Affordable Storage in Houston appeared first on A-AAA Houston Storage.