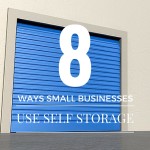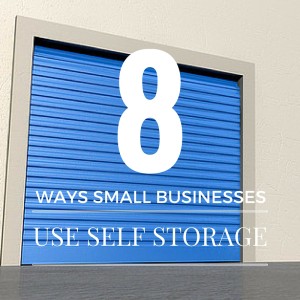 Are you a Business looking for self storage in Houston, but do not know if it provides the right type of benefits for you? When you own a business, there are a number of storage options available, but that does not necessarily mean they are the right fit. Self storage for business does not need to be complicated, and A-AAA Houston Storage works hard to make it easy for you to get started. For small businesses with storage needs, we provide 8 essential business storage Houston services that will help your company be a success.
Avoiding over-sized warehouses or archiving contracts – One of the main features of using business storage Houston is avoiding the costs of the alternatives. Mainly, there will be a need for every small business to store hard copies of certain paper documents. In addition, there will always be an advantage to buying extra merchandise and not having the immediate space to store it. In other words, small businesses need smaller storage facilities off-site from their properties, and they usually save money by renting a storage shed instead of leasing over a thousand-square-feet of warehouse space or paying an expensive archiving company that is not suited to the budget of a small business.
Holiday decorations storage – If your business is heavily dependent on holiday sales, you may find that an extensive decorating scheme is needed. Of course, when the holidays are over, having a place to store the extra decorations helps your business in several ways. First of all, when they are in a storage unit off-site, decorations do not get moved by accident by inexperienced employees. Secondly, they will not attract pests or become a hiding place for misplaced merchandise. Finally, decorations that are in storage are using far less valuable floor space than your business.
Storage shed showroom – Although a storage shed resembles an unfinished garage, that does not mean you cannot bring your own free-standing, decorated walls. If your home is a small business, you may find a need to add a showcase that is centrally located to your customer base. For example, instead of having your customers drive all the way across town, you can rent a Houston storage shed closer to their suburbs. In cases where businesses use storage sheds for showcases, it usually involves large bulky items such as rolls of carpet, tile samples, home theater equipment or refurbished appliances.
Medical, sales, shipping and receiving – Unfortunately, one of the risks involved with certain types of businesses is a faulty system of shipping and receiving that result in theft or package mismanagement. Instead of hiring a receptionist and office to accept your packages, consider the benefits of a storage unit. With the exception of some items, a storage unit can be your new way to ship, receive and store the equipment you need to succeed as a salesperson in business schemes such as medical sales, engineering sales, and other technical industries.To find out if the services are available to you, speak to the manager of the storage unit.
Overstock storage – As a small business owner, you can come across a great sale that can expand your profits. However, in order to cash in, you may have to buy in bulk. Instead of signing a contract with a warehouse at a much higher cost, consider renting a self storage for business unit. Depending on the pace of the sales, you can rent self storage units for a single month or up to as many months as you project.
Side business display area – Sometimes a great business person just needs a chance to try something new before opening a second business. If you are interested in a new product but are not sure if it will sell, consider operating the second business in a storage shed. The storage shed is a stage for setting up the products you want to display, and you will find that there is plenty of parking for your customers. Once you have a better idea of the type of sales you can get with your new product idea, you can rent extra floor space in a retail store. This is also a great alternative for businesses that may only need to make a couple of sales a month in order to sell a very specific product.
Internet business storage area free of smoking – When you sell products on the internet, your rating is everything. Unfortunately, if you live in an apartment building where there are smokers, it can negatively affect the products you sell even if they are wrapped in plastic. In order to keep customers happy, considered storing all of your merchandise in a facility you know will be smoke free almost always. As previously mentioned, one of the side benefits of some storage units is that they will allow shipping and receiving to that address for an extra cost.
Secured shed for contractors – If you are a contractor but have had trouble with break-ins, try a secured storage unit. Not only will your individual unit have a security feature, but the entire storage unit area will also have security cameras. In addition to helping your business by preventing break-ins and equipment theft, you may also be able to lower your business insurance by moving expensive equipment off-site and into a storage shed. Nevertheless, keep in mind that certain types of equipment will not be legal to store in a storage unit. For instance, any products that contain flammable substances such as oil or gasoline will not be allowed to be stored in storage units without permission from the staff.
Make A-AAA Houston Storage part of your success team!
At A-AAA Houston Storage, we are committed to helping you and your business succeed in the self storage world. Along with helpful advice, we also provide you with the professional paperwork you need for filing your taxes or submitting reports to your corporate offices. To get started, give us a call today and thank you for choosing us as your Houston storage unit business solution.
The post 8 Ways Small Businesses Use Self Storage for Business appeared first on A-AAA Houston Storage.