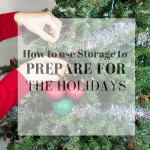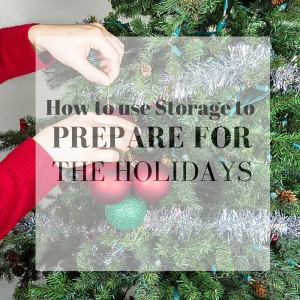 Every year, the holiday season in the Houston area brings with it fun and frolic as family and friends get together to enjoy this special time of year. In the buildup to the most celebrated days on the calendar, trees are put up, presents are bought and additional room is found to accommodate visiting guests. Where does a Storage Unit fit in? Keep reading.
Doing all of this requires time and also brings with it the realization that space considerations become an important part of the overall equation. That leads to the question of how to find more space within what seems like a finite amount of room.
The answer is actually a simple one, since it only means renting storage units in order to remove items from the home. These items are usually things that won't be missed over the course of a month, or sometimes even longer, and consequently free up space that will undoubtedly be put to good use when those get-togethers take place.
Furniture and Other Items
This assortment of material that could be placed in an affordable self storage unit might include furniture that's not really being used. While you'll like need pieces to sit on, you won't necessarily require items that give a room that lived-in look, but in reality are simply clutter that could be placed out of sight.
A switch of sorts could be made during this time frame, given the short length of time it covers. Other items that may not be related to the aura surrounding the holiday can be placed in a storage rental, perhaps through a game akin to musical chairs.
For example, items in one integral room where everyone will populate can be removed into an adjoining room. Of course, the next question becomes: what about the items in that adjoining room?
Unless they're being used on a regular basis, you don't really need to have them at your fingertips, and even if you do, the affordable self storage unit you rent is available close to home. This solution helps provide easy access to such items in the event that an unexpected need for access develops.
The Problem of Clutter
Of course, clutter tends to be the bane of everyone's existence, but virtually all of us are guilty of failing to keep things organized on a regular basis. While the motivation of finding space for that clutter is strong at the end of the year, the issue inevitably reappears soon after a new year begins.
One quick way to eliminate this issue is to box everything up that fits your definition of clutter and place it in a storage rental. This permanently eliminates the yearly problem of having to deal with such frantic cleanup efforts and also finds an affordable, climate-controlled area for these items.
Keeping Them Guessing
Regardless of age, the building excitement during this period is something that sweeps across all demographic groups. For many, especially those in the youngest age brackets, that ignites an often insatiable curiosity to find out what they'll be receiving from a loved one. This thrill was around long before storage units ever entered the picture, so many options have been considered over this long period when it comes to keeping those individuals from discovering the gift(s) in question.
One of the best ways to having a safe place to put these gifts so that they're not discovered, discretely or otherwise, is through a storage rental. It remains out of the way until shortly before the big event, which heightens the thrill of giving the gift.
That means that you can truly enjoy the genuine reaction of either a child, other family member or friend when they get their first glimpse of the item. Such reactions are one of the key components to what makes the holiday season so popular.
A Storage Unit is a Great Value All Year Long
Once the holidays have ended, those specific items can be shifted into your affordable self storage unit and other items from it can be returned home. Of course, storage units have uses throughout the year, so it makes sense to maintain steady access for all 12 months. Call A-AAA Houston Storage today or simply contact us using our convenient form.
The post How to Use a Storage Unit to Prepare for the Holidays appeared first on A-AAA Houston Storage.