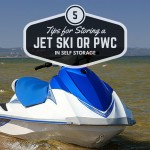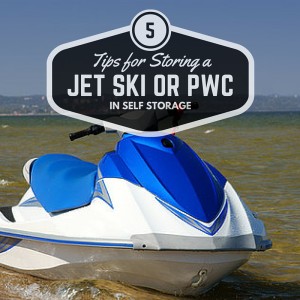 Getting out on the water and using your jets skis or Personal Watercraft makes for fun times. However, the issue of storage for those items when not in use can be cause for concern and might entail using a storage facility to deal with the issue. Even if the storage for Jet Ski and any other related items is allowed, protection against the elements may not be assured. In the Houston area, the potential for threatening conditions like windstorms or even hurricanes exists. Another factor that might play a part in any decision is what some consider to be the unsightly presence of such vehicles in certain communities.

Using the services of a Houston self storage facility can turn out to be a sound decision. Listed below are five tips for storing away jet ski or personal watercraft:
Cleaning and Drying the Jet Ski
Having spent countless hours in the water, the need to clean your personal watercraft and also letting it air out before storing it away is a necessity. That's because the possibility of mildew growth exists, something that occur when hatches are kept closed for any period of time.
The jet ski should also be dry once the cleaning process is finished. This helps avoid the problem of the paint dulling the shine of the vehicle. One other consideration should be lifting the seat up so that air circulates.
Having Things Winterized
Even though the temperature dips don't plunge as low as they do in more frigid communities, those seeking storage for personal watercraft need to handle to some maintenance issues. These can be handled on your own if you have a knack for DIY projects, though many people choose to let a professional handle the situation
One aspect of that maintenance is a simple oil change for those jet skis made after 2005. Other things to be addressed should be cable lubrication and making sure that the jet pump is in working order.
Handling the Battery and Fuel
The simplest way to make sure that your jet ski battery will be ready to go once it's back on the water is to remove it and keep it at your residence for safekeeping. That's because some places that offer storage for personal watercraft don't have electrical outlets, so connecting it to a battery maintainer at home handles that concern.
Any remaining fuel should be drained from the jet ski in order to eliminate any potential for fire. Either that, or a fuel stabilizer should be added in order to prevent clogging of the carburetor.
Using Rags to Keep Bugs Away
When a person uses storage for jet ski vehicles, they may not be using it for the next few months. During that span, the potential for bugs or even rodents to take up residence in either the exhaust pipe or a ski exists.
Simply placing rags in these vulnerable areas will take care of the issue. However, it's important to remember that these should be removed before you start up the engine again.
Paying Only for the Size You Need
The different sizes of personal watercraft vehicles can cause issues when trying to find a Houston self storage facility that can handle it. Measuring it beforehand and then checking out what's available is the simple solutions.
Generally, a 10 x 10 unit will be able to provide enough room for not only storage, but also movement within. It also protects the jet ski from trying to squeeze in or out of a tight space, potentially leading to damage.
When you use A-AAA Storage for your Houston self storage needs, you get the benefit of an affordable facility that offers safe and secure units under constant video surveillance. In addition, the month-to-month leasing doesn't lock you in to onerous contracts, while the ease of online payment also exists.
Storage for personal watercraft works for us because we also offer extra wide aisles and we have a wide variety of unit sizes that can fit your need. Contact us when you require storage for jet ski and other personal watercraft.
The post 5 Tips for Storing a Jet Ski or PWC in Self Storage appeared first on A-AAA Houston Storage.